American Baptist Task Force on
Interpreting the Impact of Covid-19 on Congregations
In 2022, a task force on "Interpreting the Impact of COVID-19 on Congregations" was formed by the ABCUSA Office of the General Secretary and Board of General Ministries in response to the interest of ABC congregations to continue to explore the impact of the global pandemic on congregational life. The task force was created to gather and share information regarding ways that ABC congregations can adjust to new realities created by the global pandemic so that they can become all that God intends them to be. The task force compiled the below list of resources:
ABCUSA News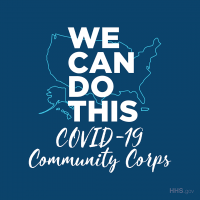 ABCUSA is proud to be a founding member of the national volunteer COVID-19 Community Corps!  #WeCanDoThis
Visit hhs.gov/COVIDCommunityCorps today to learn more and join us in the fight to protect America's health.  
Testing Information
At-home rapid COVID-19 tests are now being distributed to American homes for free at www.covidtests.gov
Treatment Information
Increasing access to COVID-19 Treatments
Driven by President Biden's comprehensive COVID-19 response, there are now more tools than ever before to protect people from the virus, including highly-effective treatments. The Administration announced new actions to make these treatments even easier to access and to make sure health care providers and patients know about their safety, efficacy, and availability. These actions will help strengthen and further build the infrastructure to ensure that lifesaving treatments for COVID-19 are quickly distributed around the country, widely available, and easy to access. Learn more.
Vaccine Information
Did You Know?
You can get a 2nd booster 4 months after your 1st if you're 50+ and got the Pfizer or Moderna vaccine, or if you're 18+ and got the Johnson & Johnson vaccine.
Find free vaccines near you at vaccines.gov.
Get Involved in the Fight Against Covid
Watch the We Can Do This Summit
We Can Do This Summit: Conversations on Encouraging COVID-19 Vaccinations was a virtual Summit featuring conversations among leading doctors, other medical professionals, parents, and community leaders about COVID vaccines and how the broader medical community can encourage vaccination among women who are pregnant, children, teens, and young adults. Watch the recording and consider ways that you can get involved in the fight against COVID-19.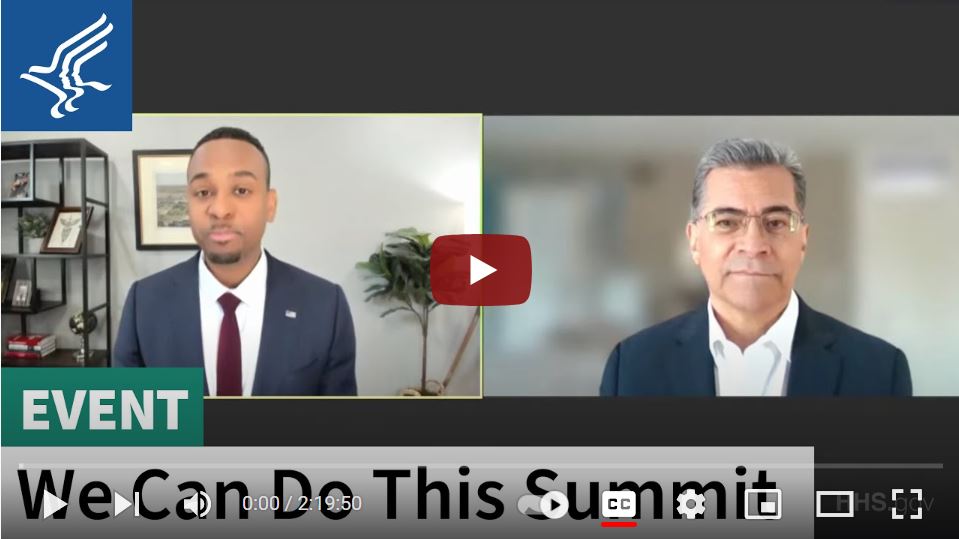 Vaccine Information
View the Faiths4Vaccines National Summit Summary video:

Access to a vaccine should not be an obstacle for someone to get vaccinated. Here are three vaccine tools to bring to your communities right now:
Visit vaccines.gov (English) or vacunas.gov (Spanish) to search and find a vaccine near you. (Accessible to those with disabilities.)
Text GETVAX (438829) for English or VACUNA (822862) for Spanish to receive three vaccine sites on your phone within seconds.
Call the National COVID-19 Vaccination Assistance Hotline at 1-800-232-0233 for those who prefer to get information via phone call. (Can assist in 150+ languages)
Many pharmacies and other vaccination sites are now offering walk-in appointments and that vaccinations are free of cost and do not require ID. 
---
Ministry Resources
Webinar: Online Worship: Elements, Interactions, and Technology by Jeremy Fackenthal
A Pastor's Story in the Midst of the Pandemic: Pastor Matthew Burden of Second Baptist Church Calais, Maine, is interviewed by his Regional Resource Minister, Rev. Dr. Alfred Fletcher. View here.
A Perspective on Young Adult Stewardship Contributions to the Church During the Pandemic: "Realities of our New Normal" by members of the Commission on Congregational Mission of ABC of Wisconsin region. Click here to read this article.
Awareness, Preparation, Implementation: Ministry During Pandemic (free PDF resource) by Judson Press
Learning Through the Crisis: #InThisTogether: Ministry in Times of Crisis by Judson Press
Music: A Resource from "Join Your Voices" campaign: To assist choral leaders in search of a responsible and transparent pathway to return safely to singing, critical aspects and considerations have been compiled from current guidelines and initiatives related to the COVID-19 situation and organized to support a decision-making process.
Theological Considerations: Doing Theology in Pandemics | Facing Viruses, Violence, and Vitriol. A Public Lecture Series – Wisdom and Insights from Leading Theologians, a project of Chicago Theological Seminary.
---
Family Resources
ABCUSA News
Video: A message to all American Baptists during this global pandemic
American Baptist Leaders Issue Call to Prayer
For Worship Resources, click here.
For Prayer requests that churches and individuals lift up, click here.
Guidelines from the Centers for Disease Control and Prevention
Wash your hands often with soap and water for at least 20 seconds.
If soap and water are not readily available, use an alcohol-based hand sanitizer with 60%-95% alcohol.
Cover your mouth and nose with a tissue or your bent elbow when you cough or sneeze.
Routinely clean frequently touched objects.
Maintain at least 6 feet between yourself and anyone who is coughing or sneezing.
Stay home when you are sick, and if you are not sick stay home as much as possible.
If you have fever, cough and difficulty breathing, seek medical care early.
Cover your mouth and nose with a cloth face cover when around others.
Resources
COVID-19 Funeral Assistance – FEMA
FEMA is providing financial assistance for COVID-19-related funeral expenses incurred after January 20, 2020.
American Baptist Churches USA Survey Assesses Impact of COVID-19
COVID-19-Related Assistance: CARES Act, Recovery Rebates, Paycheck Protection Program – Interim General Secretary C. Jeff Woods
Discoveries & Learnings from the Global Pandemic – ABCUSA Office of the General Secretary
An American Baptist Plea for Emergency OGHS Support, COVID-19 Creates Great Need
REMC Recommended Best Practices for Pastors During the COVID-19 Crisis
The Generosity Project: Stewardship and Pandemic  – Webinar resource provided by Rev. Stacy Emerson, ABCUSA Office of the General Secretary
Stewardship and Pandemic Resources – prepare by Rev. Stacy Emerson
A Video Message from Interim General Secretary Woods

Guidance for Reopening
ABCUSA Office of the General Secretary Releases Discussion Guide for Reopening Church Buildings (available in English and Spanish)
Courage in the Crisis – Summary Recommendations from the Christian Medical and Dental Associations (CMDA) (New resource added July 22, 2020)
– View the CMDA Reopening Guidelines Evidence Addendum
– View CMDA's page printable guide
Church Mutual Webinar and Resources:
Resources to Protect your House of Worship – FEMA
Committing to a Hybrid Model of Ministry – Lewis Center for Church Leadership
Guidelines for Religious and Funeral Services – New York State, shared by ABCNYS
Ministry and Mission Reopening Resources – ABC of Pennsylvania and Delaware
24 Questions Your Church Should Answer Before People Return – Ken Braddy
Public Health Principles for a Phased Reopening During COVID-19: Guidance for Governors – Johns Hopkins
Returning to Church – Wisconsin Council of Churches
Guidance for Religious Entities and Funeral Homes – West Virginia Government
When New York State's PAUSE Recommendations are Lifted – What About Your Church? – Albany Presbytery
A Phased Approach to Regathering as Church: Turning Toward the Future with Caution and Hope – The Episcopal Bishops of Maryland, Washington, DC and Virginia
What Will Our Church Look Like After Lockdown? – Baptist Union of Great Britain
Resources from Church Mutual Insurance:

Spanish Language Resources
Guía Para la Conversación Sobre Reabrir el Templo – American Baptist Churches USA
Protocolo y Guía Sugerida Para la Reapertura de Facilidades y Templos – Iglesias Bautistas de Puerto Rico (Suggested Protocol for Sanctuary Reopening)
Comunicado del Concilio de Iglesias de Puerto Rico (The Reopening of Sanctuaries Statement)
Centro para el Control y la Prevención de Enfermedades – Centers for Disease Control (en Español)
Organización Panamericana de la Salud – Pan American Health Organization
Organización Mundial de la Salud – World Health Organization

Additional Resources
Eight Lessons from COVID-19 to Guide Our Climate Response – Eos
COVID-19 Impact Survey of Building Use and Community Programs, Summer 2020 – Partners for Sacred Places
Advocacy Resource for Covid-19 – Philadelphia Baptist Association
Resources for Conversations with Children and Youth About Racism – provided by ABC of the Central Region
Religious groups offer resources for churches preparing to reopen amid coronavirus pandemic – Baptist News Global
Generosity in the Midst of COVID-19 – American Baptist Churches USA
Giving Beyond the Offering Place – Ecumenical Stewardship Center
Unexpected Money Can Become Unexpected Generosity – Southern New England Conference, UCC
How Nonprofits Can Utilize the New Federal Laws Dealing with COVID-19 – Nonprofit Quarterly
Considering Faith, Community, and Mental Health During the COVID-19 Crisis – The Partnership Center
How to Lead Calmly in a Global Outbreak – Faith and Leadership
10 Guidelines for Pastoral Care During the Coronavirus Outbreak – The Christian Century
When Business Threats Are Contagious – ThinkHR
A Guide to COVID-19 and Your Finances: What You Need to Know – Annuity.org
A Concise Coronavirus Guide for Churches – Christianity Today
Talking to Kids about the Coronavirus – Child Mind Institute
Environmental Cleaning and Disinfection Recommendations – U.S. Centers for Disease Control
Survey Shows Faith Can Prosper in Online Services – Religion News Service
6 Steps Your Congregation Should Take in Response to the Coronavirus – The Lewis Center for Church Leadership
Legal Considerations for Coronavirus Guidance and Church Gatherings – Church Law & Tax
Resources for Christian Leaders During the Coronavirus Pandemic – Faith and Leadership
Coronavirus Resources – Church Mutual Insurance
Families First Coronavirus Response Act – Sovereign Insurance Group
Coronavirus Guide for Pastoral Leaders, Judicatories and Congregations – New York State Council of Churches
Video: Supporting our Communities – Rev. Ken McKenzie, Federated Church of West Winfield, N.Y.
Ten Tech Tips for Meeting Online – Next Church (Presbyterian Church USA)
Note – Due to the limited amount that is known about the virus, information is being updated daily. We encourage you to contact and listen to your local health experts and authorities concerning best practices and the status of the outbreaks in your local context. The following links may also serve as helpful resources.
Find a Church
As congregations cancel on-site worship services and people across the country practice social distancing, you can still worship with American Baptists in your home via online worship services.
The best way to find an online worship service near you is to visit the Find a Church section of our website. Search for American Baptist churches in your community and visit their websites to find any online worship opportunities available.

Posts from our American Baptist Partners
This section ran was updated from March 10, 2020 through June 23, 2020. Region resource documents will continue to be added to the resources above.
June 23, 2020
Intersections – ABC of Greater Indianapolis
June 22, 2020
An Update from Gregg Hemmen – ABC of the Central Region
June 19, 2020
Region Notes – ABC of New York State
June 17, 2020
ABHMS Awards $56,000 in OGHS Funds for COVID-19 Recovery in the U.S., Puerto Rico
June 16, 2020
Staff Re-opening Guidelines – The ABC of Massachusetts (TABCOM)
June 15, 2020
Pastors and Church Leaders – ABC of Maine Update
Body Builders – Mid-American Baptist Churches
Questions about Church Finance and Administration – ABC of New York State
June 8, 2020
Update from Gregg Hemmen – ABC of the Central Region
June 7, 2020
Mission Northwest Email Update
June 5, 2020
Memorandum: George Floyd, Systemic Change & COVID-19 – Philadelphia Baptist Association
June 4, 2020
June 3, 2020
Gathering Again – ABC of New York State
June 2, 2020
TABCOM Notes June 2020 – ABC of Massachusetts
June 1, 2020
Update from Gregg Hemmen – ABC of the Central Region
May 31, 2020
Body Builders – Mid-American Baptist Churches
May 30, 2020
A Call to the Region – ABC of the Rochester/Genesee Region
May 29, 2020
A Public Statement from the Philadelphia Baptist Association
May 28, 2020
What is God Doing Among Us? – ABC of New York State
May 26, 2020
A Gathered Fellowship – ABC of Maine
May 25, 2020
A Message from Gregg Hemmen, ABC of the Central Region
May 22, 2020
ABC of the Rocky Mountains Weekly News Update, May 22-25
Options for Online Worship, May 24 – ABC of the Central Region
May 21, 2020
Message from the Executive Minister – ABC of the Rochester Genesee Region
May 20, 2020
Letter from Executive Minister Mary Miller – ABC of Massachusetts
Region Notes – ABC of New York State
May 19, 2020
Intersections – ABC of Greater Indianapolis
May 18, 2020
A Message from Gregg Hemmen, ABC of the Central Region
May 15, 2020
Mid-American Baptist Churches Body Builders
The ABC of Massachusetts (TABCOM) Half Notes
Reframing the Church – Rev. Larron D. Jackson, ABC of the Rocky Mountain Region
May 13, 2020
A Bible Study written by Rev. James E. McJunkin, Jr., Philadelphia Baptist Association
Tech Forums – ABC of New York State
Weekly Update from ABC of Nebraska
Love is Contagious – Sandy Hasenauer, ABC of the Rochester Genesee Region
Corona Notes – ABC of New York State
ABC of the Central Region Focus May 2020
May 12, 2020
May 11, 2020
An Update from Gregg Hemmen – ABC of the Central Region
May 6, 2020
Face-to-Face Guidance from Kansas Governor Kelly – ABC of the Central Region
Stand Firm… ABC of the Rocky Mountains Devotional
May 5, 2020
COVID-19 Camping Announcement – ABC of the Central Region
May 4, 2020
An Update from Gregg Hemmen – ABC of the Central Region
May 1, 2020
Re-Creation – ABC of the Rocky Mountains
At the End of April – ABC of Maine
April 30, 2020
Expect the Unexpected: for Pastors Looking Toward Re-Opening – ABC of Massachusetts
Re-Opening Plans for ABCCR Central Region States
Body Builders – Mid-American Baptist Churches
April 29, 2020
Reflection by Rev. Mark Thompson: "My Refrigerator" – ABC of Indiana and Kentucky
An Uncertain Time Lived Out Before a Certain God – ABC of Michigan
April 28, 2020
A Generosity Project Reflection: Generosity in the Midst of a Global Pandemic
April 27, 2020
Online Kid Ministry Options – ABC of the Central Region
Update from ABC of the Central Region
What Comes Next? – American Baptist Churches of Ohio
Pastors and Church Leaders – ABC of Maine Update
April 25, 2020
ABC of Metro Chicago EWIND Newsletter
April 23, 2020
Region Notes – American Baptist Churches of New York State
April 22, 2020
Light for Today – ABC of the Rocky Mountains Video Devotion
ABHMS Stands with Asian-Americans Against Racism Amidst Coronavirus
April 21, 2020
Mission Northwest Email Update
ABC of Greater Indianapolis Intersections Newsletter
ABWM Hosts Courageous Conversation: Youth and Young Adult Ministry During a Pandemic Webinar
April 20, 2020
A Pastoral Letter from ABC of Wisconsin Executive Minister – More than Lip Service
ABWM Seeks to Reset and Reimagine Programs in Response to COVID-19
Update from ABC of the Central Region
April 17, 2020
Options for Online Worship – ABC of the Central Region
April 16, 2020
Corona Notes – American Baptist Churches of New York State
April 15, 2020
Light for Today Episode 5 – ABC of the Rocky Mountains
Book Offers Guidance on Crossing Lines that Separate 'Us' From 'Them'
April 14, 2020
ABC of Greater Indianapolis Intersections Newsletter
Your Weekly ABC of Nebraska Updates
Judson Press, Author Offer Free 'Ministry During Pandemic' Digital Resource
April 13, 2020
A Sunday After Easter Offer from Executive Minister, Mary Miller, TABCOM
A Message from ABC of the Central Region Executive Minister
ABC of the Central Region Focus Newsletter
April 12, 2020
Celebrating the Risen Christ – Mission Northwest
April 11, 2020
In this Together – ABC of Metro Chicago
April 9, 2020
Moving Towards a "New Normal" – Philadelphia Baptist Association
April 8, 2020
Caring for the Carer – ABC of New York State
An American Baptist Plea for Emergency OGHS Support, COVID-19 Creates Great Need
April 7, 2020
The CARES Act: Your Questions Answered – Ministers and Missionaries Benefit Board
Wisdom and Warnings Around Personal Stimulus Help – ABC of Greater Indianapolis
Observations: Holy Week – ABC of Indiana and Kentucky
Unlike Any Other: The First Easter – A Message from ABC of Michigan
ABC of Maine Update – Coronavirus Disease
April 6, 2020
Some Thoughts From the Wilderness… ABC of the Central Region
Maintaining Robust Church Finances During the Pandemic – Mission Northwest
April 3, 2020
ABHMS Convenes Roundtable to Identify American Baptist Needs During Coronavirus Pandemic
A Different Kind of Easter – ABC of the Rocky Mountains
Observations – ABC of Indiana and Kentucky
Corona Updates – ABC of New York State
A Word From the Regional Executive Minister – ABC of Metro Chicago
April 2, 2020
Resources and Encouragement from ABC of Michigan
April 1, 2020
COVID-19-Related Assistance – An Update from ABCUSA Acting General Secretary C. Jeff Woods
March 27, 2020
Supporting Churches, Pastors, and Regions: A Letter from the ABCUSA Acting General Secretary
March 25, 2020
E-Giving – A Message from ABC of New York State
March 24, 2020
Online Worship is all the Rage! – American Baptist Churches of Nebraska
March 22, 2020
An Update from the Central Region
March 21, 2020
A Word From the Regional Executive Minister of ABC of Metro Chicago
March 20, 2020
ABC of Maine Update – COVID-19
March 19, 2020
COVID-19 Faith Resource – How 4+ Churches Did Worship in Philadelphia
A Letter from Rev. Soozi Whitten Ford – American Baptist Churches of Indiana and Kentucky
March 17, 2020
Sent Before His Face, Live Stream Readings – American Baptist Churches of New Jersey
A Message from the American Baptist Churches of Maine
March 16, 2020
COVID-19 Letter from International Ministries CEO – American Baptist International Ministries
MMBB Financial Services Implements Remote Operations
American Baptist Foundation to Continue Service Remotely  – American Baptist Foundation
American Baptist Home Mission Societies Implements Interim Telework Plan
March 13, 2020
A Message Regarding COVID-19 – ABC of Metro New York
March 12, 2020
American Baptist Home Mission Societies Offers Guidance, Litany, Prayer for Congregational Response to COVID-19
A Letter from the Executive Minister  – American Baptist Churches of the Rocky Mountains
ABC of the Rocky Mountains Resources
A Message from ABC of Wisconsin
March 11, 2020
Information from the Evergreen Association of American Baptist Churches
American Baptist Churches of Maine Shares Recommendations Related to Coronavirus
March 10, 2020
COVID-19 Update from Acting General Secretary C. Jeff Woods
March 6, 2020
Pastoral Guidance from ABC of New Jersey
Prayer, Caution Urged Surrounding Coronavirus – A Message from Acting General Secretary C. Jeff Woods
January 29, 2020