Join Our ABC Family
American Baptist Churches is one of the most diverse Christian denominations today, with approximately 5,000 local congregations comprised of 1.3 million members across the United States and Puerto Rico.
Interested in Following Jesus?
We welcome you as one interested in following Jesus and becoming a part of his body, the church.  It is still incredible to every one of us that God desires a personal relationship with us, but that is why we call it Good News. We have found in Jesus forgiveness of our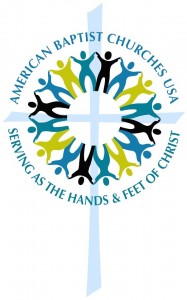 wrongdoings and the ability to live each day through his love and grace. This  gift is available to you as well.
In Jesus, we have heard and experienced God's incredible love for every one of us.  A Bible verse that we all cherish is found in the Gospel of John, Chapter 3 and verse 16: "For God so loved the world that he gave his only Son that whoever believes in him might have eternal life." Jesus offers you this new life as his disciple as you experience God's incredible love for you.  We believe that God's love for us is so great that God gave himself to us and for us in Jesus, God's son, that every barrier between us and God might be removed and that we might live in the power of God's Spirit with love, joy, peace and hope.
Jesus also invites you to be a part of his community of believers, and as a disciple share with the world God's love and grow in that love yourself.  Jesus' invitation includes sharing the Good News in word and deed as we live with compassion and work for justice in this world.
If you are interested in following Jesus, we encourage you to learn more about him in the Bible.  The Gospel of John is a great place to start.  We encourage you to call the pastor of your local American Baptist Church or any other Christian church and tell them of your interest and of your questions.
They will help you learn more about Jesus and his promise, "I have come that they might have life and have it more abundantly." John 10:10.
If you need to talk to a person to learn more, go here to find an American Baptist church.
Join the American Baptist Family
If you are a church looking for a denominational home and want more information about how to join American Baptist Churches USA, we invite you to connect with an American Baptist region.
Contact the Executive Minister in your local region – view our region map here.