This post is shared as a COVID-19 resource on our resource page at www.abc-usa.org/coronavirus. Visit this page to find helpful resources and information, and see regular updates from American Baptist regions and national partners.
March 24, 2020
Adjusting to the New Normal
As we are all aware most spring and early summer events have been cancelled or postponed to prevent the spread of Covid19. For the American Baptist Churches of Nebraska this included the Youth and Young Adult retreats, the Prairie Pastors Conference, and the Region Expo. ABC NE continues to follow the advice of the Center for Disease Control recommendations regarding gatherings of 10 or more people and encourage our congregations to do the same.
Even so, Christ is Present and We Follow the Leading of the Holy Spirit.
"We always thank God for all of you and pray for you constantly. As we pray to our God and Father about you, we think of your faithful work, your loving deeds, and the enduring hope you have because of our Lord Jesus Christ." 1 Thessalonians 1:2-3
Our American Baptist Churches of Nebraska continue to gather in unique ways while practicing social distancing. I am so excited to see how quickly our pastors and church leaders have faced the adaptive challenges of ministering to their communities. Churches are gathering online and in small groups to support, encourage, pray, and worship together. Churches have made necessary adjustments to food pantry, diaper depots, and visitation ministries to continue to meet the needs of those most at risk. Ironically, because of the increased awareness of the dangers of isolation in the midst of social distancing, congregations have had more communication and interaction with one another the past couple weeks.
So your ABC NE Staff join the Apostle Paul in thanking God for all you for your faithful work, your loving deeds, and enduring hope because of our Lord Jesus Christ.
Best Practices and Helpful Links
By now most churches have at least tried some sort of online presence. Based on a few conversations with pastors and congregants here are a few "best practices" we learned.
·       Live music is meaningful to participants..but you have to have lyrics. It can be a full band like Sunset Hills or just a couple people like FBC Norfolk or FBC Omaha.
·       Sound quality matters…find good ways to get sound to your device. A simple lapel mic can plug right into your smart phone and make a huge quality difference in your videos.
·       If recording with a smartphone make sure you're in "landscape" mode and are not recording sideways.
·       Dialogue sessions and/or question and answer moments are a really good way to encourage engagement with sermon and other content. See FBC Kearney as an example
·       Creating pdf's of the worship service and emailing in advance are great ways to help people know what is happening in the online service. It is also a way to share music lyrics, prayer requests, call and responses, and announcements.
·       Finding creative ways to engage with children through their own devices was good for students and pastors. See FBC Gardner, KS as an example beginning at 14minute mark
·       Include a moment for the "offering" by encouraging people to give via your online options, drop checks at a local bank, or mail in gifts.
·       Encourage people to use comment section during worship for prayer requests, praises, amens. etc.
·       Have participants take pictures of where they are worshiping from and post them on the church social media page in the comment section under that worship service.
·       It does not have to a "live" event. Recording in advance and posting on Saturday night or Sunday morning is a good idea…it also allows for editing.
·       Having an interactive dinner church or coffee time via zoom or other live conferencing is meaningful. Associate Pastor Andy Springer of FBC Hastings is leading such experiences.
·       Mid-week devotions posted on social media are helpful.
·       Touching base with members who do not have access to internet or smart devices through old fashioned letters through the mail and landline phone calls is important. FBC Lincoln has been making many such contacts.
Some Resources
How to organize an interactive online worship service: Guide to Creating Online Worship PDF document
Table Life: As you are home, having meals and devotions with family,can be a way to connect to one another and to Christ. You can also practice Table Life through online groups via Zoom, FaceTime, or Skype type mediums.  https://welcometotablelife.wordpress.com/
Online ABC NE Church Links
Here is a list of known online church services. Most are on Facebook or church websites. For a list of links for just church websites visit http://abcnebraska.com/wp/10-2/
Nebraska:
Albion First Baptist Church: Pastor Keith Brich Facebook Page
Alliance First Baptist Church: Continues to Meet at Church 10am Sunday's
Ansley First Baptist Church: Facebook
Arnold First Baptist Church: Facebook Arnold Baptist Church
Arthur First Baptist Church: Facebook and YouTube
Beatrice First Baptist Church: Facebook and YouTube
Bellevue New Life Baptist Church: Facebook
Bellevue Strangers Rest Missionary Church:
Blair First Baptist Church: Facebook
Bridgeport First Baptist Church: Pastor Ray Cook Facebook
Broken Bow First Baptist Church: No services March 22 or 29 and Facebook
Chadron First Baptist Church: Facebook
Chapman First Baptist Church: Facebook
Chin Christian Baptist Church:
Chin Evangelical Baptist Church: Facebook
Cozad Karen Baptist Spimu Church: Facebook
Fairbury First Baptist Church: Facebook and YouTube
Fremont First Baptist Church: Church Website and Facebook
Gibbon Baptist Church: Church Website and Facebook
Guide Rock First Baptist Church:
Hastings First Baptist Church: No gatherings March 15, 22, or 29. Facebook 5min message
Holdrege First Baptist Church: Church Website
Holbrook First Baptist Church:
Htee Ger Nee Karen Baptist Church of Omaha:
Juniata Community Church: unkown
Kearney First Baptist Church: Church website with Q and A session at end
Koinonia House of Worship Omaha: Church Website
LaVista Judson Baptist Church: unknown
Lincoln Belmont Baptist Church: Special combined service with FBC and Second Lincoln
Lincoln First Baptist Church: Facebook and YouTube Special combined service with Second and Belmont
Lincoln 2nd Baptist Church: Facebook and "Youth Group Live" events. Special combined service with FBC and Belmont
Lincoln Karen Baptist Church: Facebook
Mason City First Baptist Church: Facebook
McCook Grace Baptist Church:
Mount Nebo Missionary Baptist Church: Church Website
Norfolk First Baptist: Facebook and Church Website
North Platte First Baptist Church: Facebook and YouTube
Omaha American Baptist Karen Congregation: Facebook
Omaha Benson Baptist Church: Church Website and Facebook
Omaha Chin Christian Church:
Omaha Chin Revival Baptist Church: Facebook
Omaha First Baptist Church: Facebook
Omaha First Kachin Baptist Church of America: Facebook
Omaha Htee Ger Nee Karen Baptist Church:
Omaha Kanyaw Baptist Church:
Omaha Kachin Baptist Church: Facebook
Omaha King Solomon Missionary Baptist Church
Omaha Miracle Hills Baptist Church
Omaha Mt Nebo Missionary Baptist Church
Omaha Nazarene Karen Baptist Church
Omaha Parkside Baptist Church
Omaha Shiloh Baptist Church
Omaha Sunset Hills Baptist Church: Church Website
Omaha Verdad y Vida (Truth and Life) Christian Community: Facebook
Oxford First Baptist Church: Facebook
Scottsbluff First Baptist Church: Facebook
Stella Prairie Union
Tekamah First Baptist Church: Facebook
Tekamah Riverside Baptist Church
Union First Baptist Church
Valley United Faith Community Church: Facebook
Wayne First Baptist Church
Wilsonville United Baptist Christian Church
Florida:
Jacksonville Kachin Baptist Church: Facebook
South Dakota:
Yankton – Jesucristo es Rey
Texas:
Houston – Hanson Kachin Baptist Church: Facebook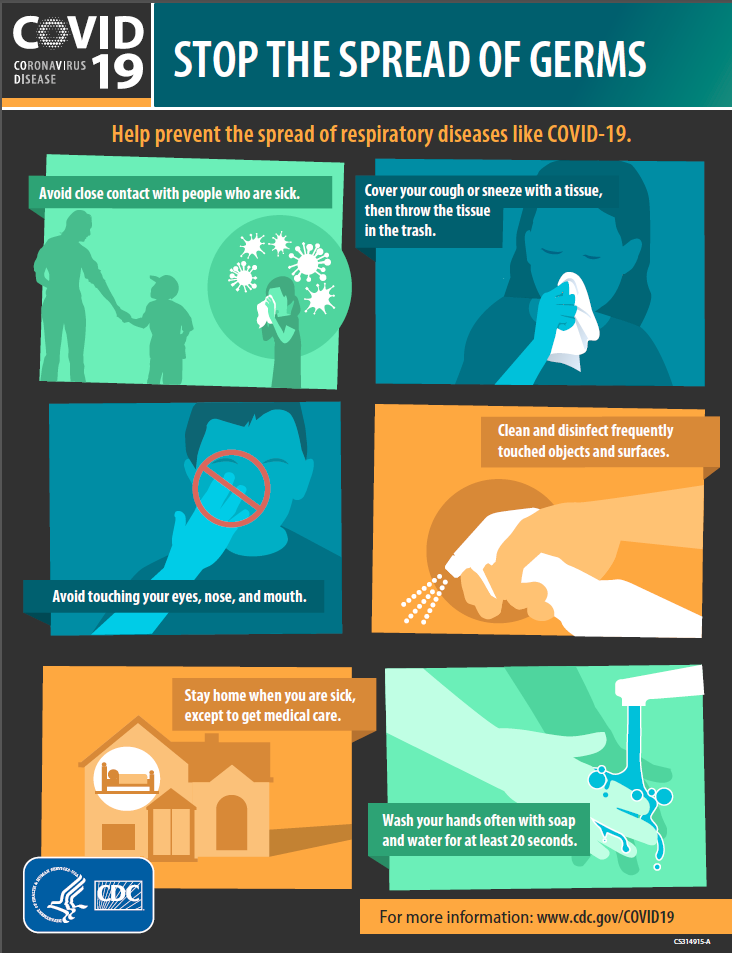 Below is some additional information from the CDC that may be helpful. A friendly reminder to frequently check the CDC website as information about COVID-19 has been rapidly evolving:
·       Preparing individuals and communities: https://www.cdc.gov/coronavirus/2019-ncov/preparing-individuals-communities.html
·       Frequently asked Questions about COVID-19:  https://www.cdc.gov/coronavirus/2019-ncov/faq.html
·       Questions about COVID-19 in Children: https://www.cdc.gov/coronavirus/2019-ncov/specific-groups/children-faq.html
·       COVID-19 in Pregnant Women:  https://www.cdc.gov/coronavirus/2019-ncov/specific-groups/pregnancy-faq.html