United Mission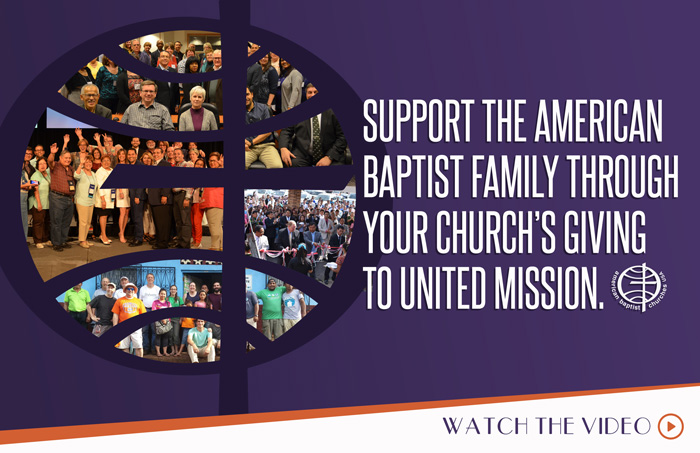 As American Baptists, we serve as the hands and feet of Christ. We're doing what we can to heal a hurting world. This means feeding the hungry; empowering pastors, lay leaders & youth to spread Christ's love; protecting the environment; promoting Christian unity and more.
United Mission is the vehicle that makes this happen. United Mission is the simple, efficient way American Baptists pool financial resources to maximize the amount of good we can do. These funds are used to connect resources with needs, resulting in meaningful change – and it's all for God's greater glory!
It is through United Mission, our one family offering, that each giver is able to participate in the total ministry of our American Baptist family.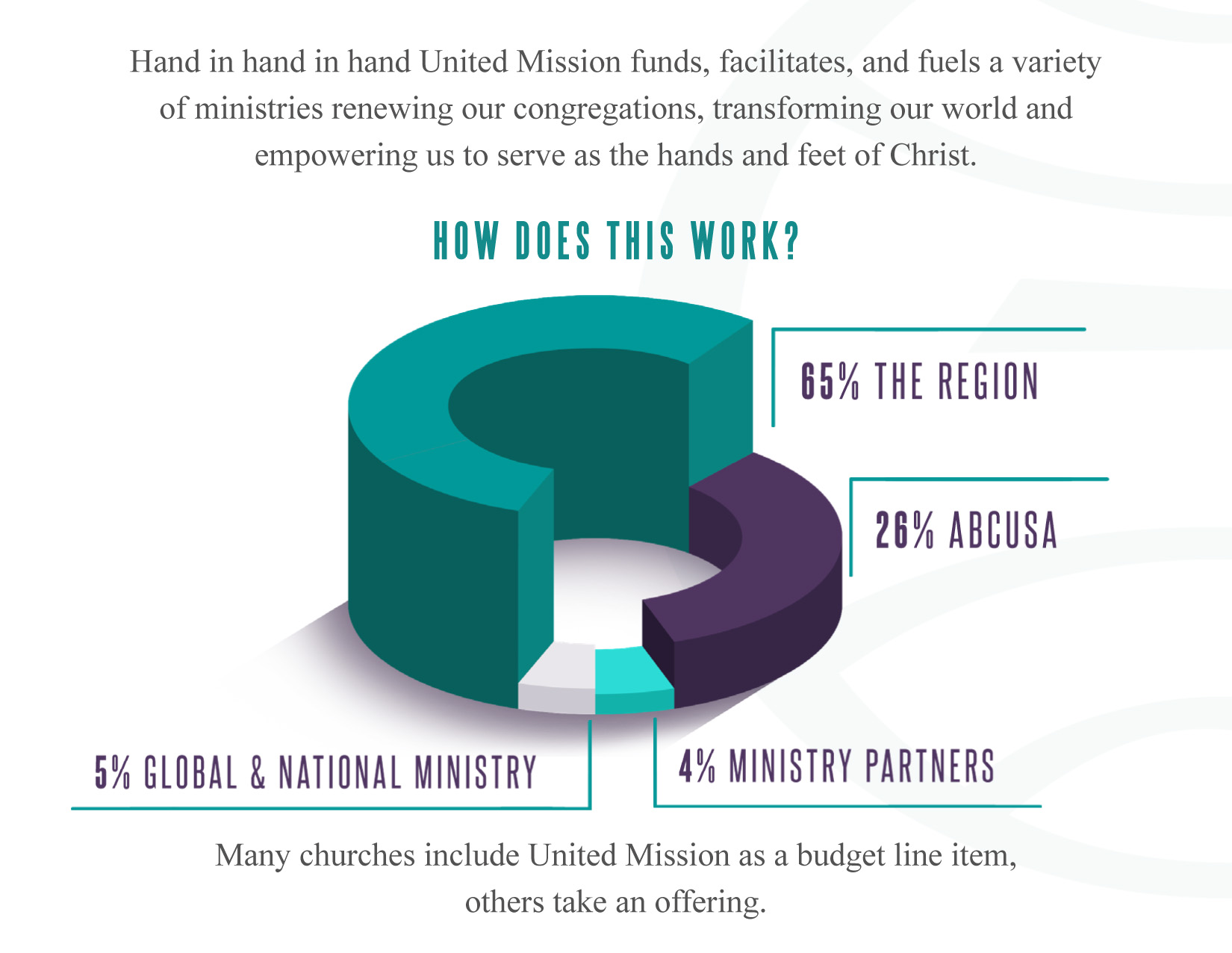 Click here and here to download the images above and at right for your use.
These gifts are distributed on a percentage basis according to the covenant agreement between Region organizations, American Baptist Churches USA (ABCUSA), American Baptist Home Mission Societies, International Ministries, Ministers & Missionaries Benefit Board, and career development centers and partner organizations.
These gifts under gird every aspect of our life together as American Baptists, supporting the cutting-edge ministry projects as well as the administrative support necessary to the success of those projects.
Congregations give to United Mission in two ways:
United Mission Basics are undesignated contributions from local churches to the vital mission and ministry of American Baptists. Basics provide support for the extensive foundation of American Baptist missions.
United Mission Love Gifts are contributions from American Baptist women in support of American Baptist ministry, given over and above United Mission Basics.
Giving Forms
To view Giving Forms and Instructions, click here.
Other American Baptist Mission Support Offerings
The five special offerings, America For Christ, World Mission Offering, Retired Ministers and Missionaries Offering, One Great Hour of Sharing, and Regional Offering, are another way to support the good work of specific ministry partners.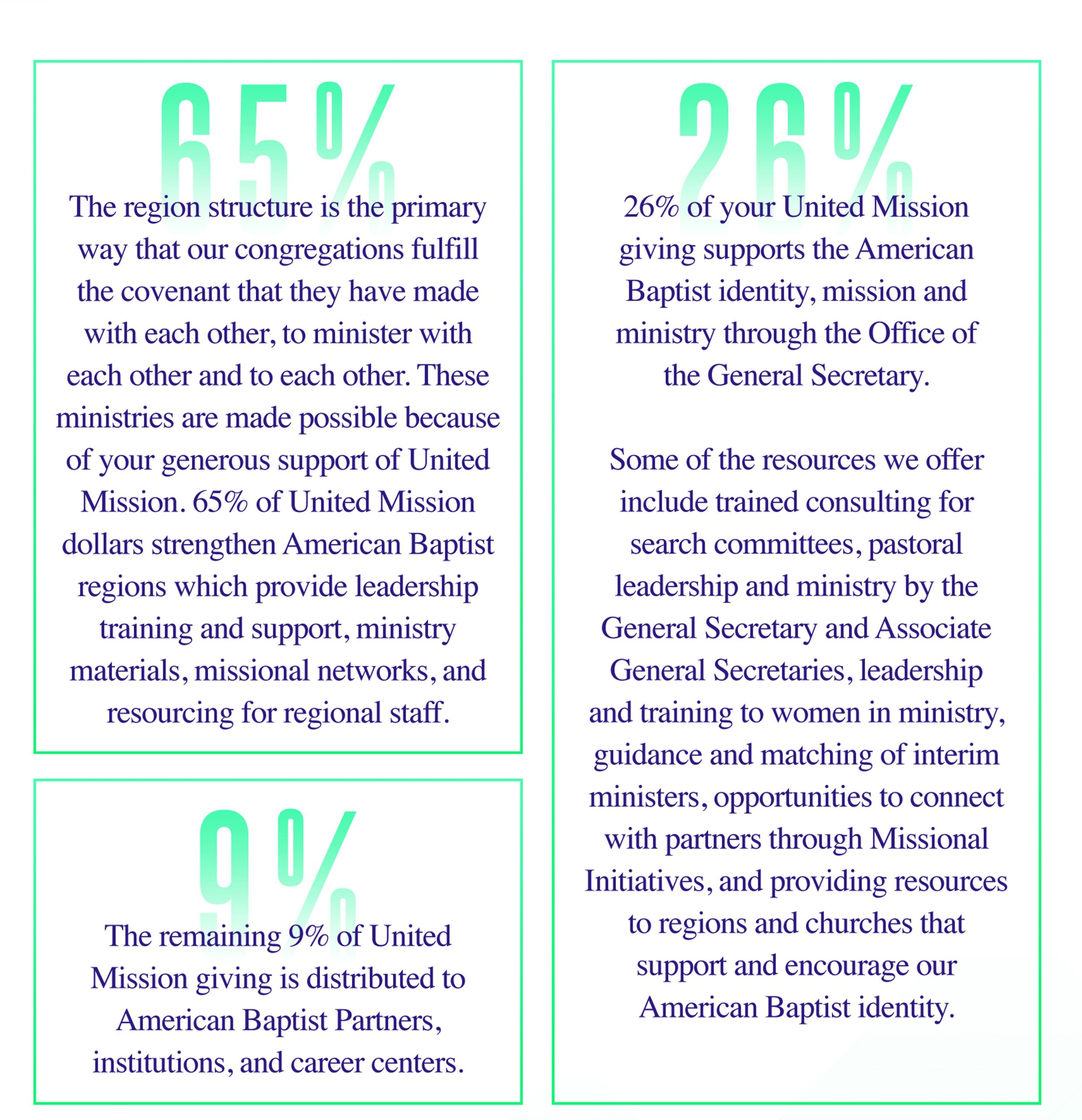 Click HERE to download a double-sided 5.5″x8.5″ flyer that can be reproduced.