The Generosity Project is a collaborative effort between ABCUSA, regions, and local congregations. The Generosity Project aims to help pastors re-frame the conversation around stewardship and generosity in their congregations. Bi-monthly blogs help support new growth and understanding as we deepen our ministry and discipleship. The reflection below was provided by Rev. Stacy Emerson.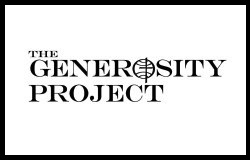 Take a minute and picture the most generous person you know.  What words come to mind?  I ask this question a lot and I hear things like: "welcoming, open, kind, honest"… and "I can be myself without judgment"… and "they are a good listener"…
I have yet to have someone say that the most generous person they know gives away oodles of money.  It may be true, since I do tend to ask in the context of money conversations, but what stands out isn't the money.  It's the spirit of the person, the way they interact with the world, the kind of relationships they nurture.
Melissa Spas in her Lake Institute newsletter article, "Simple Gifts," wrote this:
"Sometimes generosity has nothing to do with material support but is grounded in the way we relate to one another, sharing knowledge, enthusiasm, and vulnerability."  I would argue that material support is actually a by-product of a generous spirit, not the other way around.  It is generosity of spirit that motivates financial giving.
Which means that in the church we have often focused on the wrong thing.  We want people to give money to support the church but what are we doing to nurture generosity of spirit, which is what fuels giving in the first place?  Do we practice good listening skills?  Do we foster non-judgmental attitudes and speech?  Do we nurture forgiveness and encourage kindness?  Using the words from Melissa Spas, do we share knowledge, fostering mentorship from one generation of leaders to the next?  Do we find ways to be enthusiastic and encouraging with one another?  And do we interact out of our vulnerability, honoring our common humanness and frailty, appreciating each other with humility and gratitude?
Communities that nurture generosity of spirit practice these things:
Foster openness to new ideas
Are grateful and express gratitude freely and frequently
Resist gossip
Celebrate successes large and small
Listen to understand and are curious about new ideas, people, and experiences
Practice forgiveness
Encourage mentorship
Give the benefit of the doubt
Nurture inspiration
What are the areas your congregation is strong in?  What are some new things to try?  Perhaps consider asking your church leadership about the most generous person they know and collect the words they say as the foundation for the ways you hope to nurture generosity of spirit in your community.
Resource:  "Simple Gifts," Melissa Spas, Lake Institute Insights Newsletter, June 14, 2022
Rev. Stacy Emerson is the senior pastor of the First Baptist Church in West Hartford, CT and the Stewardship Consultant for ABCUSA.  She is also the Coordinator for The Generosity Project which is about helping congregations deepen their understanding of stewardship as a call to generosity as disciples of Jesus; re-framing the stewardship conversation; and cultivating generosity in pastors, lay people, and congregations.