The Generosity Project is a collaborative effort between ABCUSA, regions, and local congregations. The Generosity Project aims to help pastors re-frame the conversation around stewardship and generosity in their congregations. Bi-monthly blogs help support new growth and understanding as we deepen our ministry and discipleship. The reflection below was provided by Rev. Stacy Emerson.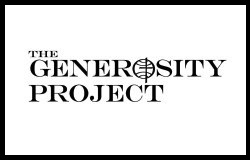 I don't know who said it first, but I appreciate the power of the sentiment: "It is not happy people who are grateful, but grateful people who are happy." Gratitude is the starting point. For contentment. For happiness. For faith. When we recognize the blessing of God, cradling us in every moment—in sun that shines, in family that nurtures, in purpose that enlivens—we settle into a pervasive gratitude that becomes a sustaining force, even when circumstances challenge us. The practice of tapping into that gratitude has proven health, psychological, and social benefit. People who are grateful are more generous, kinder, more likely to volunteer, and have more hope for the future.
We live in a society that focuses too easily on scarcity and want. These concepts are foundational to consumerism. Gratitude helps us re-orient our priorities and focus on appreciating what we do have. And so it needs to be built into the sacred routine of our everyday and into the sacred rituals of our worship. Every week in most churches, we take the time to receive some kind of offering, and this brief moment is perfect for lifting up that which we are grateful for. We can focus our attention on the ways gratitude and generosity intertwine; we can thank donors and volunteers and share the ways such stewardship makes God's love real around us; we can lift up the grace that sustains us even in difficulty and give thanks for the things we easily take for granted.
What is most helpful in all of this is intentionality. Gratitude does not come to us by happenstance. We need to nurture an awareness that recognizes blessing in the myriad ways it comes to us, and we need to pay attention. Gratitude requires a sacred practice of noticing that turns our gaze toward the blessings of God so real, and so close, waiting to claim us if we would only see.
Rev. Stacy Emerson is the senior pastor of the First Baptist Church in West Hartford, CT and the Stewardship Consultant for ABCUSA. She is also the Coordinator for The Generosity Project which is about helping congregations deepen their understanding of stewardship as a call to generosity as disciples of Jesus; re-framing the stewardship conversation; and cultivating generosity in pastors, lay people, and congregations.