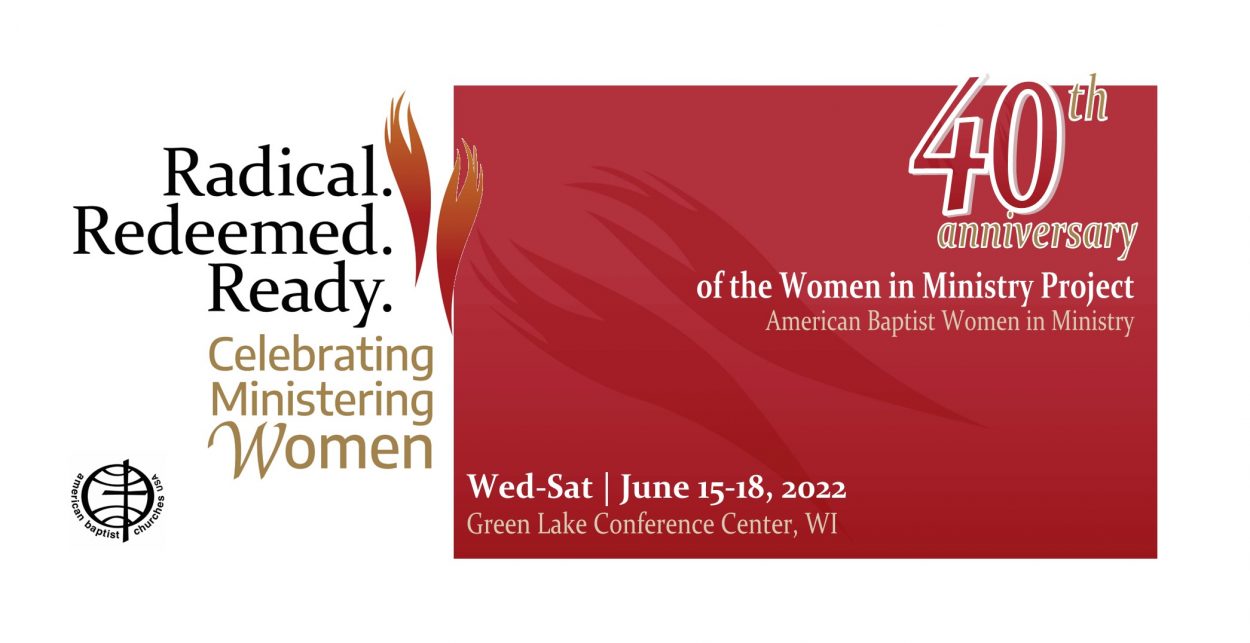 VALLEY FORGE, PA (ABNS 2/8/22)—Registration opened today for the "Radical. Redeemed. Ready." conference, coming Wednesday-Saturday, June 15-18, 2022 at the Green Lake Conference Center in Green Lake, Wis. We are monitoring the situation regarding COVID-19, but continue to plan for an in-person event this June.
The conference celebrates women ministerial leaders, their myriad journeys into ministry and their many ways of ministering. The celebration includes recognition of the 40th Anniversary of the Women in Ministry Project, now known as American Baptist Women in Ministry (ABWIM), which was fully launched in June 1982 with Rev. Dr. Margaret A. Cowden as the first Project Director.
The location of the conference, Green Lake Conference Center, is the same place where the first national gathering of women in ministry occurred in 1980, out of which the Women in Ministry Project was birthed and where American Baptist women have gathered for many years.
We invite you to visit www.radicalredeemedready.com to learn more and to register!
All are welcome! And we do mean all…all ministerial roles, experiences, and contexts; all ages, cultures, and genders; American Baptists and any and all friends in faith That means YOU! Join Us!
Radical. Redeemed. Ready. is hosted by American Baptist Women in Ministry (ABWIM), a ministry of the ABCUSA Office of General Secretary.

American Baptist Churches USA is one of the most diverse Christian denominations today, with approximately 5,000 congregations comprised of 1.3 million members, across the United States and Puerto Rico, all engaged in God's mission around the world.
---
Visit our event website at www.radicalredeemedready.com. And, be sure to use #radicalredeemedready when posting about the event!
Related Articles:
"Radical. Redeemed. Ready." Early Registration Deadline Extended
Grant and Scholarship Opportunities for June 2022 Radical. Redeemed. Ready. Conference
Key Conference Leaders to Highlight Radical. Redeemed. Ready.
Registration Opens for Radical. Redeemed. Ready.
Get to Know Our Conference Leaders: