About the Luke Mowbray Ecumenical Award
The Luke Mowbray Ecumenical Award was established in 1974 at the request of Edna Mowbray, in memory of her late husband to recognize their commitment to achieve Christian unity. Luke and Edna Mowbray were faithful members of First Baptist Church in Pratt, Kansas. They were dedicated American Baptists who helped other farmers during difficult times. The Award's purpose is to give recognition to a member of an American Baptist church who has made an outstanding contribution in ecumenical work at the local, state, national, or international level as either a volunteer or paid professional.
The ABCUSA Committee on Christian Unity and Interfaith Relations receives nominations for the Luke Mowbray Ecumenical Award every two years and is typically presented at the ABCUSA Biennial Mission Summit, which occurs in June, odd-numbered years.
Current 2023 Recipient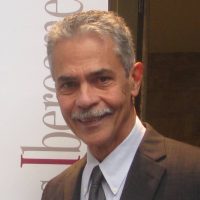 Dr. Luis N. Rivera-Pagán
Read about our award recipient here.
---
Interested in nominating someone for this award?
Nomination process will open up again toward the end of 2024.
Past Recipients
2021      Ineda P. Adesanya
2019      Stephen Butler Murray
2017      June Totten
2015      A. Roy Medley & Molly T. Marshall (2 recipients)
2013      Rothangliani Chhangte
2011      J. George Reed
2009      Donald Anderson
2007      Anthony Malone, M.D.
2005      Jean S. Stromberg
2003      Lawrence Hargrave
2001      Lynn E. Hodges
1999      Olive Tiller
1997      Bernardino Martinez
1995      Arthur Fuller
1993      Doris Younger
1991      Kenneth Maxwell
1989      Roger Fredrikson
1987      David C. Bloom
1985      Joel Ayala
1983      Paul Gillespie
1981      W. Lee Hicks
1979      Elizabeth Haselden
1977      Marvin Chandler
1975      R. H. Edwin Espy