VALLEY FORGE, PA (ABNS 4/14/21)—The ABCUSA Committee on Christian Unity and Interfaith Relations received nominations for the Luke Mowbray Ecumenical Award in early 2021. The Committee voted to recognize Rev. Ineda P. Adesanya, Associate Minister of Spiritual Life at Allen Temple Baptist Church in Oakland, Ca. The Award is given to an individual for "sustained performance or special achievement" in "the cause of ecumenism." The award will be presented during a virtual presentation, which will be shared through the 2021 online Biennial Mission Summit, Thursday, June 24, to Saturday, June 26, 2021.
The Luke Mowbray Ecumenical Award was established in 1974 at the request of Edna Mowbray, in memory of her late husband to recognize their commitment to achieve Christian unity. Luke and Edna Mowbray were faithful members of First Baptist Church in Pratt, Kansas. They were dedicated American Baptists who helped other farmers during difficult times. The Award's purpose is to give recognition to a member of an American Baptist church who has made an outstanding contribution in ecumenical work at the local, state, national, or international level as either a volunteer or paid professional.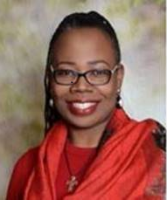 Rev. Ineda P. Adesanya has worked as a pastoral counselor (campus pastor) for the Pacific Lutheran Theological Seminary since 2017 providing spiritual care, leading spiritual formation groups, and teaching pastoral care to students in formation to become Lutheran pastors. Each year, she facilitates a First Year Student Ministry Cohort, bringing Lutheran students to Allen Temple Baptist Church in Oakland, Calif., to experience ministry across denominational and often, racial lines. She continues to accompany them as their spiritual director throughout their internships and as they await their first calls to parish ministry.
For the past four years, Rev. Adesanya has been affiliated with The Chaplaincy Institute – An Interfaith Seminary and Community (ChI). Originally the organization's Admission Manager, recruiting and assisting prospects in their discernment to pursue interfaith education and/or ordination, now as guest faculty Rev. Adesanya teaches ChI students in Discernment Basics, Spiritual Direction with African Americans, and Spiritual Care as if Oppression Matters. She currently serves as President and CEO of the ChI Board of Directors. She served two years as acting Executive Director, a position through which she led the organization out of a period of significant challenge and into a renewed financially and programmatically healthy space. Today, ChI thrives in training and educating interfaith chaplains, ministers, and spiritual directors to work toward the sacred connection of all.
Rev. Adesanya has served as extended staff to the Companions on The Inner Way (COTI Way) Retreat since 2013. COTI Way is a Presbyterian organization that provides two annual, weeklong, guided retreats. She has served as a preacher, small group leader, co-liturgist, and co-celebrant. She consistently brings multicultural, ecumenical, and interfaith fluency and sensitivities to the retreats, which include persons of various religious and racial ethnic backgrounds. In 2016, Rev. Adesanya joined the COTI Way Board and has served a key role in helping to broaden the organization's diversity and inclusiveness. Each year she brings a delegation from the Allen Temple Baptist Church to the COTI Way retreats, fostering ecumenical alliance and spiritual growth.
Since 2014, Rev. Adesanya has served as staff for the Spiritual Direction Training Program at the San Francisco Theological Seminary (SFTS). SFTS is a Presbyterian seminary that nurtures students across denominational spectrums. Rev. Adesanya teaches, trains, and supervises students in formation to become spiritual directors.  Rev. Ineda Adesanya is a leader of leaders in the Spiritual Direction community. Her writings and workshops have helped develop persons of various religious backgrounds. As a founding Board member of the Spiritual Directors of Color Network (SDC Network), she has been particularly insightful and empowering to spiritual directors of color as they develop skills in providing spiritual direction across racial and religious lines. Rev. Adesanya recently edited and co-authored with members of the SDC Network an ecumenical and interfaith curriculum on spiritual direction titled, "Kaleidoscope: Broadening the Palette in the Art of Spiritual Direction."
American Baptist Churches USA is one of the most diverse Christian denominations today, with approximately 5,000 congregations comprised of 1.3 million members, across the United States and Puerto Rico, all engaged in God's mission around the world.