VALLEY FORGE, PA (ABNS 6/30/21)—The American Baptist Churches USA 2021 Biennial Mission Summit—An Online Experience met virtually June 24-26, 2021, with several pre-event activities. Inspired by the event's theme, Imagine, speakers and leaders fostered spaces and invited participants to work toward unity, experience healing, and have hope while envisioning new possibilities for ministry and communities. American Baptists logged on to the online event platform from all across the country and around the world.
A Thursday afternoon Welcome Session kicked off the three day national conference followed by Caucus Sessions, Workshops, the denominational Business Meeting, Mission Summit Conversations, Exhibitor Booth Activities, evening Worship Services, and more, culminating in the Saturday evening Worship Service: Imagine–Hope.
You can read overviews of Thursday and Friday events from previously published briefs.
Saturday, June 26, marked the third and final day of the virtual gathering. Main session events began with afternoon workshops, with an array of offerings including a visit to the Caribbean and the Philippines with global servants, a discussion time to reset and reimagine the challenges and triumphs of ministry, a conversation on rethinking bi-vocational ministry, and an exploration of the imaginative work of God. Participants were then invited to share their perspectives and lend their voices to the Mission Summit Conversations on Anti-Racism, Unity, and Congregational Life. Following this hour, Dr. Jeffery Haggray and Rev. Jamie Washam, executive director and president of the Board of Directors, respectively, shared the exciting ministry of the American Baptist Home Mission Societies during the Highlighting American Baptist Home Mission Societies session.
The event wrapped up with the Worship Service: Imagine—Hope, starting at 7:00 p.m. EDT. The worship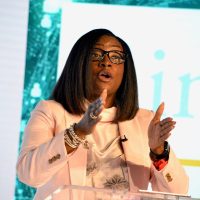 service led by the denomination's youth celebrated being people of hope who serve as the Body of Christ. The Rev. Dr. Brianna K. Parker preached from 1 Kings 18:30-39 under the theme "The Proof is in the Putting," encouraging worshippers to put all of and all in their lives on the altar, with full trust in God, even through holy struggle, that God will do more than you can imagine for you and your community. The 2021 Mission Summit Biennial also included words of thanksgiving and appreciation by the Rev. Felipe Candelaria, chair of the 2021 Biennial Mission Summit Planning Team, for the hundreds of people involved in making the event possible, saying, "Similar to the saying, 'It Takes a Village,' it took the whole [ABC] family." Finally, the service ended with an invitation from Rev. Edgardo Caraballo, regional executive minster of Iglesias Bautistas de Puerto Rico, to the 2023 Biennial Mission Summit to be held in June 2023 in San Juan, Puerto Rico.
"As I sit and reflect on all that occurred during the first-ever online biennial" ABCUSA President Karen Podsiadly writes, "The following scripture is brought to mind: 'God can do anything, you know—far more than you could ever imagine or guess or request in your wildest dreams! He does it not by pushing us around but by working within us, his Spirit deeply and gently within us." Ephesians 3:20-21 (The Message). She notes that over the course of the three-day event, "Not only did the planning team allow God to use them, the crew who brought the experience alive and each person who attended did so as well. It was exciting to witness our ABCUSA family gather for the excellent preaching, workshops, conversations, and exhibitor booths. It has been so filling to hear from so many of the family that they felt connected and are looking forward to seeing one another in person (and perhaps online) for the 2023 Biennial Mission Summit in sunny Puerto Rico. In the meantime, enjoy your access to the online platform for the next 90 days."
Each of the ABCUSA partners hosted events to highlight the ministries that they are currently embracing. International Ministries held both a session to share their current ministries as well as a workshop on Saturday focusing on global servants serving in the Caribbean. "It really has been a delight to imagine and celebrate the life of our ABCUSA family over the past few days," reflected the Rev. Sharon T. Koh, executive director/CEO of International Ministries. "I'm so glad that we could gather our hearts together this way."
MMBB Financial Services hosted both a member address as well as a workshop "Financial Wellness in the New Normal." Understanding the new normal, MMBB's Chief Executive Officer, Dr. Louis Barbarin observed, "Out of an abundance of caution for our ABCUSA constituents and staff, the decision was made to provide a virtual experience for our Biennial Mission Summit participants. This setting did not prevent us from convening as God's people and communing through spoken and musical praise, worship, and fellowship. It was clear that the Lord's presence was powerfully with us during our time together."
The American Baptist Home Mission Societies' Executive Director, Dr. Jeffrey Haggray, shared about the event with enthusiasm, "what a wonderful experience was the 2021 online Biennial Mission Summit that celebrated our collective American Baptist mission, ministries and identity. Congratulations to ABCUSA President Karen Podsiadly, Interim General Secretary Dr. C. Jeff Woods and the Biennial Planning Committee for a job well done."  ABHMS celebrated their ministry in a workshop "Living the Gospel in the United States and Puerto Rico" from the perspectives of a local church pastor, a college president, a community ministry leader and a hospital chaplain. Haggray added, "We are proud to be American Baptists bringing Jesus Christ's good news in the midst in these challenging times."
The American Baptist Women's Ministry started their celebrations earlier in the month with their AB Women's and Girl's day and continued during the Biennial Mission with activities within their Exhibit Booth and offering the workshop "Reset and Reimagine: Challenges, Triumphs, and New Possibilities," sharing ideas and learnings sparked from diverse case studies. Executive Director Rev. Dr. Gina Jacobs-Strain commented, "The 2021 Biennial Mission Summit was a wonderful reflection of the gifts and beauty of our diverse intergenerational denomination. Each gathering reflected thoughtful planning and countless hours of collaborative work, shared brilliance of the committees, and a deep dedication to create a joyful experience for our family. We imagined with God, and we were blessed!"
Marking the end of the event, ABCUSA Interim General Secretary Dr. C. Jeff Woods reflected, "The hosting of the first ever fully online Biennial Mission Summit required the maximum efforts of a lot of people working a lot of hours. I am grateful for the team of staff and volunteers that continually worked toward the same goal of creating an inspirational, informative, and empowering Biennial that demonstrated who we are and can be as American Baptists. Just imagine what God will do in Puerto Rico in 2023!"
Event registrants will continue to have access to recordings of the main sessions and the resources in the On-Demand Library and Exhibit Booths through September 24.
Those who were unable to attend the Biennial Mission Summit yet would like to benefit from the available recordings and resources can take advantage of a post-event registration of $40. Details of this option, along with additional helpful instructions and information about the event, can be found at www.abc-usa.org/imagine2021.
American Baptist Churches USA is one of the most diverse Christian denominations today, with approximately 5,000 congregations comprised of 1.3 million members, across the United States and Puerto Rico, all engaged in God's mission around the world.