ORLANDO, FL (ABNS 1/7/14)—EMERGE: Baptist Witness in the 21st Century, a conference presented by American Baptist Churches USA (ABCUSA), is meeting this week at the DoubleTree in Orlando, Florida. The conference marks the third time that the Orientation to American Baptist Life conference for new ministers and seminarians has joined together with the ABC Ministers Conference. Photos from the conference can be viewed here.
New ABC President Don Ng welcomed attendees to worship on the first evening of the conference, saying, "American Baptists welcome you to be our partners in the name of Jesus Christ in this world that is badly in need to hear the Good News. We need you to be prophets, evangelists, pastors, teachers, chaplains, missionaries, and denominational leaders, all servants in the Lord."
In the opening worship service, Dr. Craig S. Keener, professor of New Testament at Asbury Theological Seminary in Wilmore, KY, spoke about the conference verse, Acts 1:8, which says, "But you will receive power when the Holy Spirit has come upon you; and you will be my witnesses in Jerusalem, in all Judea and Samaria, and to the ends of the earth."
"The power of the Spirit empowers us to speak for the Spirit. We are empowered by God," Keener said. "As we speak the message of the good news, we can trust that we are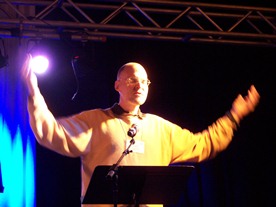 accomplishing what God wanted, what we couldn't accomplish. It's just human words, but we are speaking for the spirit."
Keener continued, "The spirit is pushing the church beyond cultural boundaries so that we reach all peoples and partner together with all peoples."
EMERGE, which runs from Monday, January 6-Thursday, January 9, is highlighted by speakers, times of worship and an opportunity to come together and grow as American Baptist leaders. Additionally, there are workshops for all attendees, and introductions for new-to-ABC ministers and seminarians to the partner organizations that make up American Baptist Churches USA. A typical day will include morning worship and teaching, presentations by the various boards and organizations related to American Baptist Churches USA, evening worship services and opportunities for fellowship and relaxation at the Doubletree.
"An exciting shift in the 2014 Orientation conference is access to a large array of workshops for seminarians and new-to-ABC ministers and a larger role for seminarians in worship experiences. Another change is that all Emerge participants will experience an "orientation" through the mission highlights at each plenary session." David Laubach, Co-coordinator and EMERGE  consultant.
Additional conference speakers and ministers include:
Dr. Adam L. Bond, associate professor of Historical Studies at the Samuel DeWitt Proctor School of Theology of Virginia Union University in Richmond, VA
Rev. Dr. Elizabeth Conde-Frazier, dean of Esperanza College of Eastern University in Philadelphia, PA
Dr. Kirk Byron Jones, adjunct professor of ethics, preaching and pastoral ministry at Andover Newton Theological School in Newton Centre, MA
Dr. Molly T. Marshall, president and professor of Theology and Spiritual Formation at Central Baptist Theological Seminary in Shawnee, KS
Rev. Dr. Steve Van Ostran, executive minister of the American Baptist Churches of the Rocky Mountains in Centennial, CO
The conference includes twenty-one separate workshop offerings, made up of ministers, American Baptist leaders and skilled professionals. Current American Baptist ministers and leaders will have an opportunity to learn and grow as they examine their ministries and focus on challenges, preaching, multiculturalism, finances, pastoral care, and making adaptive change in a changing environment. Participants of the Orientation to American Baptist Life track of the conference will meet with denominational leaders and staff in unique sessions and will also join the Ministers track attendees for afternoon workshops, worship and other common experiences.
The conference will end after a worship service on Thursday evening, January 9.
American Baptist Churches is one of the most diverse Christian denominations today, with over 5,200 local congregations comprised of 1.3 million members, across the United States and Puerto Rico, all engaged in God's mission around the world.
Conference Resources
Spirituality for Becoming Multicultural
Presentation by Dr. Adam L. Bond and Rev. Dr. Elizabeth Conde-Frazier
Regional Ministries PowerPoint 
Presentation by John Williams, Executive Minister, ABC of the Central Region
Regional Ministries Overview Video