United Mission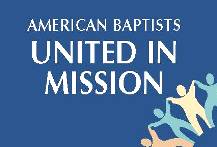 American Baptists have always been a people of mission; mission is in our DNA.  Our United Mission (UM) contributions give concrete expression to this impulse and help us to be the hands and feet of Christ – from the local congregation to all parts of the world.
It is through UM, our one family offering, that each giver is able to participate in the total ministry of our American Baptist family.
These gifts are distributed on a percentage basis according to the covenant agreement between Region organizations, International Ministries, National Ministries, Ministers & Missionaries Benefit Board, the Office of the General Secretary, and career development centers.
These gifts under gird every aspect of our life together as American Baptists, supporting the cutting-edge ministry projects as well as the administrative support necessary to the success of those projects.
Congregations give to UM in three ways:
UM Basics are undesignated contributions from local churches to the vital mission and ministry of American Baptists. Basics provide support for the extensive foundation of American Baptist missions.
UM Designations are designated contributions from local churches to a particular budgeted regional, national, or general American Baptist mission or ministry. Designations provide a personalized way of giving to one ministry without taking from others.
UM Love Gifts are contributions from American Baptist women in support of American Baptist ministry, given over and above United Mission Basics.

Other American Baptist Mission Support Offerings
The five special offerings, America For Christ, World Mission Offering, Retired Ministers and Missionaries Offering, One Great Hour of Sharing, and Regional Offering, are another way to support the good work of specific ministry partners.
United Mission Pieces Written by Ron Vallet
Jesus' Call to Love and United Mission February 2014
The Lord's Prayer and United Mission November 2013
The Bondage of Fear and United Mission August 2013
Stewards of the Gospel and United Mission June 2013
"Letter from Birmingham Jail" and United Mission  May 2013
The Wind of God and United Mission April 2013
Giants of the Faith and United Mission  March 2013
"Mission Rejected" or United Mission?  February 2013
The Pastor and United Mission   January 2013
"God's Full-spectrum Mission" and United Mission  December 2012
"Oak Beams" and United Mission October 2012
"Your Budget Is a Theological Statement" September 2012
"Can These Dry Bones Live?" June 2012
"Reversing Course" May 2012
"A Week of Heavy Going" April 2012
Words and Deeds March 2012
"God Blends the Universe Towards Justice" February 2012
"Turn the Music Down!" and United Mission January 2012
The Gravedigger's Two Dollars and United Mission(PDF) December 2011
Silos of Ministry and United Mission (PDF) November 2011
A Miracle of God and United Mission (PDF) October 2011
God's Radical Justice and UM (PDF) September 2011
"Gripped by The Gospel" and UM (PDF) August 2011
Saying 'Yes' to United Mission (PDF) July 2011
Pentecost and United Mission (PDF) June 2011
Easter and United Mission (PDF) May 2011
The Resurrection and United Mission (PDF) April 2011
United Mission: Treasures On Earth Or In Heaven? (PDF) March 2011
United Mission: A Symphony (PDF) February 2011
God's Justice and United Mission (PDF) January 2011
Dismembered Mission or United Mission? (PDF) December 2010
Spiritual Anxiety and United Mission (PDF) November 2010
Grateful Congregations and United Mission (PDF) October 2010
Risk Taking and United Mission (PDF) September 2010
Money Matters And United Mission (PDF) August 2010
The Invisibility of United Mission (PDF) July 2010
Pentecost and the First Christian Sermon (PDF) June 2010
The Church: A Miracle That Depends On The Resurrection Work Of God (PDF) May 2010
When God Showed Us The World
According To God (PDF) April 2010
The Treasure in Earthen Vessels (PDF) March 2010