American Baptist Churches USA is inviting partners and congregations to participate in Golden Rule 2020: A Call for Dignity and Respect.
Jesus commands us in Matthew 7:12, "In everything do to others as you would have them do to you; for this is the law and the prophets."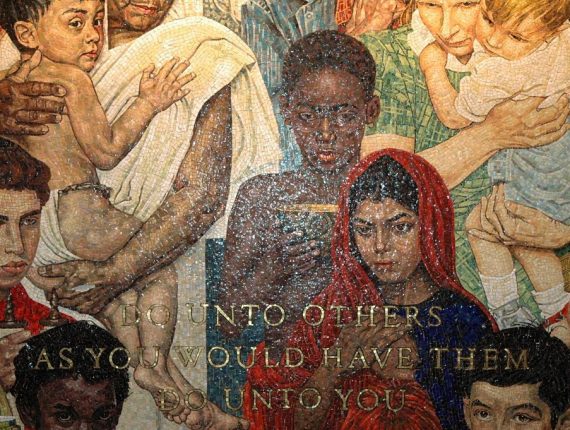 Golden Rule 2020 ask that we as a body of believers and individuals intentionally embody this Scripture, while elevating the discourse in our spheres of influence. "Dr. King eloquently stated, 'the church is not merely a thermometer that recorded the ideas and principles of popular opinion; it was a thermostat that transformed the mores of society.' Our society needs relational transformation and American Baptists can lead in helping our nation live together more respectfully.
American Baptist Churches USA has long recognized the need to make space for productive challenging conversations. We have engaged in healthy discussions during our Mission Summit Conversations and through utilizing Baptist Talk as a methodology. Civil discourse calls us to the table once again to speak on issues with the intention of promoting more civil conversations and behaviors rooted in love, in an era where lack of civility is the norm rather than the exception. There is a renewed urgency for respectful communication and deliberate community building in our nation. American Baptists are joining other denominations through our partnership with the National Institute of Civil Discourse, Initiative to Revive Civility to promote civility across our country.
How can you participate in Golden Rule 2020?
Adopt the Golden Rule as a theme for your church or specific activities within your congregation in 2020.
Set aside a time in service on a monthly basis to pray for the healing of divisions in our church and in our country.
Once a month encourage Sunday School lessons and/or sermons about the relevance of the Golden Rule to our nation's public life.
Visit the ABC website regularly for updates, articles or resources to share with your congregations.
Schedule civility conversations, dinners or coffee hours in your church or community.
Arrange to have a civil discourse training session in your church or community.
How to Participate (from our partners at the National Institute for Civil Discourse)
Congregations can participate by incorporating the message of Golden Rule 2020 into their educational programs and/or worship services in a variety of ways – some of these are listed below.
Take 5 minutes during your worship service to use short prayers and readings that explain Golden Rule 2020
Incorporate a short liturgy on the need for dignity and respect in in your worship service
Share ideas about specific ways to apply the Golden Rule in political discussions on the church website or in bulletins.
Preach a sermon on the Golden Rule or other Christian teaching that promotes respect of others across differences
Sign and Distribute a pledge affirming the desire to practice the Golden Rule in politics
Issue a joint statement to the media endorsing Golden Rule 2020 that is signed by pastors and church leaders who have different political views.
Have a lesson during Sunday School on Christian teachings about the Golden Rule
Sponsor a joint prayer service with members of another congregation where most people have different political views