VALLEY FORGE, PA (ABNS 10/11/23)—You're invited to the next American Baptist Churches Everyday ABC Conversation event, "Post-Pandemic Impact on Ministry and Stewardship," on Tuesday, December 5 at 3:00pm ET. Register today and plan to join presenters Dr. Campbell B. Singleton III and Rev. Stacy Emerson for presentations and discussion around this topic. Register Today!
More Information: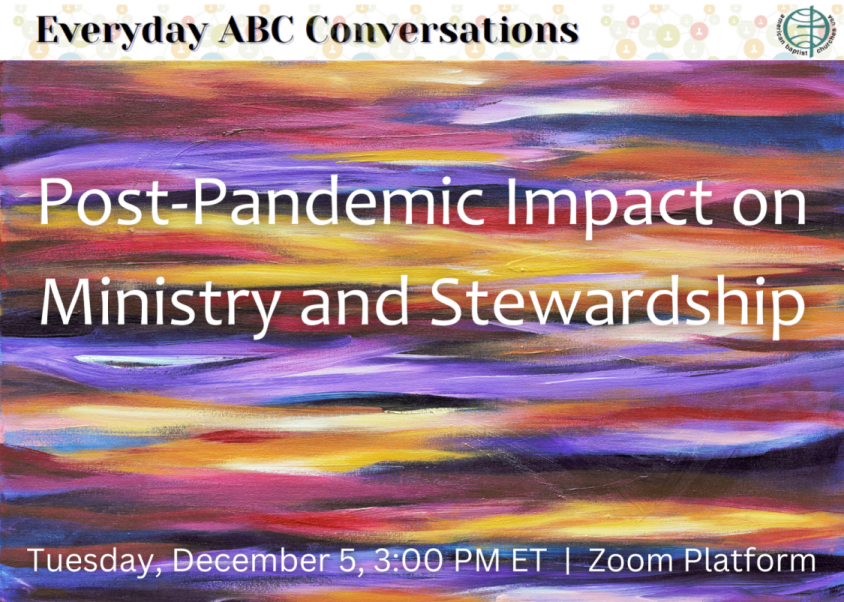 We recognize that even before the pandemic began in 2020, churches were already feeling overwhelmed by the state of things—in the church, in our country, and in the call to serve God faithfully in an ever-changing world. The pandemic has had a tremendous toll on persons, marriages, families and the church. In this ABC Everyday Conversation, we will talk about specific ways lives were impacted and the church's response, reflecting on how ministry has changed due to the pandemic and how times of struggle impact how we view stewardship, mission, and ministry. The question is, what is working, and not working, as we navigate the overwhelmed-ness of these days?
American Baptist Churches USA is happy to create space for the "Everyday ABC Conversations," a series of dialogues around topics of interest. Each Everyday ABC Conversation begins with a brief introduction of the topic by one or two leaders associated with the subject area, followed by 30-40 minutes of small group conversation in randomly assigned breakout rooms of up to 10 persons each.
Register Now and plan to join us on December 5.
Rev. Dr. Campbell B. Singleton, III, serves as the Associate Executive Minister of the American Baptist Churches of Metro New York. As Associate Executive, he is responsible for motivating churches to spiritually and financially support ABC ministries through the mission giving program. Dr. Singleton's academic credentials include a Doctor of Ministry from Hartford Seminary in Hartford, Connecticut; a Master of Divinity from Union Theological Seminary in the City of New York; and a Bachelor of Science from the University of Connecticut, in Storrs, Connecticut.
Rev. Stacy Emerson is the senior pastor of the First Baptist Church in West Hartford, CT and the Stewardship Consultant for ABCUSA.  She is also the Coordinator for The Generosity Project which is about helping congregations deepen their understanding of stewardship as a call to generosity as disciples of Jesus; re-framing the stewardship conversation; and cultivating generosity in pastors, lay people, and congregations.
American Baptist Churches USA is one of the most diverse Christian denominations today, with approximately 5,000 congregations comprised of 1.3 million members, across the United States and Puerto Rico, all engaged in God's mission around the world.