VALLEY FORGE, PA (4/25/23)—The American Baptist Churches of the Dakotas has called Rev. Dr. Aaron Kilbourn to be the region's next Region Executive Minister. Rev. Dr. Kilbourn's term of service as Executive Minister will begin June 1, 2023.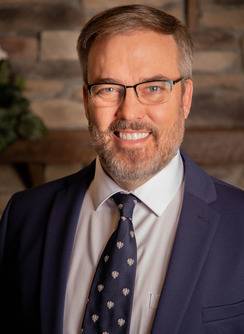 According to Rev. Brian Skar, president of the Region Policy Board of the American Baptist Churches of the Dakotas recently extended a call to Dr. Kilbourn to serve as their Executive Minister. "Aaron Kilbourn has been a pastor in the Dakotas for over twenty years, so we know him well. He is a serious disciple and a Biblical scholar. He is a man of energy and passion. We are excited to have him as our new Executive Minister."
Rev. Dr. Aaron Kilbourn is an MDiv graduate from Sioux Falls Seminary and has a doctorate degree in Theology and Apologetics from Liberty University Rawlings School of Divinity. He has served as pastor of First Baptist Church in Parker, S.D. for 21 years. In recent years, he has helped to develop and teach certificate, undergraduate, and graduate programs at Colorado Christian University's Lee Strobel Center. He has also served as a faculty mentor for Kairos University in Sioux Falls, S.D. and has enjoyed serving on the ABC of the Dakotas Region Policy Board. He is happily married to his wife Michelle and they are blessed with two children, Aubrey and Zack.
Rev. Dr. Kilbourn has great joy in seeing men and women come to understand their God-given gifts and become equipped to serve their community and ministry context for the glory of God and the going out of the Gospel of Jesus Christ. He loves the Scripture from Jude 3, "Beloved, although I was very eager to write to you about our common salvation, I found it necessary to write appealing to you to contend for the faith that was once for all delivered to the saints."
American Baptist Churches USA is one of the most diverse Christian denominations today, with approximately 5,000 congregations comprised of 1.3 million members, across the United States and Puerto Rico, all engaged in God's mission around the world.