VALLEY FORGE, PA (ABNS 4/3/23)—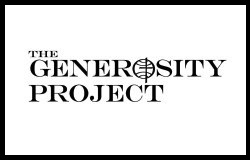 The Generosity Project presents a live Zoom event with Tod Bolsinger on Monday, May 22 at 1:00 PM ET. Join us as we hear from Tod Bolsinger, who will be sharing from his book "Tempered Resilience." Following the presentation there will be a short time of Q&A. Click here to register.
Tod Bolsinger will be sharing about leading adaptive change. The problems church leaders are facing today require adaptive change to solve: "they cannot be solved with one's existing knowledge, skills and tools, requiring people to make a shift in values, expectations, attitudes or habits of behavior." The struggles we face are "systemic problems with no clear answers." Adaptive challenges are unlike technical problems which could be addressed with "application of current knowledge, skills and tools to resolve a situation."
Bolsinger is a speaker, executive coach, former pastor and author who serves as associate professor of leadership formation and senior fellow for the De Pree Center for Leadership at Fuller Seminary. He is the author of "Canoeing the Mountains" and "Tempered Resilience."
The Generosity Project is a collaborative effort between ABCUSA, regions, and local congregations. The Generosity Project aims to help pastors re-frame the conversation around stewardship and generosity in their congregations.
This webinar is open to persons from all American Baptist regions, and is sponsored by the Generosity Project, a ministry of the American Baptist Churches USA Office of the General Secretary, in partnership with:
– District of Columbia Baptist Convention
– American Baptist Churches of Greater Indianapolis
– American Baptist Churches of the Central Region
– American Baptist Churches of the Rocky Mountains

American Baptist Churches USA is one of the most diverse Christian denominations today, with approximately 5,000 congregations comprised of 1.3 million members, across the United States and Puerto Rico, all engaged in God's mission around the world.