VALLEY FORGE, PA (10/6/21)—The ABCUSA Anti-Racism Task Force invites paper submissions for possible inclusion and presentation at "The Prophetic Rhythm of Anti-Racism," an online symposium hosted by the ABCUSA Anti-Racism Task Force. The symposium will meet Saturday, October 30, 2021, from 3:00 – 7:00 PM ET. Reflection papers must be submitted by Friday, October 15.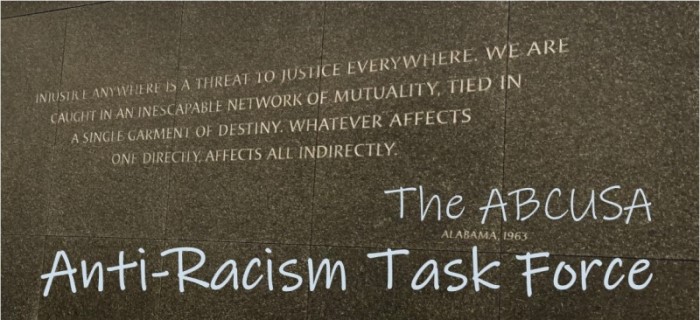 Reflection papers should be 2-3 pages typed and double-spaced on the exploration of one of two topics: Anti-Racism or Reparations. Chosen papers will be part of a panel discussion, including Q & A.
The Anti-Racism Task Force aims to provide a platform for pastors, executive ministers, laity, and all other ABCUSA family members to present their reflections on anti-racism. This is an opportunity for the denomination to share its many voices, views, and perspectives.
Selected participants will be notified by Tuesday, October 19.
Read the full Call for Papers including submission instructions here.
American Baptist Churches USA is one of the most diverse Christian denominations today, with approximately 5,000 congregations comprised of 1.3 million members, across the United States and Puerto Rico, all engaged in God's mission around the world.