VALLEY FORGE, PA (ABNS 6/7/21) This year's ABHS-hosted "biennial breakfast" takes on a new twist: you do not have to make your way to a convention center before 7:00 a.m. on a Sunday morning! Join the American Baptist Historical Society for its Biennial Mission Summit event online, Friday, June 25, at 1:00 p.m. EDT/10:00 a.m. PDT.  (Calculate for your own time zone.)
Highlights of this year's event include:
Presentation of the George Younger Award for Excellence in Local or Regional Baptist History to First Baptist Church of Trumansburg, NY. Rev. Dennis Christiansen, pastor
Updates from ABHS
Preview of Making History: a conversation with Raphael G. Warnock
Since 2005, the Rev. Dr. Raphael G. Warnock has served as the Senior Pastor of the Historic Ebenezer Baptist Church, spiritual home of the Rev. Dr. Martin Luther King, Jr. and an ABC-affiliated congregation. In 2021, Dr. Warnock was elected to the U.S. Senate, the first person of color elected to that office from Georgia and only the eleventh African American U.S. Senator ever.
Listen in on Dr. Warnock sharing with ABHS Executive Director Priscilla Eppinger his views on Christian responsibility in a time of political and social division, and how a Baptist pastor honors the separation of church and state while serving in political office.
The ABHS Biennial Mission Summit event is open to all Biennial Mission Summit registrants.
The full conversation with Dr. Warnock will be streamed on Sunday, June 27, 8:00 p.m. EDT/5:00 p.m. PDT.  Register for your spot at https://bit.ly/ABHS-Warnock_interview.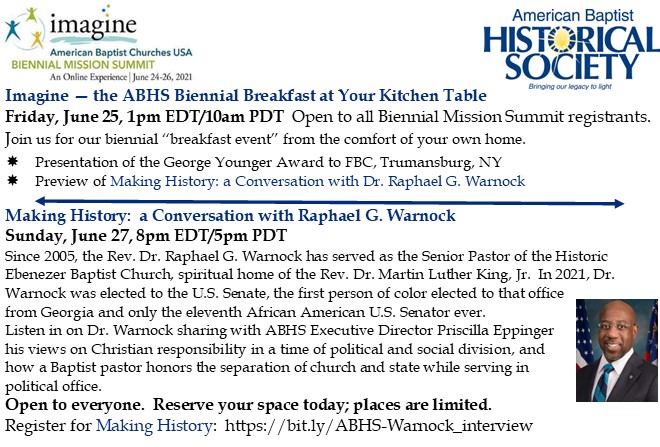 The American Baptist Historical Society, as a premier religious historical society, advances Baptist identity, promotes historical literacy, and thereby inspires spiritual and social transformation. Since 1853 ABHS has been committed to preserving and telling the stories of Baptists in the USA and around the world. Researchers come from around the globe to research the contributions Baptists have made to church and society.
American Baptist Churches USA is one of the most diverse Christian denominations today, with approximately 5,000 congregations comprised of 1.3 million members, across the United States and Puerto Rico, all engaged in God's mission around the world.