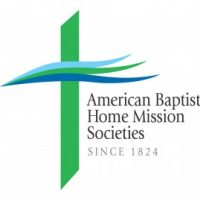 VALLEY FORGE, PA (5/25/21)—American Baptist Home Mission Societies (ABHMS) invites you to listen, learn and live the Gospel, as it presents "Living the Gospel in the United States and Puerto Rico," a workshop to be held at 4 p.m. EDT on Friday, June 25, during "Imagine," American Baptist Churches USA's 2021 Biennial Mission Summit: An Online Experience.
Panelists for the presentation are the Rev. Dr. Luz Celeniar ("Lucy") Tirado, chaplain for Valley Home Care Hospice and Protestant chaplain for the women's facility of New York City Corrections; the Rev. Ashlee Wiest-Laird, pastor at First Baptist Church, Jamaica Plain, Mass.; Christian Esteban, executive director of JOYA Scholars, a nonprofit in Fullerton, Calif., that serves junior high and high school students who dream of becoming first-generation college students; and Dr. Reggies Wenyika, president and professor of Education and Religion at Ottawa (Kan.) University Midwest.
In addition, a variety of one-hour presentations featuring small group breakout sessions will be held at ABHMS' exhibit:
Wednesday, June 23 at 1 p.m. EDT — Introducing the brand-new ABHMS Center for Continuous Learning! Meet the director, the Rev. Rebecca Irwin-Diehl; experience a virtual tour of the newly launched website with its custom learning platform; and linger to experience a sample workshop, "What Floats Your Boat? Navigating the Deep Waters of Congregational Change and Discernment" with the Rev. Dr. Jeff Johnson and the Rev. Dr. Christine Roush. It will feature dynamic interaction with the facilitators and fellow learners as participants engage with  creative content drawn from a coming-soon CCL offering, the Discipleship Summit in fall 2021.
4 p.m. EDT — Ministry is difficult. Come discover how ministrElife, a vibrant online community exclusively for ministry professionals, can help. Schedule a one-on-one consultation with the Rev. Megan Biddle, national coordinator for ministrElife and ABPS to do a deep dive into your ABPS Profile! Are you a podcaster, writer, subject matter expert? Amplify your message. Expand your audience. Discover how you can collaborate with ministrElife with the Rev. Erica Van Brakle, director of ministrElife and ABPS.
7 p.m. EDT — The Rev. Dr. Patricia Murphy, ecclesiastical endorser and American Baptist Home Mission Societies' national coordinator of Chaplaincy and Specialized Ministries, invites chaplains, pastoral counselors, spiritual directors and other specialized ministers to participate in "Sacred Conversations," a time of sharing for American Baptist spiritual caregivers. This time will allow exploration of  conversations with care recipients during the pandemic.
Thursday, June 24 at 1 p.m. EDT — Join us for an author forum on "[In]Justice and its Impact on Wellness" facilitated by Curtis Ramsey-Lucas, editor of The Christian Citizen. Guest panelists are Dr. Jessica Young Brown, the Rev. Dr. Kristina Gutiérrez, the Rev. John Matthews, the Rev. Dr. Ross Peterson, the Rev. Dr. Marvin McMickle, the Rev. Dr. Kirk Byron Jones, the Rev. Dr. Susan Williams Smith and the Rev. Dr. Matthew Tennant.
Friday, June 25 at 1 p.m. EDT — Ouleye Ndoye, ABHMS national coordinator for Emerging Leaders and Scholarship Programs, discusses scholarships available to American Baptist church members, ranging from support for undergraduate through seminary studies as well as doctoral programs and continuing education grants for professionals seeking to sharpen their skills and deepen their knowledge.
Saturday, June 26 at 1 p.m. EDT — Connect with the Rev. Dr. Kadia Edwards to learn about Operation Planting Hope, an innovative effort that updates the tradition of White Cross. OPH offers  practical ways to support mission that changes lives through ABHMS' Community Outreach Ministries partners and other missional ministries throughout the United States and Puerto Rico–whether it's through volunteering or supporting ministries with charitable gifts.
Exhibit presentations Thursday through Saturday will include gift card giveaways, drawings for ministrElife subscriptions, Judson Press books, Center for Continuous Learning events and inspiring musical selections from guest artists!
Participants will also have the opportunity to speak directly with ABHMS staff members via one-on-one virtual appointments.
American Baptist Home Mission Societies partners with American Baptists to promote Christian faith, cultivate Christ-centered leaders and disciples, and bring healing and transformation to communities across the United States and Puerto Rico.
 American Baptist Churches USA is one of the most diverse Christian denominations today, with approximately 5,000 congregations comprised of 1.3 million members, across the United States and Puerto Rico, all engaged in God's mission around the world.