Dear American Baptists,
The season for the promotion of One Great Hour of Sharing has begun! The theme of this years' annual offering is Let Love Flow. Despite the many ways in which life has been restricted in the past year, I think you will be encouraged to learn how your gifts to One Great Hour of Sharing did indeed Let Love Flow.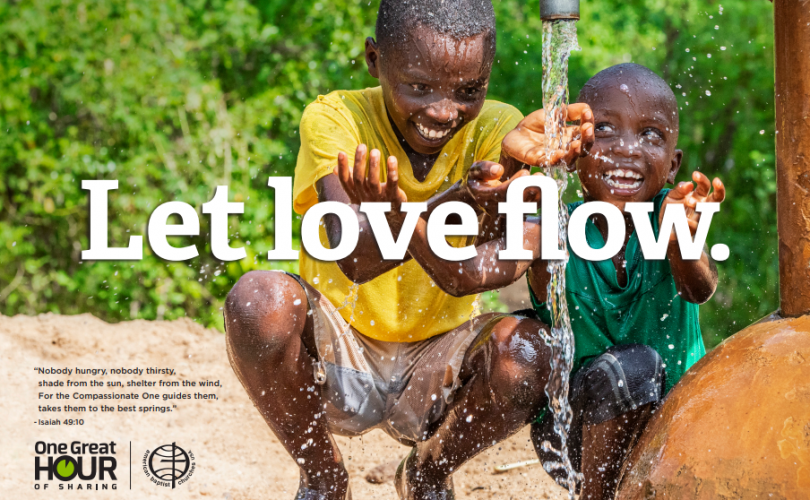 The year 2020 was unlike any year we have witnessed in our lifetime. Record-breaking fires on the west coast of the U.S. devastated communities and burned millions of acres. An extremely active hurricane season brought destruction to the Gulf Coast. A massive explosion in Beirut displaced thousands of individuals. All these events happened during the prolonged COVID-19 global pandemic. We are living in a time of uncertainty greater than that with which we are familiar. And yet, even with so much that is unclear about the future, one thing is certain: through this ministry of One Great Hour of Sharing, you continue to Let Love Flow.
The COVID-19 pandemic has impacted every area of our personal and communal lives. In the same way, it also touched every area of the work of One Great Hour of Sharing: sustainable development, disaster relief, and refugee support. With so many in need, your compassion is more important than ever.
Our reality is that we have carried into 2021 many of the same challenges. Disasters will continue to occur. Displaced populations remain vulnerable. And hundreds of millions of people around the world struggle under the weight of poverty. Thanks to your faithfulness and generosity, One Great Hour of Sharing will continue to respond.
Events of the past year have shown us that even in times when we cannot be physically together in one place, our offerings to support One Great Hour of Sharing continue to strengthen our church's presence all over the world: providing water to the thirsty, food for the hungry, and hope for the weary. When you give to One Great Hour of Sharing, you "Let Love Flow."  Your generosity ensures that, even during uncertainty, the transforming power of love continues to change the world.
You can access the promotional materials at http://abc-oghs.org/resources/promotional-materials/  Be sure to check out two new videos—Let Love Flow and You Can't Hide Love.
In grateful partnership,
Lisa Rothenberger-Winter, World Relief Officer