VALLEY FORGE, PA (ABNS 2/16/21)—The American Baptist Churches USA Office of the General Secretary this Lenten Season highlights two Lenten Reflection Series available through our website at www.abc-usa.org.
To mark the 2021 Lenten Season, the ABCUSA Office of the General Secretary will share an online devotional for prayer and contemplation entitled "2021 Lent: A Time to Get REady." Invited persons from across the country will offer video reflections inviting us to embark on a spiritual journey of preparation.  In our Christian Tradition, we use this preparation time to reflect on our spiritual lives as we strive to shed worn out habits and imagine new patterns of life that draw us closer to God. Beginning this journey with Ash Wednesday, a day to reflect on repentance, we continue through the season discerning what it means for us to return, remove, rebel, respond, restore, rejuvenate and renew until we reach resurrection on Easter morning.
We invite you to join us on our website as we get REady throughout the 2021 Lenten Season. Reflections will be posted prior to Ash Wednesday and each Sunday throughout Lent, as well as Maundy Thursday, Good Friday, Holy Saturday and Easter Sunday. View the first reflection for Ash Wednesday, February 17, here.
ABC Creation Justice Network Devotional Series
The ABC Creation Justice Network (CJN) will host a three part Lenten Devotional series entitled "Creation Reflects: Earth, Sea, and Sky" led by CJN steering committee members Karyn Bigelow,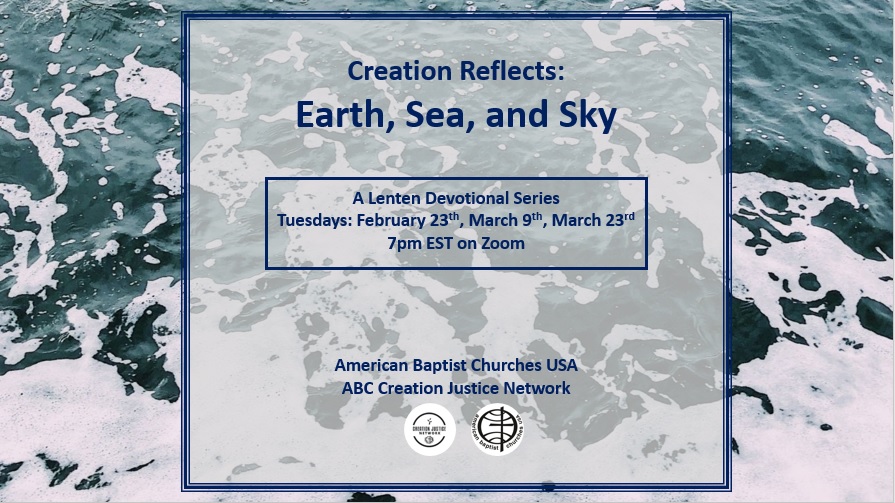 Research Analyst for Climate Change and Project Manager at Bread for the World; The Reverend Thomas Carr, cofounder of the CJN and the Connecticut Interreligious Eco-Justice Network, and Kathleen Moore, Ph.D., owner of Integrated Environmental Data, LLC.
Each devotional time in the series will focus on a creation theme (earth, sea, sky), a member of the trinity, and a spiritual practice. Leaders will also reflect on how caring for creation is itself a spiritual practice. Join the ABC Creation Justice Network on Tuesdays (February 23rd, March 9th, and March 23rd) at 7:00pm EST for a time of prayer, reflection, and discussion. Each session will be about 30-45 minutes long. Interested persons may register here.
American Baptist Churches USA is one of the most diverse Christian denominations today, with approximately 5,000 congregations comprised of 1.3 million members, across the United States and Puerto Rico, all engaged in God's mission around the world.