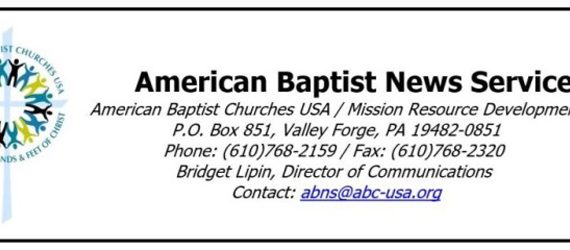 VALLEY FORGE, PA (ABNS 5/21/19)—The American Baptist Churches Creation Justice Network invites you to join in discussion at the 2019 Biennial Mission Summit in Virginia Beach, Virginia, June 21-23, 2019. The "Summit by the Sea" event will include an ABCUSA Biennial Academy Track for all participants to learn, share, pray and plan to be more faithful stewards of God's creation and meet the challenges we face as people and planet.
American Baptists, alongside millions of people around the world, are coming face to face with the devastating effects of extreme weather events that scientists are attributing more and more to climate change. Extreme droughts and wildfires, massive, intense hurricanes and historic cold spells, the melting of glaciers and rising sea levels are destroying entire communities and the natural systems that sustain them and all life. In this context of environmental and human degradation, American Baptists have been and continue to respond with much needed assistance.
Biennial Mission Summit attendees will have an opportunity to take part in these interactive sessions when you register for the Biennial Mission Summit:
Being a Caretaker of God's Creation: A Bible Study
Become a Climate Ambassador: Be a Voice in your Church and Community on Creation Care
Community Organizing: Learn about Living your Faith and Environmental Ethics in the Wider World
Small Things Matter: Become a Creation Justice Congregation
(CEUs will be offered for these sessions)
If you and your congregation have a program that helps you conserve energy and reduce carbon emissions, reduce plastic use, purchase and eat food locally and more sustainably or any other best practices, we hope you will attend and share some of your strategies. You may be interested in joining this growing network of concerned American Baptists who are committed to ensure a livable world for generations. If you are, please register for the Biennial and select the Creation Justice Academy track on Saturday! We want to meet you and work together for the common good of all God's creation.
The American Baptist Churches Creation Justice Network (CJN) is an initiative comprised of volunteer American Baptists and other Baptists to educate, inspire, advocate, support and strategize ways to be faithful stewards of life, for all of God's creation.
For more information, please contact the Reverend Tom Carr at pastor@secondbaptistsuffield.org, and the Reverend Marsha Scipio at marsha.scipio@abc-usa.org.
American Baptist Churches USA is one of the most diverse Christian denominations today, with approximately 5,000 congregations comprised of 1.3 million members, across the United States and Puerto Rico, all engaged in God's mission around the world.