VALLEY FORGE, PA (ABNS 1/15/19)—American Baptist pastors, youth leaders and youth are invited to bring your youth groups to Beach Break: A 3-Day Youth Conference. Please be sure to include it in your summer 2019 youth/church calendar. The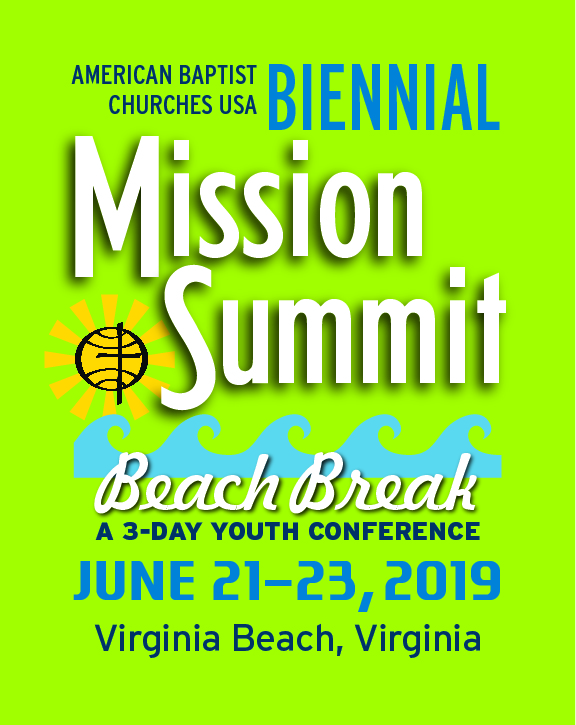 event, running in conjunction with the American Baptist Churches USA Biennial Mission Summit in Virginia Beach, Va., June 21-23, 2019, could be a life-changing experience for you and your ministry.
Biennial Mission Summit attendees, do not leave your teen at home! Beach Break: A 3-Day Youth Conference is open to individual attendees as well as youth groups, and we encourage you to bring your whole family to Virginia Beach.
A planning team from around the country has been busy designing this immersive 3-Day Youth Conference during the Biennial Mission Summit.
Do you want your students to be given space from their busy lives to connect with Jesus? Do you want them to be inspired to serve their community and the world? Would you like to connect them to other Christian teenagers?
This is what Beach Break 2019 is about, through main session speakers, hand-on service, and excellent worship. Youth from sixth through twelfth grades are invited to join us as we take a "Beach Break" in Virginia Beach.
Registration will open soon – visit www.abc-usa.org/beachbreak for updates.
Are you already sick of winter? Let your mind wander to the beach!
American Baptist Churches USA is one of the most diverse Christian denominations today, with approximately 5,000 congregations comprised of 1.3 million members, across the United States and Puerto Rico, all engaged in God's mission around the world.