VALLEY FORGE, PA (ABNS 12/13/17)—Muriel Penn Jerigan started her new job at MMBB Financial Services (MMBB) on Oct. 30, 1967, unaware that she was on her way to establishing a 50-year record as the longest continuously-serving staff member in MMBB's and American Baptist Churches USA (ABCUSA) history. On Dec. 12, 2017, MMBB's entire staff turned out for a formal celebration of Jerigan's career at their offices in New York City.  General Secretary of American Baptist Churches USA (ABCUSA), Rev. Dr. Lee B. Spitzer, also attended to recognize Jerigan for her achievement.
Jerigan's 50-year career spans four administrations of CEOs at MMBB. She recalls sweeping changes in technology at the financial services organization which provides planning and retirement benefits for faith-based communities. Over the years, she kept pace with its evolution from a family-oriented ministry—a place where so many coworkers' kids had part-time summer jobs—to a modern-day financial services ministry that manages nearly $3 billion in assets.
Striking the right balance between personal and professional
While her professional record is marked with achievements and "Employee of the Month" awards, it is her rapport with members and colleagues that has earned her recognition.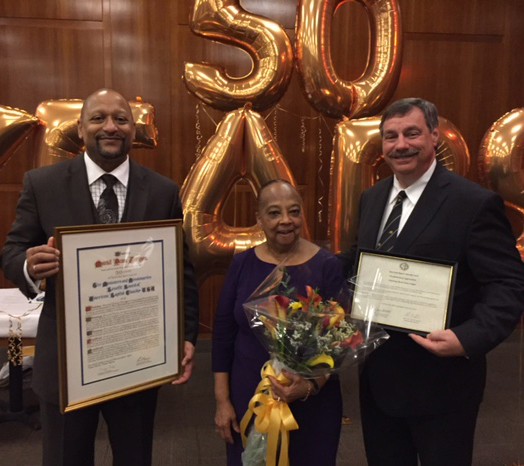 MMBB CEO Louis P. Barbarin said, "We are very thankful for the years that Muriel has served with us. So many members have benefited from her steady approach, calming presence and warm smile. She has never wavered in her steadfast commitment to the mission and ministry of MMBB for over 50 years."
MMBB Chief Client Services Officer Matt Hoffman said two of her greatest strengths are compassion for members and dedication to the organization. "She's an inspiration to her colleagues…every person who has ever met her appreciates her sense of humor and quality of listening. She has never said, 'that's not my job'."
Jerigan herself says dealing with members is her richest reward. "It never gets boring when you can reach out to people when they have a problem." A great satisfaction is "working with members at all levels and hearing them out."
Retirement is not on the agenda—for now
Jerigan credits her consideration for others to growing up in a close-knit family in New York and the U.S. and British Virgin Islands. She loves to spend time with her family and travel—to East Africa, the Netherlands, and most recently a family vacation to Cuba in May—but for now, has no plans to retire. She feels satisfied and thankful and trusts that God is the ultimate decision-maker when it comes to working out future plans.
Barbarin added, "While the U.S. Bureau of Labor Statistics does not track 50-year anniversaries, half-century mark careers are extremely rare. Today, it is more evident than ever that companies cannot thrive without top-level talent…and Muriel is a shining example of that."
MMBB Financial Services is the non-profit financial steward for more than 18,000 faith-based employers, churches and church-related organizations, ministers, missionaries and their families in the U.S. and Puerto Rico. As pioneers in providing employee retirement benefits—and with nearly $3 billion in assets—MMBB carries forward a 100-year tradition of offering competitive returns, experienced management advice and sophisticated financial analytics tailored to the unique needs of the religious community.
American Baptist Churches USA is one of the most diverse Christian denominations today, with approximately 5,000 congregations comprised of 1.3 million members, across the United States and Puerto Rico, all engaged in God's mission around the world.