VALLEY FORGE, PA (ABNS 12/20/17)—On behalf of American Baptist Churches USA, MMBB Financial Services presented the 2016 Widow's Mite Award to the South Parkersburg Baptist Church in Parkersburg, W. Va., on Sunday, Dec. 17. The award is given to a congregation that exemplifies generosity and a continued commitment to The Retired Ministers and Missionaries Offering (RMMO).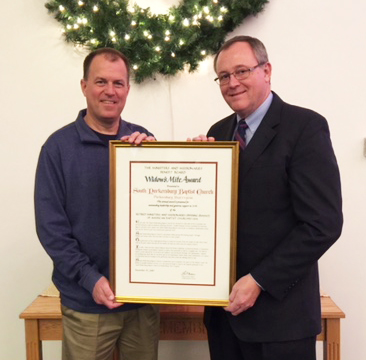 The South Parkersburg congregation was singled out for raising more than $132,000 for all ABCUSA offerings in 2016—among them RMMO. RMMO is an annual campaign spearheaded by ABCUSA and MMBB to raise money for retired ministers, missionaries, their widowed spouses and elderly clergy within their churches. (Photo: MMBB representative Rev. Dr. David Hinson presenting the award to incoming Pastor Rich Blain)
When asked, South Parkersburg's outgoing Pastor Rev. Dr. Tom Lipsey could not explain his congregation's "genius of generosity" but feels it "unlocks so many things." He remarked, "God teaches us to live by being generous. Giving is not a debt we owe, it's a seed we sow."
Effective Jan. 1, 2018, Lipsey is moving on to another church to make way for a newly appointed pastor, Rich Blain, who said, "This award is for all of you who have given so generously to others."
The surrounding West Virginia community has been rocked by a host of challenges—which makes South Parkersburg Baptist Church's generosity even more astonishing.
Church member Matt Enoch says, "Our church members know the importance of generosity—even if they have to make sacrifices." He adds, "We have been through some rough financial times, and the church has never backed down in giving."
Lipsey says he "has seen a lot of hurting people" in his community, but the members of his church always manage to reach into their pockets to give to a worthy cause. "It's an honor and a privilege to live for something other than yourself—and the gospel teaches us to do that."
About The *Widow's Mite Award and the Retired Ministers and Missionaries Offering
The award is named for the anonymous gift given in 1981 by a Vietnamese immigrant woman worshipping at the First Chinese Baptist Church of Fresno, Calif. Having no prior knowledge of the meaning of the offering, she slipped off her wristwatch, her only possession of value, and placed it in the envelope. This act of gratitude reflects the spirit of thankfulness and generosity Jesus speaks about in *Luke 21: 1–4.
For many pastors and church workers, retirement can be a time of financial hardship and stressful uncertainty. With roots dating back to the mid-1930s, in 1977 The Ministers and Missionaries Benefits Board (MMBB) and American Baptist Churches USA (ABCUSA) partnered to provide a helping hand to those who have dedicated their lives to helping others.
Today, The Retired Ministers and Missionaries Offering (RMMO), is an annual initiative to raise money from church congregations to provide a much-needed thank you check to former ministers, their widowed spouses and elderly clergy within their churches. In 2016, RMMO raised $1,059,444 and more than 3,443 checks were distributed. This year the campaign hopes to raise $1.1 million.
Associate Executive Director of MMBB Financial Services, Rev. Dr. Perry Hopper says, "A lifetime of low wages, seminary and student loans, failing health and more, can often result in a lack of financial resources as many clergy retire. The checks not only provide a thank you for their dedication—they are also a reminder that the pastor or family member has not been forgotten."
RMMO's theme this year is "Generous Congregations" based upon the verse from Isaiah 32:8, "But generous people plan to do what is generous, and they stand firm in their generosity."
For more information about RMMO or the Widow's Mite Award, visit www.mmbb.org or www.abc-usa.org/RMMO.
*As Jesus looked up, he saw the rich putting their gifts into the temple treasury. He also saw a poor widow put in two very small copper coins. "Truly I tell you," he said, "this poor widow has put in more than all the others. All these people gave their gifts out of their wealth; but she out of her poverty put in all she had to live on."
MMBB Financial Services (The Ministers and Missionaries Benefit Board) is the non-profit financial steward for more than 18,000 faith-based employers, churches and church-related organizations, ministers, missionaries and their families in the U.S. and Puerto Rico. As pioneers in providing employee retirement benefits—and with nearly $3 billion in assets—MMBB carries forward a 100-year tradition of offering competitive returns, experienced management advice and sophisticated financial analytics tailored to the unique needs of the religious community.
American Baptist Churches USA is one of the most diverse Christian denominations today, with approximately 5,000 congregations comprised of 1.3 million members, across the United States and Puerto Rico, all engaged in God's mission around the world.