A team working together around the challenge of stewardship in the 21st century has worked hard over the past eighteen months to put together "The Generosity Project," a pilot program running from Sept. 2017 – Dec. 2018 which will work to provide stewardship resources and support to a cohort group of pastors from New England regions. Members of the team have prepared blogs for "The Generosity Project" participants, which will also be shared on the ABCUSA website in the coming months.  To learn more about The Generosity Project, click here.
In October, team member Marcia L. Shetler, Executive Director/CEO of the Ecumenical Stewardship Center, provides her thoughts about stewardship and giving.
The Ecumenical Stewardship Center produces resources to help congregations encourage faithful generosity. Our Giving: Growing Joyful Stewards in Your Congregation magazine and complementary materials focus on a different biblical theme each year. In 2017, that theme is Live Generously with focus Scripture texts of 1 Timothy 6:18-19 and 2 Corinthians 8:9.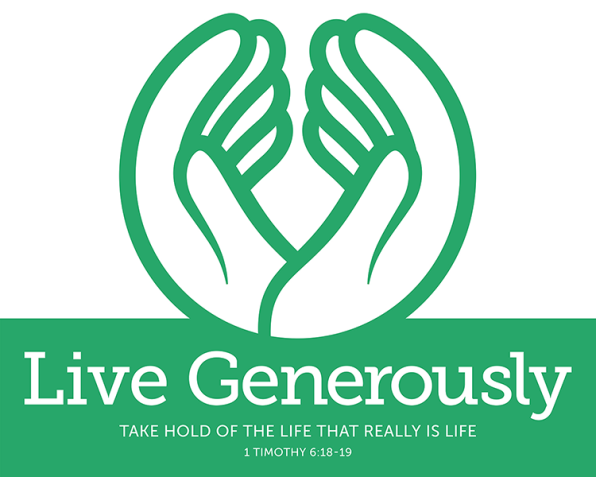 When we define faithful generosity—or stewardship—we often think in terms of time, talent, and treasure. But when I look at the logo for the Live Generously theme, another important "T" word comes to mind. That word is trust. It is difficult to be generous without it.
Trust seems to be a tough concept for many North Americans to master. It's ironic since we have so much. But our culture tells us to put our trust in the goods, systems, and financial reserves that we have created. We tend to ignore the fact that all of these can fail us. We forget that as Christian disciples, we are called to a counter-cultural way of living.
Trusting in God is part of our responsibility as follwers of Jesus. It allows us to joyfully and generously let go of what we think is ours and release it for God's use. Those acts of generosity are our witness to the world, sharing God's abundance as channels of God's love.
We can find many examples of trust in the Bible. Elijah asked the widow of Zarephath to be generous by sharing her last meal and trust that she and her son would not go hungry. In another account, a small boy gave his lunch of five loaves and two fish, and more than 5,000 people were fed. Moses' mother trusted God with her son's life twice. The first time she placed his life in God's hands when she put him in a basket in a river, Moses was returned to her and she was able to raise and love her son while he was young. Later, she gave him up again, and Moses ultimately fulfilled God's call as leader of the Hebrews.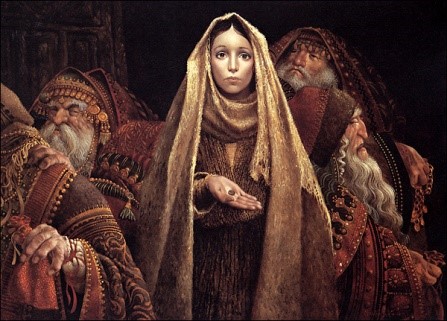 One of the most well-used stewardship sermon Scripture texts is the story of the widow's mite, and there have been numerous interpretations of this incident. But perhaps what was most important was not only the widow's ability to give to God totally, but to trust God completely. Maybe that is the lesson Jesus was trying to teach his disciples, and what we should learn from the widow's example.
The hymn "Tis So Sweet to Trust in Jesus" was written in the late 1800s by Louisa M. Stead. She understood well the need for trust. Her husband drowned while trying to save a boy from drowning as she and her young daughter watched. The hymn was inspired by this tragedy. Louisa continued to trust God and followed God's leading to Africa, where she remarried and served as a missionary for many years. The continent became her home and she died there in 1917.
So when I look at the Live Generously logo, I see the open hands that we must have to be generous. But I also envision the hands as God's hands. There's even a hint of an arrow pointing to the center of those hands. That's where I need to be if I'm truly going to be generous: in the center of God's hands, trusting in God's care.
(Image credits: Live Generously Logo, Ecumenical Stewardship Center, 2017, https://stewardshipresources.org. The Widow's Mite, James. C. Christiansen, 1988, www.christcenteredmall.com.)
Bio: Marcia Shetler became the Executive Director/CEO of the Ecumenical Stewardship Center in March 2011. She holds an MA in philanthropy and development from St. Mary's University of Minnesota, a BS in business administration from Indiana Wesleyan University, and a Bible Certificate from Eastern Mennonite University. She formerly served as administrative staff in two middle judicatories of the Church of the Brethren, and most recently was director of communications and public relations for Bethany Theological Seminary in Richmond, Indiana, an administrative faculty position. Shetler's vocational, spiritual, and family experiences have shaped her vision and passion for faithful stewardship ministry that recognizes and celebrates the diversity of Christ's church and the common call to all disciples to the sacred practice of stewardship. She is grateful for the blessing of connecting, inspiring, and equipping Christian steward leaders to transform church communities.