The congregation's Harvesters' Sunday School Class coordinates the ministry, supported by church and community members through volunteer hours and product donations such as the bags into which the food goods are packed, according to Maria Eshenauer, who provides leadership for the initiative.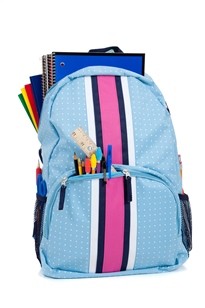 Recipients of the "blessings" are kindergarten through second grade pupils at Point Pleasant Primary School referred to the program.

Eshenauer says students at the school have told their teachers how much they appreciate the help they receive through "Blessings in the Backpack." One second grade student said she thinks that people who send the items "may not understand" how much the younger brothers and sisters she helps to care for "really need the fruits" provided in the bags. Pupils "trade" the donated items among themselves, Eshenauer says "because their families like different items, and they don't want to waste any items by taking home contents which would not be consumed." Many of the donated food items purchased through the Matthew 25 Grant contribute to food security over weekends.

"With the support of American Baptists and God's generous blessings we have been able to do the work of Christ for the least of these," Eshenauer says. The initiative has become a truly community effort with volunteers working at a local food store helping to load items purchased on sale into vehicles used to distribute the goods.

The Matthew 25 Grant initiative, sponsored by the ABCUSA Office of the General Secretary and the Board of General Ministries, is funded by a generous, anonymous donor whose goal is to help meet the needs of "housing, feeding, education and health with regard to the less fortunate." The application process for a Matthew 25 Grant is structured to help small ministries with limited staff time. For more information on the grant and application process visit: www.abc-usa.org/matthew25/

More than 50 students at a time in Point Pleasant, W. Va., have benefitted from a "Blessings in a Backpack" ministry conducted by Main Street Baptist Church. The "blessings" consist of large plastic bags of fruits and nutritious foods given to schoolchildren in need, and the purchase of food has been made possible in part by a $1,500 Matthew 25 Grant provided by the ABCUSA Office of the General Secretary.