A $2,789 Matthew 25 Grant from American Baptist Churches USA Office of the General Secretary has enabled 120 children in rural Chenango County, NY, to receive backpacks filled with back-to-school items for children to use in their classrooms.
The grant recipient, Christian Neighborhood Center of Norwich, NY, offers five programs for youth who live in a rural county of approximately 50,000 people. The Center's initiatives include KIDS, providing child care to children k-12, the Chenango Youth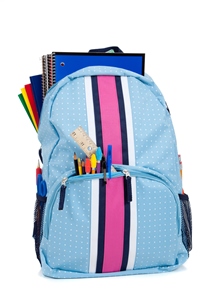 Philanthropy Council, which teaches high school youth about the importance of philanthropy; a Summer Youth Employment program, which provides disadvantaged youth with paid employment and training for work-readiness skills; a Youth After School program that provides middle school students with after school activities; and the Headwaters Youth Conservation Corps, an environmental conservation program offered through AmeriCorps that teaches young adults work-readiness skills through conservation projects that also benefit the community.
"These programs are extremely important to our community," explains the Center's director, Rebecca Bliss. Because we are so rural, our communities are spread out and lack the kinds of youth activities that can be found in larger communities. Our programs also offer youth services that would not otherwise be offered in the county. We are one of only two licensed after school programs in Chenango County and the only Youth Employment program funded by New York State.
"Our vision for the Matthew 25 Grant was to assist families and children in need by providing them with materials they could use in school," Bliss explains. "This project not only prepared them for school but it also lessened the burden on parents who could not afford to buy these items, freeing up income for basic needs, such as food, shelter and heat."
In order to reach families and children in need, the Center spoke with churches, schools and appropriate non-profit organizations to make them aware of the backpacks that were available. "We chose these organizations because they work closely with low-income families in the community who need help," Bliss says. She explained that many families served attend local food pantries, receive reduced-cost or free lunch at their schools, and/or are receiving other local benefits.
Each backpack received a pack of crayons, a pack of markers, 12 pencils with top erasers, two pens, one eraser, three pocket folders, two spiral notebooks, a pack of loose leaf paper, four glue sticks, a calculator, a pencil sharpener, a pair of scissors, a packet of post-it notes and one activity book.
The Matthew 25 Grant initiative, sponsored by ABCUSA and the Board of General Ministries, is funded by a generous, anonymous donor whose goal is to help meet the needs of "housing, feeding, education and health with regard to the less fortunate."
The application process for a Matthew 25 Grant is structured to help small ministries with limited staff time. For more information on the grant and application process visit: www.abc-usa.org/matthew25