Sam Morse, 20, of Sugarloaf, Maine, has been on skis since he was 23 months old, when his father, Earle, first took him to the slopes.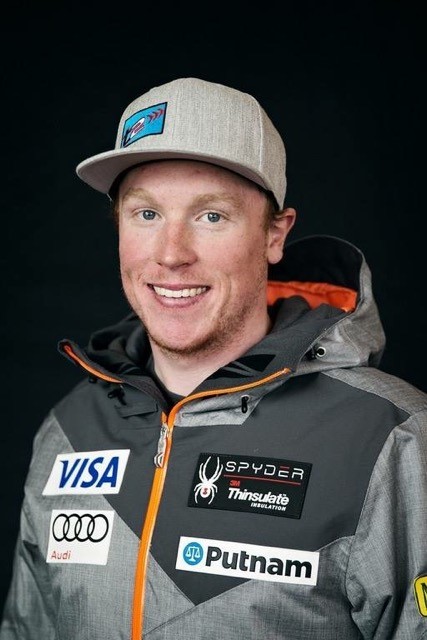 "I grew up at the Sugarloaf ski resort, and that's just what you did as a kid – go skiing," Sam, an American Baptist, explains. Sam's parents, Earle and Pamela, direct the Sugarloaf Area Christian Ministry. The Sugarloaf ministry caters to second-home owners who frequent one of New England's largest ski resorts. The ministry includes outdoor worship, pauses on the slopes to reflect on the area's breathtaking natural views, and discussions of Bible themes for the day.
Today, Sam has a long-term goal to become one of the world's top ski racers "to win the World Cup Overall and be on the podium at the Winter Olympics," Sam says. Short term he is working to continue climbing through the ranks through various Continental Cup race series that he competes in and to begin racing in more World Cup competitions. Like any craft or specialization, skiing demands an almost full-time focus to develop one's skills to become an Olympics-level performer. He has precious little time at home with family and friends. He credits his older brother, Ben, his parents and some of his coaches for being role models and mentors, often not only on the slopes, but in his faith life.
When reached for an email interview this spring, Sam had just flown to Austria where he was fitted for new custom ski boots. Then it was off to Are, Sweden for an on snow training camp. "Due to the warming conditions of spring, we have to train in the morning, meaning we are on the lifts at 6 a.m. and off the hill by 9 a.m., which makes for oddly long days," Sam says. He gets some time to appreciate "lots of Netflix." Are is a small ski village on a lake. "These camps are fun because the race season is over so the mood and tension are lighter," Sam notes. "Sweden is a wonderful country that reminds me a lot of Maine, with its friendly people and rolling mountains of pine trees and lakes."
Sam came home briefly in early May before driving out to Park City, Utah, for summer workouts with the U.S. Ski Team at the team's facilities there.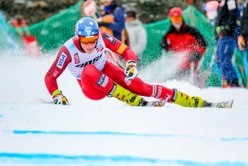 Sam's earliest church memories date to the Sugarloaf Ministry when he was a child. "I remember participating in Christmas pageants as a young child, often playing a Wise Man," he says. "My faith is my life. It is the glue that holds it all together. My goal is to be a loyal servant of my savior and proclaim his name from the highest mountains. My faith is important to me because without it, what is the point? Just living for yourself and seeking a satisfaction that will never come from self-admiration is not how I want to live, and I believe it is not how we are wired to live. Sure, I can imagine my life without faith. I am surrounded by guys with faith in little more than themselves. It would be fine for a while, but I could see myself getting pretty depressed in the long run." Sam is still a member of the Sugarloaf Area Christian Ministry.
Does Sam ever get afraid when racing the slopes? Does he think of the horrific injuries that beset ski stars a generation before him – like Lindsay Vaughn and Bode Miller?
"Yeah, you are afraid," Sam admits. "But it is not a paralyzing 'I can't do this,' kind of fear. Rather, I need to trust all that I have learned and practiced to survive this ski course that I am on at the time. I have had some trouble with the meniscus in my knee, but that is the extent of my injuries. My faith certainly allows me to swallow the nerves, since I have an understanding of the bigger plan and can see that ski racing is just a game. Injuries to Lindsay and Bode are the name of the game if you stay in ski racing for that long. The hardest challenges I have faced are the battles I fight within. Your mind is your single greatest asset and enemy at the same time. Having your commitment to skiing waver, or not having the ability to adapt and change are some of the most subtle, difficult challenges to the sport of ski racing."
Sam says he tries to read his Bible daily no matter where he is in the world. "When I was in Austria this past winter I attended a church where the service was entirely spoken in German, and I had no idea what was going on, but it was a powerful experience to be surrounded by the love of Christ even though the verbal communication was lost." Hebrews 12:1 and Psalm 121 are favorite scriptural places for him. Hebrews 12:1 reads: "Therefore, since we are surrounded by such a great cloud of witnesses, let us throw off everything that hinders and the sin that so easily entangles. And let us run with perseverance the race marked out for us."
Sam explains it gets lonely on the road at times. "Your teammates become good friends, but they are also competitors in this individual sport. I don't even think about being away from home anymore, since being on the road is my new normal. I had a three-months period this winter where I spent only four days at home. All of my competitors are friendly with each other, but there is a level of support and friendship they will never be able to give to you. Living on the road makes maintaining relationships at home very difficult, so I just have a couple of buddies back home who aren't my competitors that I stay really close to. But my faith brings me comfort in knowing that I can talk to God whenever I want. God is a friend I will always have."
One thing Sam does to maintain his faith throughout his unusual lifestyle is to involve himself when he can in the Christian family retreats that are part of Camp Farthest Out. The program strives to assist believers to grow in their faith. The program consists generally of week-long retreats focused around prayer, worship and speaking.
"I'm a rostered speaking leader," Sam says, "which means I get brought in for a week at a time to give roughly five one-hour talks telling about my journey toward Kingdom Living. I do one or two weeks a year of this work during my summer off season."
What advice does Sam have others no matter what they are aspiring to? "Embrace the challenges  and hardships you must overcome to achieve your dream as if the hardships and challenges are the dream themselves," he says. "Learn to love the grind."