PORTLAND, OR (7/2/17)—Rev. Dr. Lee B. Spitzer gave the message on Sunday morning, July 2, at the Oregon Convention Center in Portland, Ore. In the message, Spitzer looked at John 3:16-21, "For God So Loved the World."
"We need to devise new ways to form and grow as Christian communities so that we can be used by God to connect to the world in creative ways," said Spitzer.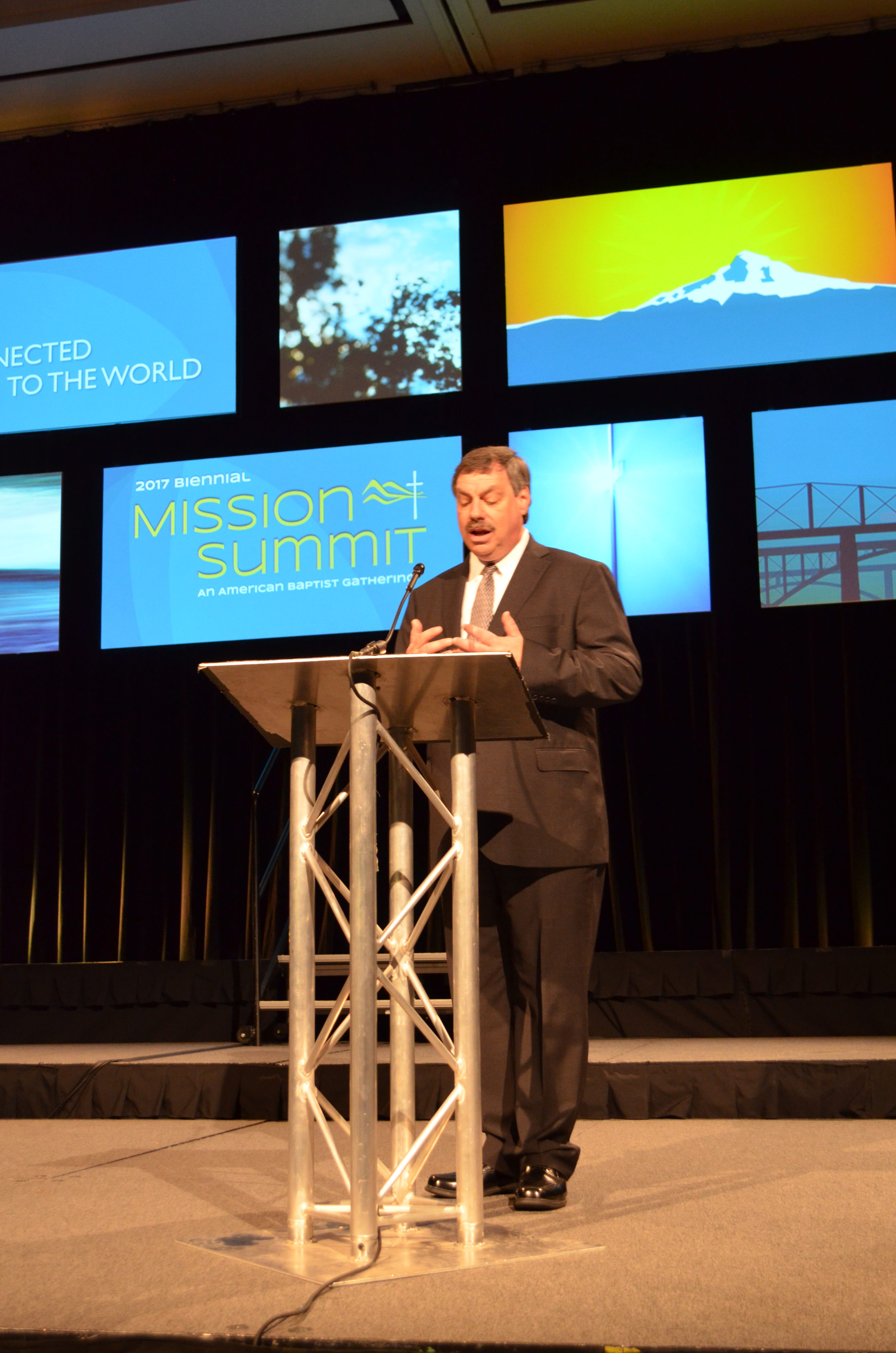 "Surrounded by a world in need, I call American Baptists to make secondary all that may potentially divide us, so that we may unite together to humbly serve people," he said. "It is also time to pool all of our resources to meet challenges in the United States and around the globe. We need every pastor. We need every church. We need every region. We need every seminary and college. We need the ministries of every national partner – to reconnect in innovative and creative ways, so that together we might fulfill God's will and purpose for our family in the 21st century."
In closing, Spitzer said, "In an increasingly interconnected and small world, God is calling American Baptists to renew our commitment to the Great Commission, to plant new churches, to raise up a new generation of pastors, teachers, lay ministers and missionaries who will take up their cross daily and reach the world for the sake of the Kingdom of God."
Family members of Spitzer introduced him prior to the message, including his wife Dr. Lois Spitzer, daughter Larisa Skinner, and son Joshua Spitzer, along with attendees and delegates from the American Baptist Churches of New Jersey (pictured above). His son-in-law, Travis Skinner, read the scripture.
View a Facebook Live video of the Worship Experience at: www.facebook.com/2017biennial.
Following the Sunday morning service, attendees gathered for a time of coffee and fellowship in Ministry Square, a gathering place central to the Hall of Ministries exhibit area.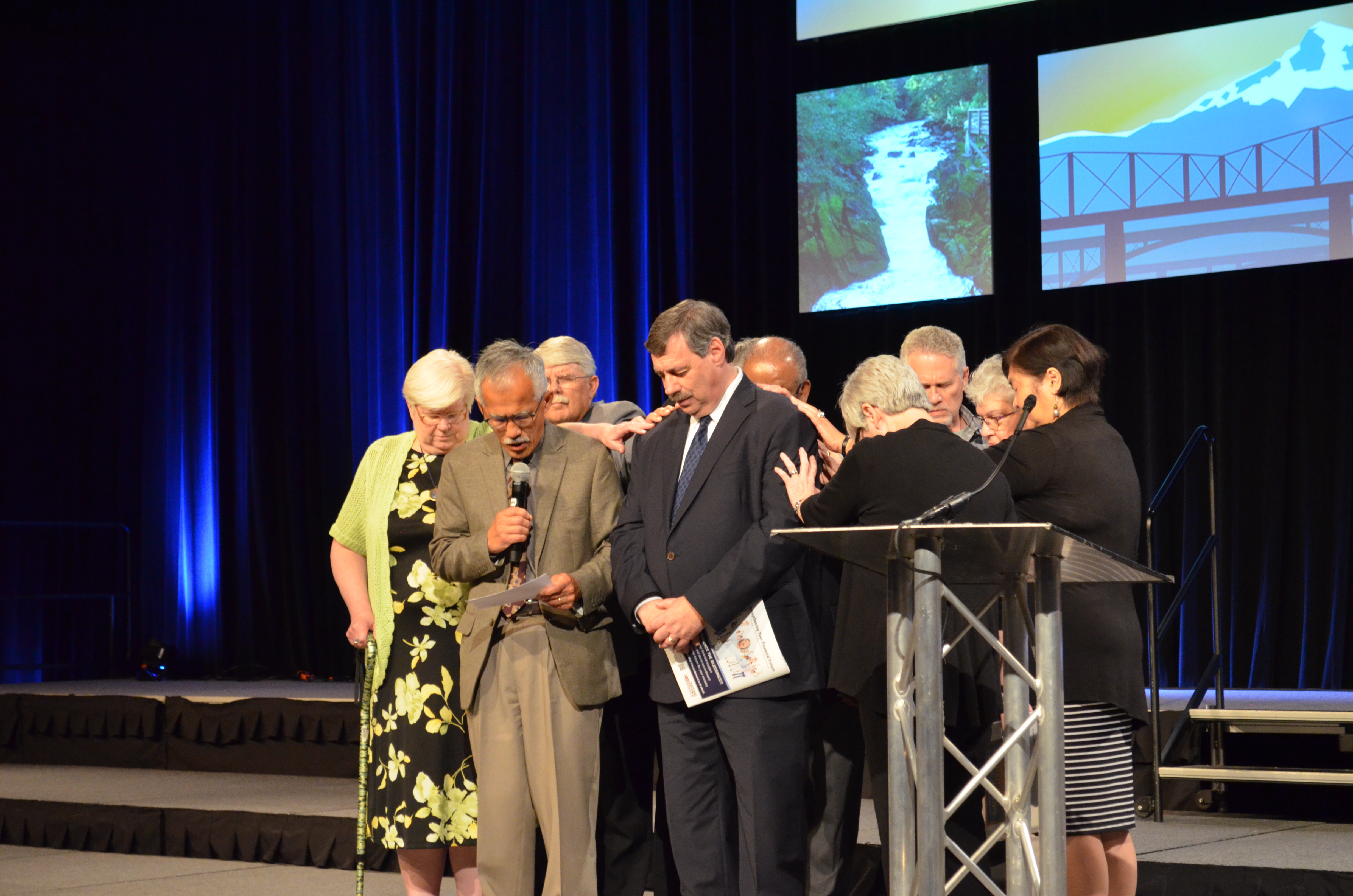 During the Friday evening Worship Experience, Spitzer was introduced to American Baptist Churches USA Biennial Mission Summit attendees by ABCUSA President Judy Fackenthal. Members of the General Secretary Search Committee joined Spitzer on stage as he gave his opening remarks, and prayed around him along with those in attendance.
Spitzer began serving as General Secretary on June 1, 2017. He comes to the ABCUSA Office of the General Secretary from the American Baptist Churches of New Jersey, where he served as Executive Minister and Senior Regional Pastor. He has served congregations in New Jersey, Nebraska, and Rhode Island, has authored a number of books and articles, and brings a wide range of experience and expertise to his new role as General Secretary.
Photos will be shared throughout the Biennial Mission Summit at https://goo.gl/photos/MDcDELbTUvNwn37Y6. Attendees are also invited to use the hashtag #ABConnect when posting on social media.
American Baptist Churches USA is one of the most diverse Christian denominations today, with approximately 5,000 congregations comprised of 1.3 million members, across the United States and Puerto Rico, all engaged in God's mission around the world.