In Spring 2017, we invited American Baptists from across the country to share their Transformation Stories – this is a part of the Transformed by the Spirit initiative. Videos and written stories are included as provided by local churches and American Baptists. Want to share your story? Submit written and video submissions to: americanbaptist@gmail.com. View the full list of Transformation Stories here.
Transformation Story: Stone Soup – Sharing Food, Creating Community – Memorial Baptist Church, Fond du Lac, WI
For the past two months, a small group of people have been setting up in a public parking lot in Fond du Lac, WI – sharing soup, sandwiches and whatever they have, not only giving out food, but getting to know people in the community, particularly some of the homeless who are often unnoticed in the community.  Some are part of Memorial Baptist Church.  Some are from the community.  The food shared comes from many sources; some of it even given and prepared by those who have no kitchen of their own.
The story of why they do what they do, and why it's called Stone Soup is a story of the Holy Spirit weaving together threads of relationship, ministry, and learning, bringing people across the state together in the mission of God.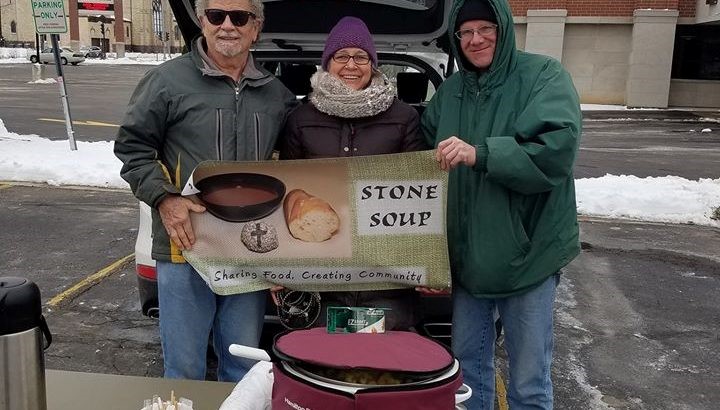 The catalyst was a new deacon at Memorial named Tony Penton.  Yet as Tony puts it, "It's not that I came up with the idea as much as I was just listening…"
Listening with the intellect and the spirit is key to spotting opportunities and growing in understanding of what is happening around us.  Tony credits his medical school training with helping him learn to listen, to tell what is going on, and to see what the needs are.  He came to realize that sometimes a patient's physical needs weren't actually the reason they were visiting the doctor.  Underneath the physical need were needs for recognition and connection, to be heard.  As Christians, we see this through the lens of our need for community with one another and with God, how we are designed for relationship.  Tony has also been shaped for this ministry through the experience of growing up as a person of Thai descent in a vastly predominantly Euro-American community.  "[Through] the feeling of being an outsider, of being a minority in a medium-small sized town, God showed me how to be more aware of people on the outside.  My reaction to that has been to ask 'what can I do for people?'
The importance of becoming aware of the experience of outsiders and the importance of meeting deeper needs is why Memorial Baptist Church continues to send volunteers to the ministry of Despensa de La Paz in inner-city Milwaukee.  The purpose is not merely for volunteers to serve, but to be transformed by the experience of a different model for ministry based on mutuality and community rather than simply providing a service at a distance.   As Tony listened to volunteers to Despensa return with questions about seeking to understand and respond to the needs in our own community, he wondered how one would go about starting a ministry like this.
When he volunteered at Despensa for the first time in the fall of 2016, he had a chance to ask one of the key leaders how they got started.  The answer shocked him.  "Just go out there with sandwiches and see what the need is.  You don't have to have a master plan."
As Tony puts it: "I'd always thought you have to get people together to give food, line up people to volunteer, line up equipment and do a demographic survey of the homeless, where they are, and so on.  [The problem is] if you think that way, you'll never get anything done.  Sometimes you just have to do it." Tony came away from that encounter thinking: "well, I can make some sandwiches…"
That decision to do something led him to decide that next week that he would make some sandwiches, invite anyone who wanted to join in, and see where it went.  One of the essential early connections that was made included a person living in a challenged neighborhood of Fond du Lac, who was not active in any church, yet had a personal sense of mission to know and care for the homeless in her neighborhood.  Memorial had been purchasing Bibles for her to distribute, and we knew that she had relationships and knowledge that would be important in getting started.  She helped introduce Tony and other volunteers to people in the community.  Indeed, the first week was far more about conversations than any food that was given away.
As Tony puts it: "for me personally, it's not about saving legions of people from starvation, but the personal interactions not just with the homeless or needy but also the volunteers.  Recognizing that volunteers also have stories and needs.  The importance of being able to give and serve and have that be honored."
That core idea – of creating community by allowing space to be heard, by opening up opportunities to serve and give, and sharing with each other as we do so; these are some of the deeper pieces to Stone Soup.
Early learnings
Since that first Saturday, volunteers have been out each time in the same spot, whatever the weather – knowing that consistency is key to building trust.  Word gets around; sometimes the team arrives to find people waiting, even folks they haven't met before.  Some stop by regularly.  Others are new each week.  The overall numbers aren't many – but a picture emerges of the daily struggles people deal with as well as their joys and dreams.  Lots of laughter and storytelling emerges around small tables and large Styrofoam cups filled with homemade soup.
When asked how it's going, Tony responds: "So far it's going well.  A big lesson that I've learned is that just because I started it doesn't mean it all has to go my way.  If other people have ideas, that's good.  It's important to create space for people to take situational ownership, making decisions and adjustments.  If I hear (a suggestion) from more than one person, that carries weight.  God is working just through the organization of it, everyone who comes through the door gets touched somehow.  It's become a really powerful experience for some people.  God is there whether you realize it or not.   We can get wrapped up in the details, but it's all for the glory of God; who has put this on our hearts and we're just a tool."
One example of this was how the ministry came to be known as Stone Soup.  As volunteers began to take ownership by the second week, they worked with different ideas of what to call it.  The image of 'Stone Soup' began to gain traction: the folk story about a community coming together, everyone contributing a little bit of what they had to create something delicious and filling for all the people.  It captured much of what the hope and goal for the ministry is.  And very quickly, it became a reality.  A sack of potatoes showed up on the church doorstop.  A family in poverty contributed cans of vegetables.  Church members bringing soup stock and other supplies.  A man transitioning out of homelessness using some of his food stamp money to buy ingredients for soup, then using his training as a cook to make five gallons of soup to share.  Part of the core of serving is creating space for others to participate and 'own' what is going on, even if it means regular volunteers step back at times to make room for others to take the lead.  The sense of everyone being able to contribute, to serve – and sometimes to shiver together in the 20 degree weather; it all builds a sense of community and shared experience.
As with all endeavors, there are also challenges.  When asked about this, Tony mentioned the need to be conscious of good boundaries and of just being aware and cautious.  Sometimes in working with people, there's a difference between what they're saying and what's going on.
This whole endeavor is built on some core theological beliefs: That God in Jesus meets us where we are, that discipleship into the Kingdom happens in community through the process of engaging in mission together.  That showing love and recognizing the humanity of all the people in our community is essential to living out our faith and bearing witness to God's character and purposes.
And so I asked Tony, Where have you seen God present?
"When I was out with L, I felt that God was with us, a spiritual connection and presence, and that first day when we were in the kitchen, making sandwiches for the first time.  With M. and K, a sense of embarking on something brand new; whatever comes of this, comes of it.  It's a wide open frontier.  It still feels that way- there's always something new.  We keep an open mind and listen for the need.  One of these times, I'd like to have my daughter come along and spread the idea of service to the community and what it's like to do something with God's blessing.  It's been phenomenal to see how people gather around this thing; starting with sandwiches, how people brought soup, shared their ingredients, some from their food stamps."
It's a theme I've seen over and over.  Part of the blessing God gives is simply being a part of what God is doing that is bigger than ourselves.   Readers of this blog will notice threads from multiple ministries and stories interacting and creating new learning and new opportunities.  We're all in this together.