In Spring 2017, we invited American Baptists from across the country to share their Transformation Stories – this is a part of the Transformed by the Spirit initiative. Videos and written stories are included as provided by local churches and American Baptists. Want to share your story? Submit written and video submissions to: americanbaptist@gmail.com. View the full list of Transformation Stories here.
Transformation Story: Healthy Food Summit/Camp,  Bondage Breakers, Inc. (A Prison Reentry Ministry)
A time for transformational change presented itself at the 15th Annual David S. Mosely Camp experience in 2016. Not only was this a time to look out and view nature with new eyes but also a time to forge new and exciting, positive relationships. The greatest relationship is the one that is forged, and embraced with the Lord. This relational transformation occurred in many ways. One of which, for example, a child who had the "I can't do it," attitude, to that same child scaling a 40 ft. wall and recognized that "(they) could do all things through Christ who (gave them) the strength Phil. 4:13 adapted."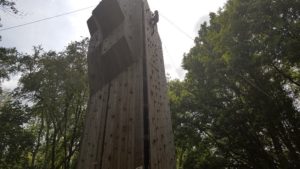 During camp, we engaged in a new incentive after hearing so much through the media about health and wellness. "We are after all "our brother's keepers Gen. 4:9." While past-president Barack Obama and Michele set out on a plight to strengthen the awareness and health of the nation's children, an idea was spiritually birthed for our Camp experience. The Holy Spirit is always on the move (John 3:8), birthing, breathing fresh vision and insight into the children of God that we might ultimately know, (which has the sense of intimacy, attached to it) Him better. Praise God, talk about relational transformation, will you?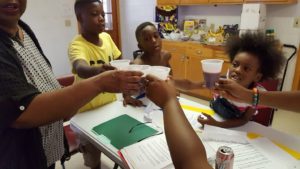 What better ways to engage in relational transformation or change, than to change the habits we have regarding eating?  In providing educational workshops, we set out to present "a new healthy food workshop." This workshop had the sole purpose of elevating (transforming) of minds regarding food types, colors and their representation, and their health values. Obviously, we were aware of the immense poverty that surrounds our population therefore; this workshop was going to be a challenge, at best.
While we believe that camp, itself is transformational, each exercise within our budget allowed us to see and experience the wonderment, ecstatic joy, fear changed to faith, doubt changed to belief, anger or angst changed to forgiveness and reconciliation, reconciliation to once again favorable fellowship.  But let me go back to the highlight of this camp, which was the Workshop "Healthy Food Summit."
Bondage Breakers, Inc. solicited the services of a retired educator by trade who has her Master's Degree in Special Education and Minor in Counseling. She, of course, did her research and BBI, did theirs. She loves children and has all the "right" stuff to make her workshop fun, colorful, and literally delicious! As adults, we just knew that the children would not find appealing the taste of various fruits, apples, strawberries, blackberries, blueberries, white grapes, red grapes and vegetables (spinach, kales, carrots etc.) all blended together (of course, we offered various distractions while the veggies were added!) to make smoothies.
Once the smoothie was prepared, we served them and to our surprise, not only did the children enjoy them, as children often do, they asked for more. Now, that was a big surprise! We had plenty and as a result for the twice a day for two days, the Healthy Food Summit Workshop was a great success. The teacher developed a play lottery system at the last class. We had foreknowledge of each child's medical history.
As a matter of "thinking outside the box," we believe that if children eat more fruits and vegetables on a daily basis, many childhood diseases and maladies would dissipate. Poverty, as we know, will stand in the way for many families as the price of fruits and vegetables continue to skyrocket. We believe God will intervene at some point. We had the lottery and a youngster who suffers with childhood adolescent migraines won the actual Nutri-Bullet Machine.
Post camp, we developed a matrix for the family to chart the usage of the machine and to record instances where the migraines did or did not occur from August 2016 until February 2017. We are grateful to God, proud to report that the young child did not experience any migraines during that period, to this day, April 8, 2017. We understand he continues to use his machine every day. Our experimental vision of providing a "Healthy Food Summit Workshop" and the lottery for the actual machine was a 100% success.