In Spring 2017, we invited American Baptists from across the country to share their Transformation Stories – this is a part of the Transformed by the Spirit initiative. Videos and written stories are included as provided by local churches and American Baptists. Want to share your story? Submit written and video submissions to: americanbaptist@gmail.com. View the full list of Transformation Stories here.
Transformation Story: Feed the Kids – Shell Ridge Community Church
Shell Ridge Community Church, an American Baptist Church in Walnut Creek, California, is the foundation for Let's Feed the KIDS (LFTK).  LFTK is a grass roots group that was started 3 years ago by two women who had a concern for children and their ability to learn when they were experiencing hunger.  It is a multi-faith endeavor that works under the Food Security Task Force of the Multi-Faith ACTION Coalition in Contra Costa County.  Six congregations representing the United Church of Christ, Presbyterians USA, Jewish congregations and American Baptists are working together in LFTK.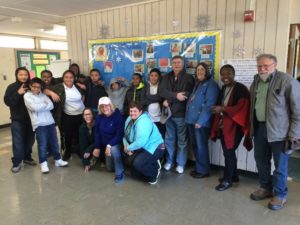 LFTK partners with a group called Food for Thought (F4T) which is a group from the Temple Beth Hillel Synagogue (TBH).   By combining our money resources and our volunteers we are able to provide food for families during the Winter and Spring school breaks.  We work with the Richmond School District in Contra Costa County, starting with 5 schools to provide 100 families with food for the school breaks when the schools are not serving a breakfast and lunch program.  In the schools where we are providing food, 100% of the students are on the Federally funded school food programs.
The biggest asset of working with the Richmond Schools is that each school has a Community Liaison person hired by the school district.  These special people work closely with the children and their families.  Their knowledge is invaluable to our program and they are able to select the families that are most in need.
After three years of working together, LFTK and F4T last December provided food boxes to 150 student families in 7 schools in Richmond.  Next December our goal is to serve 10 schools and serve at least 200 student families.   This is God at work in the neighborhood.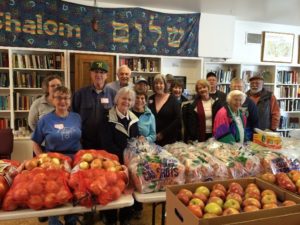 Our winter project, even with our ability to obtain deals, currently costs @$7,000 without our projected expansion for 2017.   Second to our need for food, our project requires our time and effort to also find sources for financial assistance.  A grant from our American Baptists would be very much appreciated.
This program is a community effort with multi-faith congregations reaching a deserving low income community.   Truly a relational experiment in differences.  The project networks to provide the needed items for the families.  We work with The Contra Costa County Food Bank, Loaves & Fishes, White Pony Express, Semi-Freddi Bakery, Food Maxx and the Berkeley Bowl.  We provide canned goods, breads, pastas, and each family receives a frozen turkey.  From the Berkeley Bowl we purchase all kinds of fresh fruit and vegetable produce items.  Participating congregations have peanut butter drives and canned tuna fish drives.
More than 50 volunteers spend 3 days preparing the boxes and then delivering them to the schools to be given to the families.  Five trucks + SUV's are used for the deliveries.  This is a well organized cooperative endeavor between the community public schools and our multi-faith community.  Our volunteers range from the Jewish school age children who provide written notes for the boxes up  to our favorite 96 year old American Baptist woman who helps pack the boxes.
We have learned that there are food programs for the summer months at the schools and lunches and breakfasts during the school year.  However the school breaks are a missing link in helping to alleviate children's hunger.
An added goal of the organizing committee is to produce a guideline booklet that will explain the many details of the organization of this project and share it with other congregations.  The hope is that this can be replicated and spread in the Richmond community so that all of the schools may receive food for their children and families during the two-week winter break.
When a little guy looks in a box and says "oh, look, we finally have a loaf of bread" or the school liaison tells us when we deliver the boxes, "I want you to know that 3 of the families that will be receiving this food lost a parent in the last 2 weeks, and they were the bread winners, I don't know what they are going to do", we feel we are carrying out our mandate from Jesus to feed the hungry…
NO CHILD SHOULD BE HUNGRY.
Wendy Neale   (Chair, Let's Feed the KIDS)
Rev. Jeremy Carlton (Pastor, Shell Ridge Community Church)