In Spring 2017, we invited American Baptists from across the country to share their Transformation Stories – this is a part of the Transformed by the Spirit initiative. Videos and written stories are included as provided by local churches and American Baptists. Want to share your story? Submit written and video submissions to: americanbaptist@gmail.com. View the full list of Transformation Stories here.
Transformation Story: CenterPoint Baptist Church "Blessing Bag" Project
How many times have you seen someone standing at an intersection with their handmade sign, tattered clothing and sad or lost look in their eye?  How many times have you wished you had something in the car to give them that would truly help their current situation?  Maybe you were brave enough to roll down your window to give them a few bucks or cared enough to give them a bottle of water or a bite of food.  How long do you think before someone else was brave enough or cared enough to do the same thing? That is where "Blessing Bags" project came in.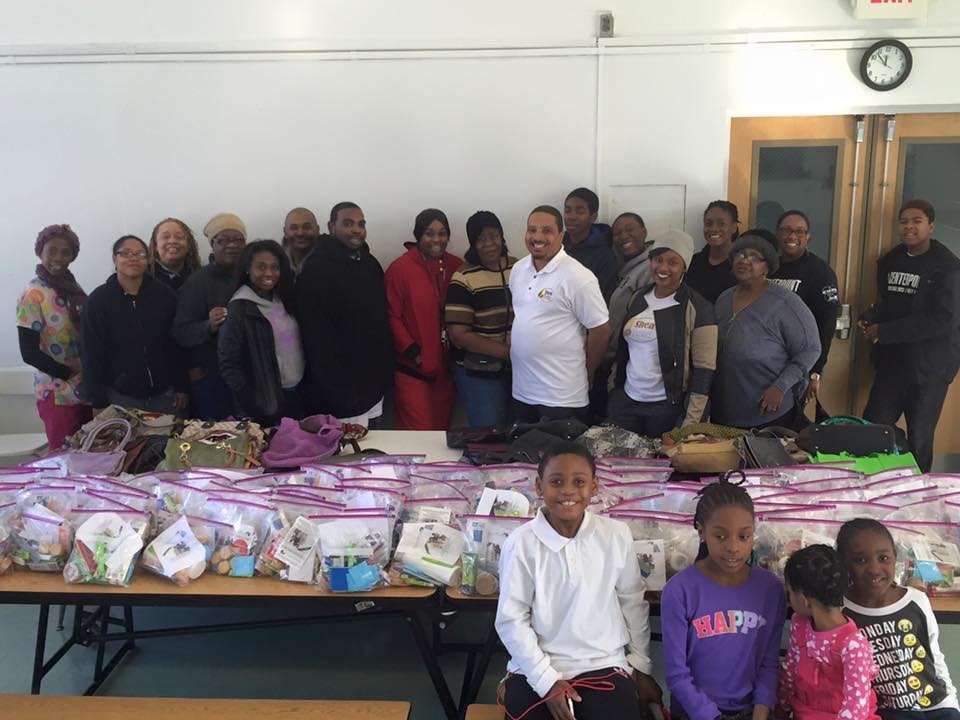 On January 18, 2016 the CenterPoint Baptist Church sponsored a Martin Luther King, Jr. Day of Service, "Blessing Bags" project. The "Blessing Bags" project was opened to area churches and local community members, with a special emphasis on youth participation with the theme "A Day on Not A Day Off." The "Blessing Bags" project is an effort to provide purses of dignity. These are donated purses filled with personal toiletries and non-perishable food items given to underserved women throughout the metropolitan DC area. Many of the recipients were women living in homeless shelters, on the streets and even single parent homes.
When you are in a low-income family, a single parent, or a homeless individual, crackers, water, lip balm and other hygiene items aren't your highest priority. They become "luxury" items. We believe everyone deserves to feel clean and good. When we give to marginalized individuals, we are not just saying we want to help them survive, we are saying we want to help them thrive. It lets them know that they are deserving of these "luxury" items. Because we were able to provide, individuals have opened up to us. Because of this, we can really help them move forward in their lives.
CenterPoint provided 400 bags to six local community organizations. CenterPoint members organized dozens of volunteers and secured business sponsorships from local entrepreneurs and retailers. The project was deemed a success in that it achieved its three major goals:
Embrace and promote the tenets of Luke 4:18-19
Heighten awareness among youth of the opportunities to serve in local mission efforts
Foster on-going relationships with community organizations through compassion and service.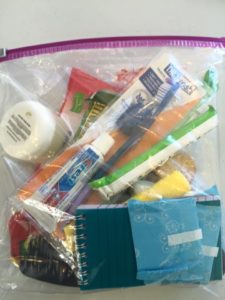 One of the greatest gifts you can give to someone who is hungry is food to nourish their bodies. Food like granola bars, crackers with peanut butter, trail mixes, dried fruits, and a bottle of water are great items to tuck into the "Blessing Bags." In addition, feeding someone's soul is just as important as feeding their needs. CenterPoint included in each bag a list of available resources for women across the DC Metropolitan area. In addition, a note of encouragement and a comforting scripture through tracks and daily scripture reading books accompanied all bags.
The "Blessing Bags" project received initial funding from the Mission Resource Development of American Baptist Churches USA, Matthew 25 Grant. The project was presented at the Progressive National Baptist Convention, Inc. – Eastern Region Conference held in Maryland where churches responded with additional donations of bags and toiletries to provide an additional 100 bags. After the success, CenterPoint agreed to incorporate this project into its mission work and plans to expand it efforts were set.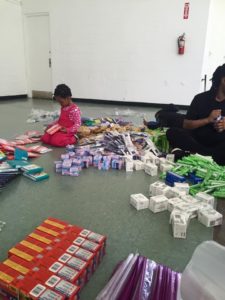 CenterPoint serves as a ministry in the Ward 8 community of Washington, DC, the most underserved community in the region. We viewed the project as a platform for community outreach serving as a conduit to fulfill the church mandate to provide for the less fortunate.
For 2017, CenterPoint set a goal to provide 1000 "Blessing Bags" to continue and extend its efforts towards helping women across the Washington, DC metropolitan area. The "Blessing Bags" project was expanded to serve women living in senior living facilities.
Low-income families, single parents with children, seniors and marginalized individuals know the daily pressures of providing shelter, food, and daily necessities. Trying to afford all of this can pull the financial rug out from under them. Personal hygiene items and snacks may be small but they can also be financial stressors. Additional donations through life changing ministries, the investment of time, talents and professional expertise as volunteers has contributed to our efforts to continue to provide hope to women.
"Blessing Bags" evolved from a desire to spread love. "Blessing Bags" are filled with basic of necessities but are much needed resources to help women. The mission is to serve, empower, and bless those who need it most. While this may seem simple, the big picture mission is to inspire others to get involved in something that allows them to be of service during a time when the world needs it most.