Love Gift, an initiative of women across American Baptist Churches USA (ABCUSA) to help support the full range of American Baptist Mission, turns 85 this year. Love Gift is a gift to United Mission and supports American Baptist Mission and Ministry. American Baptist Women's Ministries receives United Mission dollars equivalent to 15 percent of Love Gift.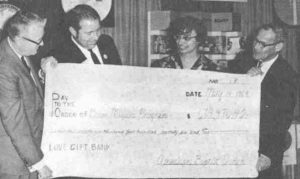 In 1932, American Baptist Churches faced a $500,000 deficit, and it was feared the financial crisis would limit God's work in the denomination. American Baptist Churches asked individuals to give financial contributions in excess of their tithes and pledges. Women, specifically, were challenged to raise $150,000 to help meet the crisis. Receiving the challenge, women began the over-and-above contribution called Love Gift.
"It is astonishing how 85 years of faithful support from American Baptist women putting coins and dollars into Love Gift boxes has surpassed $57 million in extra support for ABC mission," says Virginia Holmstrom, executive director of American Baptist Women's Ministries. "These are women who support United Mission through their church offerings and, because of their thankfulness to God, they give an extra gift of love through their Love Gift offering. The Love Gift initiative begun in 1932 outlived the Great Depression and continues today to bless the breadth of American Baptist ministry and mission happening in regions, the U.S. and around the world."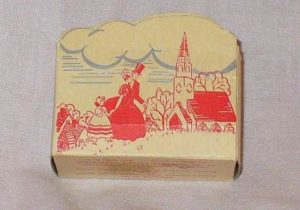 From the outset, women collected funds for Love Gift in small boxes. The first were called Silver Boxes, illustrating that beneath every cloud there exists a silver lining. The silver placed in these boxes would help dispel the clouds of financial difficulty overshadowing the mission. Printed on these boxes were the words: "If we know we pray; if we pray we give." Later the boxes were designed to complement the title of the women's annual program theme. The 1941 theme was "love," leading to the idea of "Love Gift" boxes.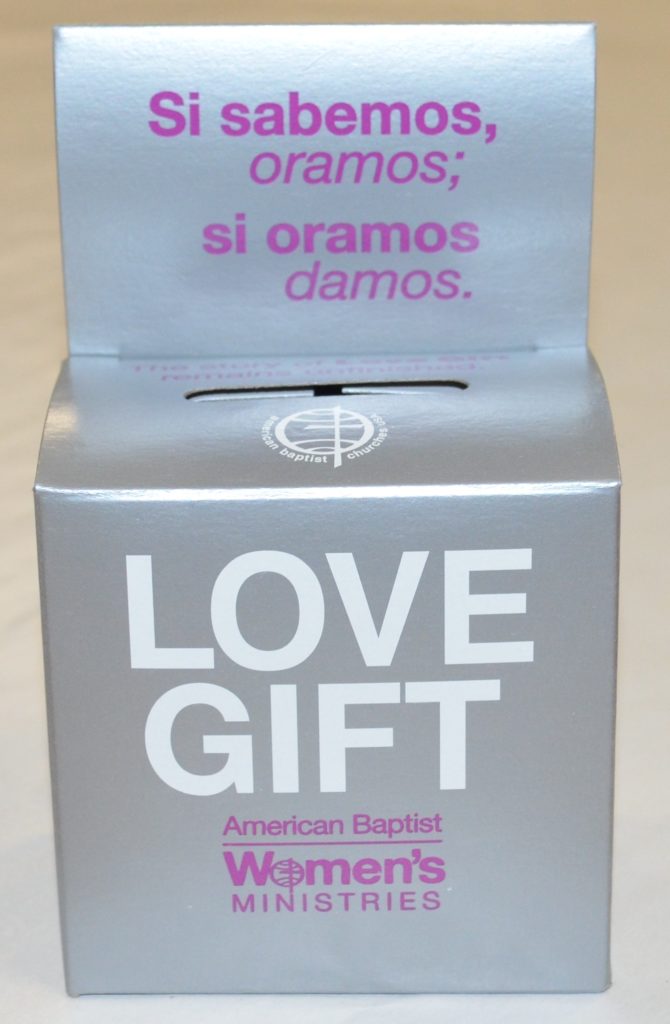 A new silver Love Gift box has been produced this spring, modeled after the original "Silver Boxes," which later became the Love Gift boxes. To order free Love Gift materials and additional Love Gift boxes visit: www.abwministries.org/store.
Unique approaches have propelled the Love Gift idea toward success. The West Virginia Baptist Convention (WVBC), long a Love Gift bellwether, gives ribbons to congregations who increase Love Gift giving by 5 percent over the preceding year, an idea suggested by a Minister of Mission Support, explains Rose Marie Durig. Durig, a member of First Baptist Church in New Martinsville, spent eight years working part-time as WVBC associate for mission support before retiring.
Durig mentions another promotional idea that has caught on – urging women to donate dollar bills in their purses that have either an "L" or "G" (Love Gift initial cap) within the Federal Reserve Bank seal found to the left of George Washington's engraved image on the bill. (The letters within the seal identify one of 12 Federal Reserve Bank locations around the U.S. that originally requested from the U.S. Treasury the printing of the currency. The 12 locations are identified by alphabet. "G" is Chicago. "L" is San Francisco.)
Love Gift donations surpassed $1 million annually across the country for 21 consecutive years from 1981 through 2002 with the highest mark of $1,609,856 achieved in 1994.Even with the decline in contributions since that time the Love Gift initiative still makes a considerable difference. Donations reached $366,929 in 2016. The WVBC's peak gift year was in 2001, when $206,000 was donated.(A lot of coins and bills in a lot of boxes!
How has the WVBC remained such a mainstay of Love Gift support?
"We have long been a mission-minded people," Durig explains. "We have had a string of strong Ministers of Mission Support who have helped promote Love Gift. A yearly Love Gift Goal has always been set and promoted in the Region. For example in the year 2000 we set a goal of $200,000,and that goal was met and exceeded."
Almost all of ABCUSA's 33 regions contribute to the Love Gift total. The West Virginia Baptist Convention contributed 31.4 percent of the 2016 total. That region has more than 400 ABC congregations, nearly 10 percent of the denomination's total. However, the region has also been hard-hit economically in recent decades. Other regional mainstays include ABC of the Central Region (10.8 percent of the total), ABC of Indiana & Kentucky (9.9 percent of the total), ABC of Pennsylvania and Delaware (8.1 percent of the total), ABC of the Great Rivers Region (5.2 percent of the total) and the Mid-American Baptist Churches (5 percent of the total).
After 85 years, thanks to readers like you, the work of Love Gift remains unfinished.
How can you support Love Gift TODAY?
Receive a Love Gift offering at every women's ministry event or meeting in your church or region.
Place Love Gift boxes on tables at conferences, board meetings and association events.
Keep a large jar in back of the church for "Pennies from Heaven for Love Gift." (Congregations have collected $40 to $50 monthly this way!)
Set Love Gift goals for giving.
Give each family in your church a packet to learn about Love Gift. Include items such as the Love Gift Box, the Love Gift brochure, and the website address for American Baptist Missions.
Every fifth Sunday of a month, receive a Love Gift offering during worship.
Offer incentives for achieving the Love Gift goal your church sets.
If your church does not have organized women's ministries you can still participate in Love Gift. To order free Love Gift materials and additional Love Gift boxes visit: www.abwministries.org/store.