For a few moments Rev. Mang Sonna could not believe what he was hearing one morning last October as he sat in on the business meeting for the American Baptist Churches of the Central Region.
Sonna, executive director of the 105-year-old Bethel Neighborhood Center in Kansas City, Kans., had been publicizing that the center was $85,000 short of achieving its $2 million capital campaign to make eight badly needed upgrades to the center's aging facility. The center has a mission to help members in need from its multi-ethnic community gain the resources to achieve self-sufficiency. "Over the years the ethnic makeup of our neighborhoods has changed but our mission has not," Sonna says. The 105-year-old center reaches out to 10,000 participants annually.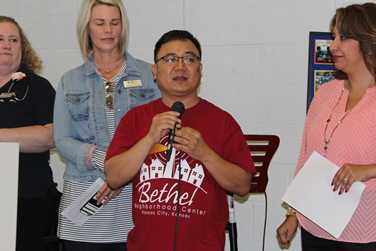 Having been invited to the business meeting, now Sonna was being greeted by a "special announcement" from Dr. Molly T. Marshall, president of Central Baptist Theological Seminary, the school that had trained him to become a pastor. Marshall first told those gathered that she was deeply appreciative of the annual support provided by the Central Region. She then announced that for the coming year, Central would like to donate its portion of the support from the Central Region for 2017 – an amount calculated at roughly $85,000 – to help Bethel reach its goal of matching $250,000 each from the Hall Family Foundation and the Mabee Foundation to achieve the center's $2 million campaign goal.
"Listening to Dr. Molly Marshall's announcement," Sonna says, "I was filled with indescribable joy, and I could not hold back my tears of gratitude. No words can express my thankfulness to Dr. Marshall and the seminary for its generous gift, for deepening my theological knowledge, broadening my worldview, preparing me for ministry, and for believing in me and the Bethel ministry. God is faithful in answering our prayers and in supplying ALL our needs." Sonna has served the center for 12 years, eight years as its director.
As spring approaches, the excitement and anticipation over the construction is growing. Groundbreaking for the upgrades is set for 11 a.m. Saturday April 8. Mayor Mark Holland of Kansas City, Kan., will be featured in the ceremony. The American Baptist Home Mission Societies will also be represented by Lisa Harris-Lee. Sonna adds that food served at the groundbreaking will feature delicacies from some of the main ethnic groups the center serves – with Burmese, Bhutanese, Latin-American, Iraqi, Hmong and Somalian fare. Sonna says the center is hoping the construction upgrades can be completed within 10 to 12 months, as the center anticipates needing to conduct some of its programming off-site during the construction.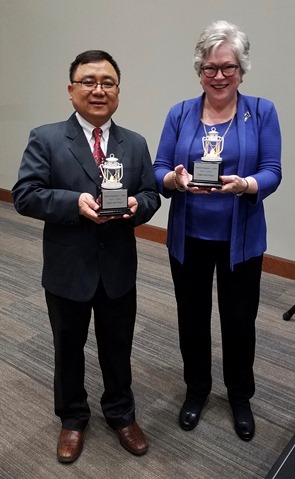 Dr. Marshall has described how the seminary considers itself the center's "Big Sister." Central Seminary and the Bethel Neighborhood Center have a long history of supporting one another. Bethel has provided a learning context for many Central student interns. Central alums have served as directors of Bethel, including Rev. Sonna.
"Eighty-five thousand dollars is a significant amount – about two percent, of our budget," Marshall observes. "And we will have to work very hard to cover the amount of this gift. "It seemed the right thing to do, however, for Central to give sacrificially to another member of the ABC family. As we do so, we trust the living God that we will have all that we need, and that this gift is an expression of abounding in every good work. Mang and I celebrated together God's provision in the midst of our ABC extended family, demonstrating that God is abundant in blessing every collaboration for good."
"The positive reaction in the room was spontaneous and completely contagious when Dr. Marshall made her announcement," says Kenneth C. Marsenburg, who was in the room at the time. Marsenburg is ABCUSA Office of the General Secretary's director of development. "As Mang was called to the podium there were tears of joy as the delegates and friends gave a standing ovation and then Mang gave thanks for the generosity of the region."
"Just two days before Central Seminary's announcement, Bob Southard, who has chaired the campaign, and Kevin Flattery, the development consultant, had been in a long conference call trying to identify sources for the needed $85,000," explains ABCUSA General Secretary Emeritus Roy Medley. Medley has served as honorary campaign chair for the Bethel fundraising initiative. "Significant matching gifts were at risk if we could not close the gap. It was not going to be easy to meet the deadline! That all changed when I received Kevin's email announcing Central's sacrificial and generous gift. 'Way to go, Molly!' were the first words out of my mouth. The movement of Christ's Spirit upon so many hearts in our ABC family has been awesome to behold. We are grateful for the significant support of the American Baptist Home Mission Societies and individual donors who have brought us so far."
The Bethel Center opened April 1, 1911, the brainchild of the mission center of The Women's Baptist Home Mission Society of the community. It began by serving needy families living near or working in meat-packing plants of the West Bottoms section of Kansas City. Many were new immigrants from Eastern European countries.  Originally in the West Bottoms section, the center is now located at 14 South 7th Street in Kansas City.
"It's always been known as a safe place for people to gather," Sonna explains. Over the years the ethnic nature of the community has changed to include a variety of Caucasians, Asians, Hispanics and Latinos and African-descent people "from all parts of the world," Sonna says.
The center provides after-school activities and summer programs for grades 1-12, seniors day programming for socialization and lunch, a food pantry and baby diapers and wipes, healthy lifestyles training, a community garden, Christmas Shop, English as a Second Language (ESL) and citizenship classes. It also provides a Friday night community meal and worship services sponsored by area churches and refugee services.   "We're seeking to provide hope, safety and comfort to anyone who seeks it," Sonna says. Many of the children who have frequented the center over the years have grown up to be leaders in the community. "It is a place where many people have been able to discover their gifts," Sonna notes. And it has also been a place that has connected many people to a variety of neighborhood resources and job opportunities.
The center's new upgrades are to include:
a new driveway enabling a safe drop-off and pickup point for children and seniors;
more educational spaces to double participation in educational activities;
upgraded restrooms, kitchen, reception and office spaces;
more energy-efficient heating and cooling systems and improvements to the roof, windows and doors;
a new multipurpose hall;
renovations to the playground and soccer field;
new garage and campus parking; and
expanding the food pantry.