For Black History Month in February, American Baptist Churches USA is lifting up and celebrating the lives of some of the denomination's significant leaders through history.
Dr. Charles Emerson Boddie: Influential Scholar Who Bridged the Black/White Divide
Rev. Dr. Charles Emerson Boddie (1911-1997) was the first African American to become a staff secretary of a national agency of American Baptist Churches (then the American Baptist Convention), according to an International Ministries communication at the time of his death.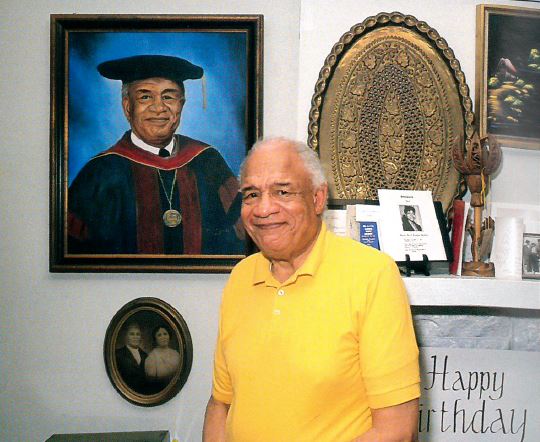 In 1956, he joined the staff of what was known then as the American Baptist Foreign Mission Society (now International Ministries) and served as missionary personnel secretary. He later served in the Public Relations Division of the organization. As missionary personnel secretary, Dr. Boddie visited Baptist colleges and universities to talk with students, guiding them in their vocational decisions, and spoke at youth rallies, camps and conventions. He was always seeking prospective missionary candidates and encouraging them to accept the challenge of missionary responsibilities. He traveled around the world in 1961 and 1962, visiting areas of mission outreach and meeting missionaries and national leaders. His visiting of Baptist mission fields made him an internationally recognized personality. He served for eight years on the Board of Managers of the Board of Education and Publication of American Baptist Churches USA (ABCUSA).
After graduating from New Rochelle (N.Y.) High School, Boddie entered Syracuse University intending to become a lawyer. He then decided to go into the ordained ministry, and switched to a philosophy major in his senior year. He earned a B.A. degree from Syracuse, a B.D. at Colgate Rochester Divinity School, Rochester, N.Y., and an M.A. from the University of Rochester. In 1951 he was awarded a Doctor of Divinity degree by Keuka College in New York.
Prior to joining the national staff of the denomination, Boddie served in pastoral ministry for 21 years in Elmira and Rochester, both in New York, and in Huntington, W. Va.
Boddie maintained that the three "poles" that upheld the "tepee" of his life were his father, Jacob Benjamin Boddie, who taught him a passion for an educated ministry leadership; Vernon Johns, a Martin Luther King predecessor whom Boddie described as poet, seer, mystic, sage and saint at home on campus or farm, pulpit or dais; and the noted preacher George Buttrick, author and former pastor of the Madison Avenue Presbyterian Church in New York City. Of the three influential figures, Boddie once said, "Pops compelled, Buttrick impelled, Johns propelled."
Boddie wanted ministers to be thoroughly prepared for pulpit ministry so that "people wouldn't have to park their brains in the vestibule when they come to church."
In 1963, when the existence of a small, struggling school devoted to the preparation of Black ministers was threatened because it could not find a president, Boddie stepped forward to take the position. Serving American Baptist Theological Seminary in Nashville, Tenn., that way represented the most basic commitment of his life – playing a role in the formation of an excellent and educated ministry among Black people. Upon assuming the presidency, he declared to the students that he had come to help would-be Baptist preachers "baptize their brains." Boddie would urge students contemplating the discipline of preaching to "Make it interesting: make it honest: make it brief." He served the school for 21 years before retiring.
Charles Boddie was for many American Baptists the first Black leader to bridge the racial barrier. He was known for his booming baritone voice and evocative speaking style. A professionally trained musician skilled on the organ, he could unite people of diverse backgrounds by singing songs of shared faith, such as his own composition, "I Can Tell The World About This." O.K. and Marjorie Armstrong, in their book The Indomitable Baptists, described Boddie as an ambassador of good will. He did not accommodate White institutions, but rather influenced his audiences through the power of his personality, his scholarly capability, and the force of his eloquence, which won the respect of others.