A $1,000 Matthew 25 grant from American Baptist Churches USA (ABCUSA) is supporting a free clothing ministry and school supplies initiative in New Albany, Pa., a community of about 300 families in rural northeastern Pennsylvania.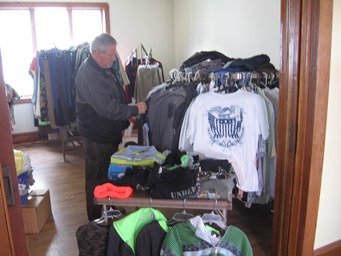 "Five years ago the American Baptist Women's Ministry of New Albany Baptist Church sensed there was a real need, and we started a free clothing ministry for the community," explains the congregation's Susan Miller. "New and like-new clothes are given to those in need with a 'no questions asked' policy," Miller says. "We have a particular need for men's clothing. Men seem not to have as much clothing to start with, or they hold onto what they have longer, until it is completely worn out."
Miller explains that the community's youngsters attend schools in the Wyalusing Area School District. "With reduced funding for our school from the Commonwealth of Pennsylvania, parents must now furnish many of the school supplies for their children for the school year. So for the past three years New Albany Baptist Women have tried to help children get needed school supplies."
With the $1,000 grant, plus some locally raised money, the congregation was able to purchase and is distributing the following men's clothes: 20 hoodies, 30 long-sleeved shirts or sweatshirts, 20 T-shirts, six coats, 20 pairs of long underwear, 10 pairs of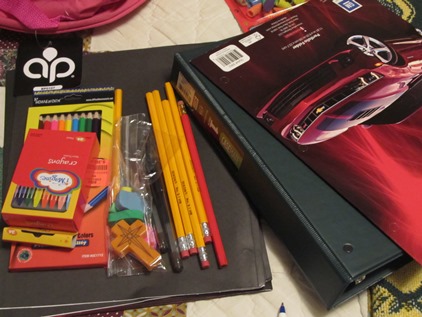 gloves, 10 hats, 10 pairs of winter boots, and numerous pairs of pants and shorts.
For school children, the congregation has purchased 30 backpacks filled with school supplies including binders, notebook paper, pens, pencils, crayons, colored pencils, spiral bond notebooks and erasers. "We checked with local teachers to determine what supplies were needed the most," Miller says. "We've distributed what we purchased, and the parents and children have all been really appreciative! Now they may be able to buy a new outfit or other necessities for the first day of school."
"The American Baptist Women of New Albany Baptist Church want to say 'thank you' for the Matthew 25 grant," Miller says. "We also want to acknowledge local businesses who have helped us out when they learned what we are doing for people in the community. We pray that we can continue these programs in the future with local funds, and, that by showing Christ's love in this way we may lead many to Him."
The Matthew 25 Grant initiative, sponsored by ABCUSA and the Board of General Ministries, is funded by a generous, anonymous donor whose goal is to help meet the needs of "housing, feeding, education and health with regard to the less fortunate."
The application process for a Matthew 25 Grant is structured to help small ministries with limited staff time. For more information on the grant and application process visit: www.abc-usa.org/matthew25.