By Virginia Holmstrom
Virginia Holmstrom is the executive director of American Baptist Women's Ministries.
September 11, 2001. I was three weeks into my new position with American Baptist Churches USA (ABCUSA).
That morning at work a colleague called out to me with an expression of shock on his face: "A plane just hit the World Trade Center, and they think it was done on purpose!" The news grew with intensity within minutes. Back in my office upstairs, I phoned my family members to confirm that they had also heard the news, or more honestly, to simply hear their voices and know they were safe.
Next, I stumbled through the still-unfamiliar process of assembling the subscriber list for AB Women's Ministries' prayer request ministry. "If you haven't heard what happened in New York City, go turn on your T.V. now and pray." I hastily typed and hit the Send button. Jan DeWitt, an American Baptist woman in Arizona, replied within minutes. "I just woke up and read your email. Thanks for letting me know!"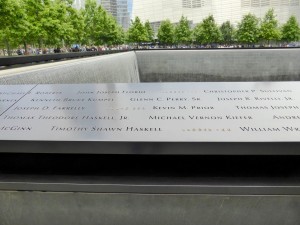 The events of September 11, 2001, prompted my husband Eric, an ABC-endorsed military chaplain, to be called into active duty for the first time in his U.S. Army Reserve career that began in 1980. Within 24 hours of the call, he reported to Fort Hamilton, under the shadow of the Verrazano-Narrows Bridge on Long Island, where he provided chaplaincy services to the Army Corps of Engineers personnel who monitored the waterways while tunnels and bridges remained closed. There Eric befriended the grieving father of a 20-year old first responder firefighter who hadn't make it out of the tower before it collapsed. To this day, Eric honors the memory of the slain Michael Vernon Kiefer by printing Michael's name on the top cardboard binding of any legal pad he uses. Twelve years after Michael's death, Eric and I visited the 9/11 Memorial site to search for the young hero's name engraved among the names of 2,982 others who died in attacks on the Twin Towers. Within minutes, as if by calling the name it would appear, there it was—Michael Vernon Kiefer—neatly etched on the bronze memorial wall of the South Pool that outlines the footprint of the South Tower.
September 11, 2001 is the day that marked a divide in American psyche and culture. For a time the spirit of America coalesced in fierce nationalism. The stars and stripes flew everywhere–from buildings, on mailboxes and porches, and even from vehicles. The surge of national unity was dimmed by threats and violence against fellow Americans who looked Middle Eastern or identified as Muslims. I myself was startled to feel alarm when, 10 days after 9/11, a Muslim couple entered the boarding gate area of a flight I was taking to Columbus, Ohio and sat down next to me.
Random acts of terrorism came into our homes whenever we turned on the evening news. A Department of Homeland Security was created. The world had become a scary place. There was a feeling of onerous danger in the air, like being drawn toward Sauron's Mordor. I found myself noticing the publication dates of books; fiction novels pre-2001 felt irrelevant to the world in which I now lived, and I placed them back on the library shelf, unread.
In this 15th year since 9/11, I know that I have grown by faith. The changes in me have been good ones. I have many more Muslim friends today. I refuse to label religions as instigators of terrorism. I've organized dialogue events for Christians and Muslims. I believe we are all God's children. By seeking to recognize God in others, I'm practicing a ministry of hospitality—extending friendship and receiving friendship– that is restoring joy to me.