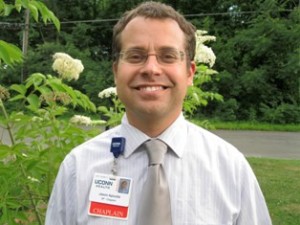 Rev. Jason Apicella is the part-time co-pastor at Asylum Avenue Baptist Church in Hartford, Conn., where he has been preaching monthly for the past two years. When he doesn't have preaching commitments of his own, he attends Federated Church of Christ in Brooklyn, Conn., where his wife, Mary, serves as the pastor. He recently completed a clinical pastoral education residency at St. Francis Hospital in Hartford and is pursuing full-time employment as a chaplain.
I'm an American Baptist because my gifts for ministry are supported and nurtured through the many opportunities to serve Christ in American Baptist life. I am drawn to the American Baptist focus on freedom – Bible freedom, soul freedom, religious freedom, and church freedom. I am proud to be part of a church denomination that is so diverse, one with a rich history of faithfully serving Christ both inside and outside the walls of the church.
My coming to faith has been a gradual process that I find is continually being renewed.
My earliest memories of church were attending Sunday services at a small Episcopal church with my grandmother. As a child I remember sitting on a kneeling cushion watching my grandmother prepare the altar for Holy Communion before Sunday services. From her actions I learned the true meaning of "servant leadership" and appreciated the reverence she had in the task of preparing the elements as her offering in worship.
I think the greatest challenge facing the church today is accepting change.
I pray for my wife and for our life and partnership together. I pray for God's presence to be with my family and friends and for their well-being and health. I pray for God's guidance in my life and vocation. I ask God to make me an instrument of peace and comfort as I seek to care for others.
I struggle the most with the meaning of suffering.
I am most passionate about social justice issues. I am particularly influenced by Jesus' ministry to and with those on the margins of society. I feel called to be with those who are often overlooked.
Ten years from now my hope is that the church will reclaim its prophetic voice by working towards justice and making this world more like heaven.
Would you like to nominate someone to be featured in "My Baptist Life"? Simply send a name, the reasons behind your nomination, and contact information to Mark Staples, ABCUSA communications consultant.