Two congregations, one in West Virginia and one in South Carolina, have been awarded Matthew 25 Grants from American Baptist Churches USA (ABCUSA) in support of food initiatives to assure that nutritionally at-risk children will have enough to eat over weekends when they are away from school.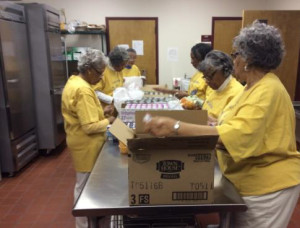 Second Calvary Baptist Church in Columbia, S.C, along with its James M. Hinton Foundation, was awarded a $3,600 grant toward the regular purchase of food for "Sacks of Love" for 20 students from the Alcorn Middle School in the northern section of the city. Since the program began, it has distributed 10,000 meals, 4,500 of them during the 2015-2016 academic year.
"This area is designated as one of the highest poverty areas in the city and state," explains Donald Thomas, who chairs the Foundation's board. "The grant also makes it possible for us to furnish the students with school supplies, such as paper, notebooks, pens and pencils."
Some congregation volunteers take care of packaging the "Sacks of Love" at the church each week. Others take turns delivering the bags to the school for students to take home. A typical "sack" contains milk, fruit punch, chicken alfredo, crackers, beef stew, macaroni, apple sauce, chili with beans, snack bars and fruit. Items vary from month to month. Birthday cards and invites to church are also furnished.
"The sacks of Love Program has been a tremendous support for our students," Alcorn's principal said. "There are so many students who are not able to partake of nutritious meals on the weekends. Those who receive meals through the program excitedly await the meals on Fridays when they are distributed. Research states that children who eat balanced meals regularly tend to perform better academically and socially. The Sacks of Love Program supports that research heavily."
"We know that we can always depend on Friday to help get us through the weekend," one parent told the school. Another parent said, "Since we started receiving the snack pack, I can rest assured that my children will have a nutritious meal over the weekend. All they have to do is pop the items in the microwave while I am at work. I know that they will be taken care of. Thank you for starting this program!"
In Frankford, W.Va., Send the Light Community Fellowship was awarded a $1,300 Matthew 25 Grant to sponsor "Love in a Brown Bag." The program began in December 2015.
"We give all the late bus students from Frankford Elementary School a brown bag full of pre-packaged food every Friday for the weekend, as many we know would go hungry when they are not being fed at school," says the Rev. James L. Anderson, Jr., president of the Fellowship. "Many of these students live an hour or more away from the school and are our most at-risk students when dealing with hunger and other distressing problems." The grant is being supplemented with generous donations  from other churches, businesses, civic groups and concerned individuals "so that we have enough funds to keep the program going until the end of the academic year," Anderson says. Volunteers packaging the brown bags meet every Saturday for Bible study and for preparing bags for the week ahead.
"Thank you so much for approving this grant for us," Anderson says. "We want you to know that the Kingdom work through our fellowship is thriving due to your generosity and thoughtfulness."
The Matthew 25 Grant initiative, sponsored by ABCUSA and the Board of General Ministries, is funded by a generous, anonymous donor whose goal is to help meet the needs of "housing, feeding, education and health with regard to the less fortunate." In Fall 2015, a total of 69 applicants received funding ranging from $500 to $5,000 with a total awarded of $169,140. Grant applications are welcomed once annually by September 1 with the only requirement being an ABCUSA connection.
The Matthew 25 Grant process is structured to help small ministries with limited staff time. For more information on the grant and application process visit: https://www.abc-usa.org/matthew25/.
Read about what different organizations and churches have done with Matthew 25 Grant Funding