VALLEY FORGE, PA (ABNS 07/13/16)—In a historic celebration before a gathering of hundreds of mission supporters, the Rev. Sharon T. Koh of Los Angeles, Calif., was installed as executive director-elect of American Baptist International Ministries (IM). She began her service as executive director-elect on July 1, 2016, and will assume the role of executive director on September 1, 2016, following the retirement of the Rev. Dr. Reid S. Trulson on August 31.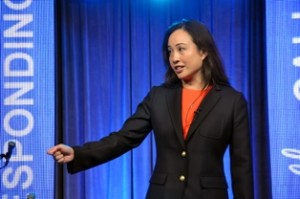 The ceremony of installation on Friday, July 8, was the culmination of the four-day biennial World Mission Conference at the Green Lake Conference Center in Wisconsin. With more than 400 mission supporters in attendance, Koh was enthusiastically and warmly welcomed into her new role. The ceremony ended with a moving laying on of hands that included members of the IM board of directors, IM leadership, American Baptist Churches USA (ABCUSA) leadership and the entire assembly.
"It was a sacred moment," stated Koh. "I had a sense of both God's presence and God's promise through the hands and prayers of those surrounding me."
Family and friends were elated. In attendance were Koh's parents, the Rev. Dr. Victor and Kah-Kiat Koh, longtime missionaries; her mentor, Cheryl Brown, and her husband, Wes, who have both served as IM missionaries; and Brown's daughter, Julie Brown Ono, who is a friend and previous colleague. Sterling and Emi Miller, missionaries whom Koh commissioned to serve in Japan with Asian Access/SIM, also joined the celebration.
Pastors and leaders of ABCUSA celebrated this new and exciting chapter in the life of IM. "The entire ABCUSA family rejoices at the appointment of Sharon Koh and welcomes her as executive director of IM and as a national secretary of ABCUSA," said Dr. Susan Gillies, interim general secretary of ABCUSA. "We commit ourselves to pray for her as she assumes the responsibilities of office. We look forward to the days and years ahead with great anticipation!"
While IM has a rich history of appointing female missionaries to global service, Koh is the first woman to serve in the position of executive director in the ministry's 202-year history. IM's first single female missionary, Charlotte H. Atlee White Rowe, was appointed in 1815 and served in India from 1816–1826. Other women missionaries have followed in Rowe's footsteps and have made up 60 percent of the 4,000 missionaries appointed by American Baptists.
Koh is the sixth person to hold the title of executive director for this historic mission agency since 1978. Earlier leaders, starting in 1814 with William Staughton, bore the title of corresponding secretary.
Meeting IM's global mission personnel and their children is the first order of business for the new executive director. Gatherings will be held from July 24 through August 18, 2016, in four key locations: Costa Rica, Hungary, South Africa and Thailand.
The global personnel and Koh will have personal time to get to know each other in a deeper way. "I am very much looking forward to getting to know our missionaries and to hear what they have on their hearts," Koh said.
A second objective of the gatherings is to discuss IM's discernment process and its new statement of global ministry priorities, Responding to the Call. IM Director of Mission Design Karen Smith will be traveling with Koh and will lead those discussions during the four international meetings.
"I am excited to meet with the majority of our global personnel to celebrate IM's new strategic direction as outlined by Responding to the Call," said Smith. "They will see the fruit of the 2 1/2-year discernment process and recognize their voices in the outcomes. Together we will delight in the direction that God is taking us in our third century of mission."
Smith continued, "Sharon is uniquely positioned to lead IM into its future. Through God's provision, she was a member of the discernment team itself. She witnessed the integrity of the process and spent hours reading through the interview data and discussing what God was saying to us through the data."
For more information on Rev. Sharon Koh, read "American Baptist International Ministries Calls New Executive Director."
American Baptist International Ministries celebrated 200 years of ministry in 2014. American Baptist International Ministries (IM) was organized in 1814 as the first Baptist international mission agency in America. It began its pioneer mission work in Burma, (now called Myanmar) and today serves God through more than 1,800 short- and long-term global servants in Asia, Africa, Europe, the Middle East and the Americas. Its central mission is to help people come to faith in Jesus, grow in their relationships with God and change their worlds through the power of the Spirit. It works with respected partners in over 70 countries in ministries that meet human need.
American Baptist Churches USA is one of the most diverse Christian denominations today, with over 5,200 local congregations comprised of 1.3 million members, across the United States and Puerto Rico, all engaged in God's mission around the world.