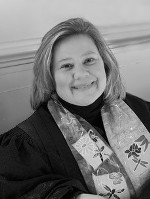 For Rev. Stacy Emerson of West Hartford, Conn., stewardship is a "way of life" for all of God's disciples, but stewardship also is a term abounding in misconceptions.
"Stewardship is not just about money," says Emerson, who serves as Stewardship Facilitator for Mission Resource Development,  American Baptist Churches USA (ABCUSA). She works as a deployed staff person out of her home while she also serves as senior pastor for First Baptist Church in West Hartford.
"Stewardship requires a holistic understanding. It is really everything that we do after we say we believe in God," she says. "It is a way of life. Stewardship is about our use of time and talent as well as the treasure entrusted to us. It is about our temperament, our habits and attitudes as we work to personally connect to the changing culture we are a part of. And so we always need to prepare to adapt. It also involves us in the mission and vision of our local congregations in a challenging, changing time."
Stacy Emerson has supported ABCUSA in a variety of ways over the 20 years she's served as a pastor. She's been involved in the planning and administration of National Youth Gatherings. She's served as a coach and facilitator for national region teams involved in ABCUSA's "Transformed by the Spirit" initiative. When Rev. Dr. Leo Thorne, ABCUSA's associate general secretary, invited her to lead and teach about stewardship and generosity for the denomination some years ago, she accepted the invitation.
Emerson's knowledge and experience regarding stewardship has an ecumenical base. She's vice chair of the Ecumenical Stewardship Center, founded in 1982 by the National Council of Churches of Christ USA as a means to "connect, inspire and equip stewardship leaders" for the purpose of transforming the communities they are a part of. The center has both U.S. and Canadian members. "We deal with broad perspectives about stewardship and generosity," Emerson says.
Emerson travels some to lead workshops for pastors and laity about a broad expanse of topics. She also does counseling for congregational leaders on Skype or by telephone conferencing. She often begins an event by asking participants to talk about their stewardship concerns. What do they want to talk about?
"Leaders often discuss the challenges they have with balancing their congregation's budget," she says. "Their endowment funds may be drained. They don't have enough pledges to carry out their ministry fully. They don't have as many members or volunteers in the congregation as they once had. They are focused on scarcity and fear. They are not sure how to make things work, and so they are depressed. They are looking for help and ideas. They need more opportunities for conversation in order to think things through. They need access to a wider perspective about what God is doing in the church and the world." Emerson explains that no one alone has the answers to such challenges, and experimentation is something leaders become open to. Realities and possibilities vary from place to place.
"I try to get leaders to set a goal to focus more on nurturing the concept of generous discipleship," Emerson says, concentrating more on possibilities than on scarcity. "I point out that we are not the owners of the resources we have. God is the source of all of our blessings. Think of that rather than thinking about how much that is mine should I give away. Generosity is at the heart of everything we do in our lives as Christians. Generous discipleship is how we participate in God's restorative healing work in the world." God gives everyone the resources to be part of that restorative work, she says. "I find this reality is a joyful thing, not something that is scary or difficult."
She finds that in working with her own congregation as well as those she counsels a "great collective wisdom" becomes possible that doesn't happen when leaders try to go it alone. "Together we make advances, and by connecting with each other we also connect with the Holy Spirit," she says.
Stacy Emerson is most appreciative of her congregation. "They regard me as a resource (to others) that they are the stewards of," she says.
Emerson says she was "raised by a church" (Old Mystic Baptist Church in Mystic, Conn., founded in 1704). She explains that religious life in college at Elizabethtown College also highly influenced her.
When considering seminary, Stacy said, "It was Andover Newton's campaign that caught my attention with the question, 'Does God keep you up at night?' I decided that was happening to me." At Andover Newton Seminary, Emerson earned her M.Div. degree. After seminary, she was a chaplain intern in New Hampshire before accepting her first call to serve as the associate pastor of First Baptist Church of Branford, Conn. Stacy then became pastor of her hometown church, Union Baptist Church in Mystic, where she served for 16 years. She moved from there to serve in West Hartford in 2015.
Emerson puts out a "Generosity" newsletter each month. Need counseling or advice on stewardship? Check out Stacy Emerson's resources on line at www.generousdisciples.org, or telephone her at 1 (800) 222-3872, extension 2010.