"I am pleased and proud that American Baptists are very much part of a movement advocating for criminal justice reform," said Rev. Dr. James M. Harrison, executive minister of the American Baptist Churches of the South Region headquartered in Baltimore, Md.
Harrison was among a wide range of interreligious faith leaders who gathered in Washington, D.C., last month "to urge and influence senators to sign on becoming co-sponsors of the Sentencing Reform and Corrections Act of 2015 (S.2123)," Harrison said. "Additionally, and probably most crucial, we sought to urge Senate Majority Leader Mitch McConnell to bring this bill to the floor for a vote."
The Bill, if passed, would reform the "three strikes rule" that can put persons in prison for life for minor offenses. It would also change some of the mandatory minimum sentences for nonviolent drug offenses. The three-strike mandatory life sentence would be reduced to 25 years and the two-strike sentence from 20 to 15 years.
The advocacy event for criminal justice reform began with a prayer service among faith leaders who then participated in a public prayer vigil on the grounds of the Capitol. "We then visited individual senators in their offices," Harrison said. "Most visits were conducted by staff appointees. This was quite interesting as those staff persons receiving us were in some instances very experienced and knowledgeable of the bipartisan bill, where others seemed to be very new and merely recorded our questions and requests."
The event Harrison was a part of featured representatives from the National Council of Churches of Christ in the USA, the Interfaith Criminal Justice Coalition and other participants from around the country.
"The prison population is indeed alarming, but it seems those who are imprisoned are disproportionately people of color – Black Americans and Latinos," Harrison remarked. "There are many thoughts on why, perhaps fatherless homes, lack of economic opportunities, the big inequity already existing in the criminal justice system, lack of educational successes and devaluing of religious education opportunities, i.e. Sunday school."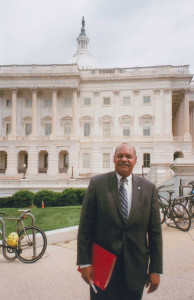 "Fear drives and inflames our lack of educational opportunities, tendencies toward racial prejudices, lack of knowledge, and self-hatreds among many of the minority races," Harrison noted. "Let us urge our fellow American Baptists not to be overcome with fear. We are called to love people, including people headed to prison. There is no fear in love, but perfect love casteth out fear, because fear hath punishment. He that feareth is not made perfect in love." (I John 4:18)
He said participating in the Washington event took him back to when he was a chaplain in Sussex Two Prison in Waverly, Va., in 2003. "I served at the prison for 15 months," Harrison recalled. "One night a stray bullet took the life of an 8-year-old little boy (Kyron Zhaetwon Butler) while he slept in his bed. He lived in a multi-family apartment public housing complex with his mother and sister. Several ministers invited me to a prayer vigil at the complex. When I got there I noticed that those attending were young women and older women and a few older men. I remember asking myself, 'Where are all the young men?'," Harrison recalled.
"The next day when I went to call on inmates in the prison it suddenly dawned on me that the young men were in the prison I was visiting," Harrison reflected.
"This issue is a moral issue," he said. "Individuals from different races are punished differently for committing the same crime. People deserve to be treated equally."