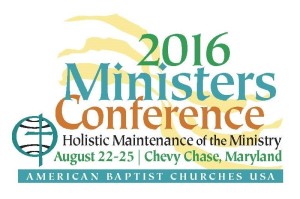 Registration for the 2016 Ministers Conference closes July 10. The conference will be held August 22-25, 2016, at the 4H Youth and Conference Center in Chevy Chase, Md.
With a focus on "The Holistic Maintenance of the Ministry," featuring Dr. Jennifer Davidson and Rev. Brad Berglund in worship, the 2016 Ministers Conference will provide a well-rounded view of healthy ministry. Come to connect with colleagues and realize a time of renewal and respite. In addition, you will learn strategies for sustainable living in ministry and practical actions as outcomes. You will emerge with energy to continue in ministry and tools for ministry longevity.
Are you interested in registering? Do you want to learn more? Full retreat details can be access by clicking here. You can download the pdf version of the registration form by clicking here.