VALLEY FORGE, PA (ABNS 6/21/16)—The Board of General Ministries of American Baptist Churches USA (ABCUSA) met June 16-18, 2016, at the Green Lake Conference Center/American Baptist Assembly in Green Lake, Wisconsin.
On Thursday, June 16, and Friday, June 17, Board of General Ministries directors, along with members of the ABC Nominating Committee and the General Secretary's Search Committee, joined together in a retreat setting to focus on building relationships and exploring issues of race, gender and culture and the impact of those issues on our life together. The retreat, facilitated by consultant Erin Hawkins, general secretary of the United Methodist Commission on Religion and Race, led directors and others in contemplating how to best leverage the gift of diversity as it discerns leadership for the future of the denomination.
"The Board of General Ministries of ABCUSA has concluded a retreat on the theme: 'One Body, Many Parts.' Through small group interactions, we shared experiences of joy, grief, hope, and commitment in denominational life that brought us to deeper levels of appreciation for our uniqueness as well as our common bonds of faith. We delved into real conversations around race and gender-going to places not often honestly approached. We have yet more work to do, but we have set goals and a framework for creating a future as a fully embraced beloved community," said Rev. Judy Fackenthal, president of American Baptist Churches USA.
The Board of General Ministries met following the retreat beginning on Friday afternoon, June 17.
In her first report addressing the Board of General Ministries, Interim General Secretary Dr. Susan Gillies addressed the recent shooting in Orlando. Read Gillies' words, published on Friday, June 17, here.
On Friday evening, Board directors recognized retiring leaders Dr. Deborah Bingham Van Broekhoven, executive director of the American Baptist Historical Society, and Rev. Dr. Leo S. Thorne, associate general secretary for Mission Resource Development, ABCUSA, both of whom are retiring on August 31, 2016.
On Saturday morning, June 18, the Board of General Ministries voted to recognize the Kachin Baptist Churches USA as an Associated Ministry Organization of ABCUSA.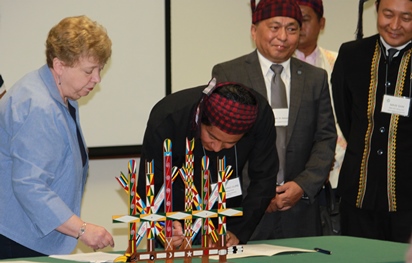 Mr. Zau Hkawng Dure, general secretary, Rev. Dr. Maw San Awng Jum, associate general secretary and Ms. Nang Doi Lahpai, president, along with additional representatives of the Kachin Baptist Churches USA, were present at the meeting to represent the organization as ABCUSA and the Kachin Baptist Churches USA entered into a covenant agreement and the organization became an Associated Ministry Organization (AMO).
"Kachin congregations in the United States are making a wonderful contribution to ABC life. We welcome Kachin Baptist Churches USA, and all Kachin churches that have found a home in the American Baptist Churches," said Dr. Susan Gillies, interim general secretary.
Dr. Josue D. Gómez-Menéndez, vice president of ABC, said, "During the past weekend at the Board of General Ministries meeting we shared a wonderful time to assert ourselves as a family. An exceptional closure of the meeting included affirming our diversity, through a partnership affirmation with our brothers and sisters from Kachin Baptist Churches USA. We are consistent in proclaiming by acts and words that it's always better two than one, because if one falls, the other can help his brother. How beautiful the feet of those who preach peace, joy and unity, because this always produces good news."
"What a holy moment it was as several people from the Kachin group, including their Burmese General Secretary, Mr. Zau Hkawng Dure, took the platform for the covenant signing," said ABC President Judy Fackenthal. "Cell phones and cameras were at the ready to record this moment of history! It is an honor to receive these brothers and sisters in Christ into the American Baptist family. They strongly feel the connection to us through the historic ministry of our missionaries. I pray God leads us into many shared opportunities as together we continue to serve as the hands and feet of Christ."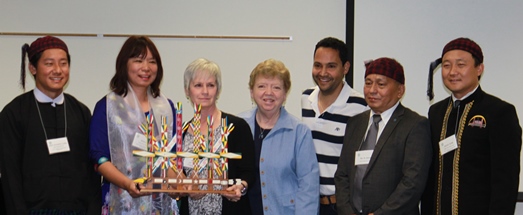 American Baptist Churches USA is one of the most diverse Christian denominations today, with over 5,200 local congregations comprised of 1.3 million members, across the United States and Puerto Rico, all engaged in God's mission around the world.