In Madison, W.Va., Theresa A. Cocheran compares the impact of receiving a $5,000 Matthew 25 Grant to the story of how Jesus multiplied loaves and fishes to feed more than 5,000 men, women and children with 12 basketfuls remaining. (Matthew 14: 13-21).
"God multiplied the purchasing power of the $5,000 for our 'Coats for Kids' project," Cocheran explains of a project initiated by the Mission Board of Madison Baptist Church, a member of the West Virginia Baptist Convention. "More than the estimated 150-200 students K-12 benefited. And we have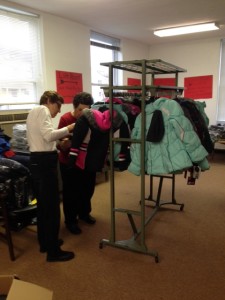 leftovers! Through God's coordinating the receipt of the check with various sales, the grant enabled us to purchase 572 coats and heavyweight hoodies, 55 pairs of gloves, 38 hats and eight pairs of boots with socks. Tracts, pencils and The Life Book (from the Gideons International) were placed in the pockets for the appropriate grade levels. With the Matthew 25 Grant we 'filled the gap' and assisted 251 students, 51 more than our highest goal!"
Many students, especially those in the community's elementary schools, received support from others inspired to help. Those organizations included "Angel Trees," the Veterans of Foreign Wars, other churches, school staff, "Shop with a Cop" and others in the locale. Members of Madison Baptist Church and Delta Kappa Gamma Pi donated additional gloves, hats, boots and socks and the congregation's Mission Board with another $500 in contributions purchased additional coats and hoodies during winter clearance sales to help meet next year's needs.
The Matthew 25 Grant initiative, sponsored by American Baptist Churches USA (ABCUSA) and the Board of General Ministries, is funded by a generous, anonymous donor whose goal is to help meet the needs of "housing, feeding, education and health with regard to the less fortunate." In Fall 2015, a total of 69 applicants received funding ranging from $500 to $5,000 with a total awarded of $169,140.Since the Grant's inception in 2013, nearly $850,000 has been awarded. Grant applications are welcomed once annually by September 1 with the only requirement being an ABCUSA connection.
Cocheran explains the perils impacting the Madison region making the grant especially critical. "When we submitted the grant application 15 schools in Boone County, W.Va., had identified  72 percent of the student population as low socio-economic status (SES) by federal guidelines," she says. "By the time we were awarded the grant, all but one of our coal mines had closed,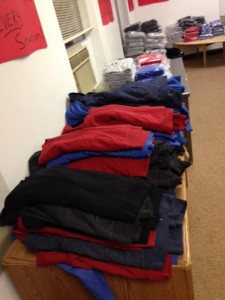 the low SES was 100 percent and three elementary schools had been identified for closure following the 2015-16 academic year." The application, she remarks, seemed to be identifying what inevitably would be an inadequate amount of assistance for the region.
Did the grant really make a difference? "Absolutely," Cocheran states. She sent in sample comments involving the students:
One high school teacher wrote, "Those who received (the hoodies) were very thankful. One came back to the class and said, 'Look how nice it is. I've never had one so nice.' Another came to my desk and said, 'Feel how the lining is and it's warm.' She wore it the rest of the day."
From another high school: "A student was encouraged to select the hoodie of his choice. After selecting his school color, he was encouraged by the principal to go and put it on. When he returned he had the largest grin I had seen for a while and commented how much more comfortable he'd be now that he didn't have to wear the heavier coat all day. It turns out his shirt was in such bad condition that he would not remove the coat."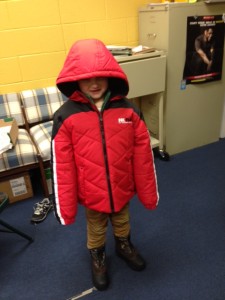 "He wouldn't take off his coat the remainder of the day." (Regarding a local kindergartener.)
"I can't believe you all are thinking of us, too. It really means a lot to our kids" (From a teacher in one of the high schools not in the immediate Madisonarea.)
"You mean I can keep these? (From a disbelieving fifth grader receiving new boots to replace his pair with holes in the soles.)
"I get to keep both?" (From a second-grader receiving a coat plus socks and a pair of boots.)
Cocheran writes, "There are times when our goals are not set high enough, and this was one of those times. But no matter what our goals, God knows the greater need and makes provision. How wonderful and exceedingly trustworthy is our Lord!"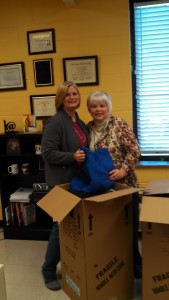 The application process for a Matthew 25 Grant is structured to help small ministries with limited staff time. For more information on the Grant and application process visit: https://www.abc-usa.org/matthew25/.
Read about what different organizations and churches have done with Matthew 25 Grant Funding