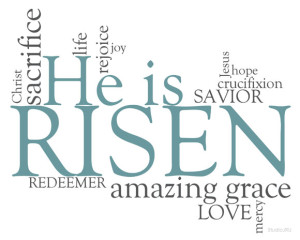 Happy Eastertide!  Christ is risen!
Macrina Wiederkehr wrote: "We are called to help others experience Resurrection, to help them break out of their tombs. Of course, that means we'll have to break forth from our own tombs first. We'd look kind of silly preaching from the inside of our tombs, wouldn't we?"
Easter is an uncompromising hope, isn't it? Do we understand the power of that or are we trying to share the good news still stuck in our tombs of not enough, of lacking, cowering in fear? When really, Easter is an uncompromising hope—against every odd, against every perceived failure, against earth's deepest despair. When our imaginations can begin to sense the edges of that uncompromising hope not just on Easter but every day, then, then, we can begin to comprehend Easter's Good News.
In this Eastertide, may you and your congregations sense something of an uncompromising hope—despite the challenges you sense and the realities you face. Our Easter God is seeking to make things possible in seemingly impossible circumstances. The greatest act of courage for Peter and the women that first Easter day was to look into the empty tomb. So give it a try. Stare headlong into Easter's empty tomb and what do you see? What does the resurrection look like to you today? May God bless you not only with the courage to look but the blessing to go and be a blessing because of it.
Peace to you,
Stacy Emerson, Stewardship Facilitator
Read about Stewardship on our webpage, www.generousdisciples.org.