VALLEY FORGE, PA (ABNS 6/23/15)—The American Baptist Churches of Massachusetts has announced the election of the Rev. Mary Day Miller as Executive Minister of the region.  The election was held on Saturday, June 20, 2015, and with 66 Churches, representing 7 associations registered, the motion to elect the Rev. Miller as the Executive Minister was passed by a large majority vote. Information concerning the Service of Installation will be released in the near future.
"Mary not only brings significant experience in pastoral and regional ministry, we have experienced her as a people person and a dynamic leader. In the short time she has spent with us, we have evidenced a real concern and desire to embrace the entire region, particularly portions of our region that are inactive. Her leadership and personality have birthed a renewed hope for the vitality of our region," said the Rev. Dr. Howard A. McLendon, president and chairperson of the Board of Directors, The American Baptist Churches of Massachusetts.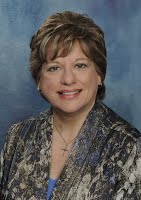 Prior to this new position, Miller has served as Associate Executive Minister of Mid-American Baptist Churches since August 2012, serving as regional staff to 130+ churches in Iowa and Minnesota.
Executive Minister of Mid-American Baptist Churches Marshall Peters said, "Mary has shown her strong leadership and relational skills in both the pastoral and regional staff setting. While we are sorry to her leave us, we are glad to know that she will have greater opportunities to use these gifts as she serves as the Executive Minister of TABCOM and as a leader in the wider ABC family."
"Mary brings a deep commitment to the ABC, significant pastoral experience, as well as regional ministry experience to this new position. I am excited about the future of TABCOM as the region and their new executive discern God's pathways," said Rev. Dr. C. Jeff Woods, associate general secretary for Regional Ministries.
Miller also served in two long-term pastorates, as pastor of First Baptist Church in Fredericktown, Ohio, from 1999-2012, and pastor of Memorial Baptist Church in Indianapolis, Indiana, from 1988-1998.
She holds a Master of Divinity from Southern Baptist Theological Seminary and a Bachelor of Science degree from Virginia Commonwealth University, and is currently enrolled in a Doctor of Ministry program through Central Baptist Theological Seminary, with plans to complete this in 2017.
American Baptist Churches is one of the most diverse Christian denominations today, with over 5,200 local congregations comprised of 1.3 million members, across the United States and Puerto Rico, all engaged in God's mission around the world.