We invited American Baptists from across the country to share their Ministry Stories with the American Baptist Family and with the world! This is a part of the Transformed by the Spirit initiative. Want to share your story?  Written and Video submissions are invited at: americanbaptist@gmail.com. View the full list of Ministry Story Opportunity Submissions.
Ministry Story – Answering God's Call – Peacemaking, Baptist Peace Fellowship of North America and First Baptist Church, McMinnville, OR
Transformed by the Spirit – Ministry Story Opportunity
Ministry Story: Peacemaking: JoAnn and Larry Sims. May 2015
Late in January 2011, we received an e-mail from World Friendship Center (WFC) American Committee. They asked if we would consider becoming the Directors of the World Friendship Center organization in Hiroshima, Japan. The note was signed Hopefully, the Petrey's. We found out that the American Committee was on a fast track and needed to have a couple in place in less than four months!
We knew of the work of WFC as a Japanese Peace Organization through hosting two groups of their members on visits to the US and participating in commeration ceremonies in both Hiroshima and Nagasaki during the previous summer. Both our son and daughter, who had both spent a semester abroad in Japan and had taught English there for several years, thought this was a wonderful opportunity. JoAnn thought the same.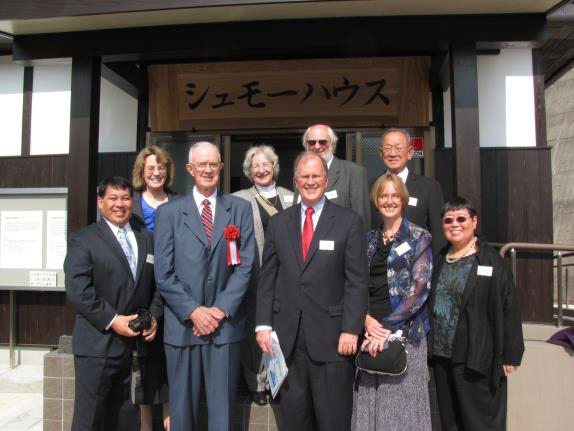 Larry, being a very analytical person, came up with 13 reasons why we could not possibly entertain this request especially in such short order. The reasons included:
 We had just moved into our newly constructed home.
 Living in Japan was too expensive for our fixed income.
 We don't read, speak or write Japanese.
 Larry's parents were both in their 90s.
 Concern about Larry's chronic health conditions.
 JoAnn was an adjunct faculty member at Linfield College and Larry was on the College's Board of trustees.
 Too long away from our families.
 We are not members of the Brethren church as were many of the previous Directors.
We spend two weeks carefully studying the situation, talking to family, friends, the Brethren Volunteer Services (BVS) and the current Directors. We soon concluded that all of the excuses why we couldn't go melted away – we were meant to go! Our living and traveling expenses would be covered by WFC, our families planned to visit us in Japan, our physician said that Larry's health would likely improve and that our house and cats would be taken care of by our son.
We said yes to the offer. Our new adventure began with filling out a large number of forms in order to obtain an extended visa and to "import" medications to cover us until we found a Japanese physician. We also had extended conversations with BVS about living in another country for an extended time.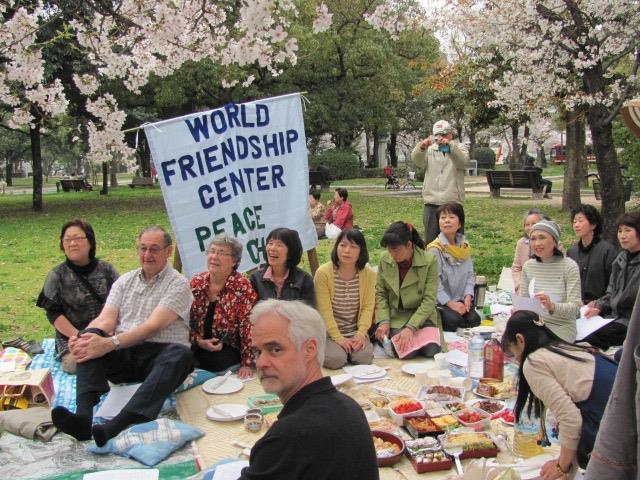 We were commissioned to do the work in Japan by both First Baptist Church of McMinnville Oregon and The Baptist Peace Fellowship of North America. The Evergreen Region of ABCUSA also provided a great deal of encouragement.
On the flight to Japan, we asked ourselves why us? We knew that we were going to operate a guesthouse for foreign visitors to Hiroshima and to teach conversational English classes. However, we reasoned that there must be something more. During our two years in Hiroshima we found ourselves engaged in a large number of other activities that provided a clearer sense of God's calling. A sampling of those activities include:
 Participated in the dedication of a monument in Peace Park honoring the work of the founder of WFC and long time peace activist, Barbara Reynolds.
 Produced a musical concert – "One World Peace Concert." The concert featured a folk singer friend of ours from University Baptist Church in Seattle. Traditional Japanese musicians also participated.
 Participated in the dedication of a new museum in Hiroshima that honored people
and groups who came to Japan to help rebuild the City following the Atomic Bombing. Those honored included the late Rev. Emory Andrews of Japanese Baptist Church in Seattle.
 Facilitated a meeting between Dr. Bill Apel, Linfield College Professor, and a WFC Board member who shared a common interest in Thomas Merton. Dr. Apel is now writing papers and possible a book about this meeting.
 We invited two Japanese-Americans, Yosh
Nakagawa and Herb Tsuchiya, to tell about their internment story at a seminar in Hiroshima.
 Planned and conducted a three-week tour of the western US for 16 Peace Ambassadors from WFC
 JoAnn continued her research on the question "Can leadership attributes can be applied to institutions such as the City of Hiroshima?" She conducted interviews of
approximately 70 citizens of the City with the help of our friends at WFC.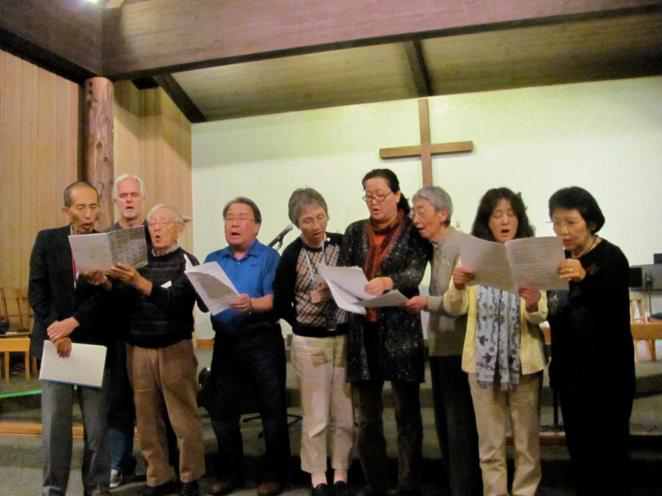 While we still question why us, the answer clearly is that God calls all of us to do our part in making the world a better place. God's call can come in many ways, including an e-mail and may ask you to do something you have never done before.
NOTE: JoAnn and Larry Sims are members of McMinnville First Baptist Church, McMinnville, Oregon. They are both retired, JoAnn as an educator and Larry as an environmental engineer. They served as Volunteer Directors of a Japanese peace organization, World Friendship Center, in Hiroshima Japan from 2011 to 2013. They have facilitated several events in the Pacific Northwest where survivors of the atomic bombings of Hiroshima and Nagasaki could tell their stories. They were coordinators of the Seeking Justice Project at Linfield College in 2014.